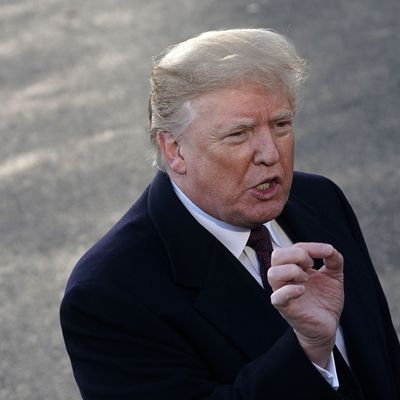 President Trump was more involved in the Trump Tower Moscow project than he let on.
Photo: Alex Wong/Getty Images
In 2016, as the Trump Organization was in negotiations to build Trump Tower Moscow, Donald Trump signed a letter of intent to move forward with the project, CNN reported Tuesday night.
Trump's signature on the letter directly contradicts a claim made over the weekend by his lawyer Rudy Giuliani, who admitted that the letter exists, but said "no one signed it." After CNN's report Tuesday, he contradicted himself, telling the New York Daily News that "of course" Trump signed it.
CNN obtained a copy of the letter and anchor Chris Cuomo showed it on air, along with video of Trump repeatedly denying that he had anything to do with Russia while he was running for president.
The proof of Trump's signature on the letter, which was also signed by the head of the Russian firm that his company was working with, corroborates testimony his son gave to the Senate Judiciary Committee last year, but it runs counter to much of what Giuliani has been saying lately.
In addition to his insistence that no one signed the letter, Giuliani recently argued that the Trump Tower Moscow project was primarily the work of Michael Cohen, Trump's former lawyer. "This was Cohen's deal," Giuliani told the Daily Beast last month. Trump's signature on the letter would seem to suggest otherwise.
The would-be Trump Tower Moscow has been at the center of a slew of lies in the Russia investigation. Most notably, Cohen told Congress that plans for the project fizzled out by January of 2016. He later admitted that it continued progressing into that summer, after Trump won the GOP nomination.
It's no mystery why Trump and his allies are trying to erase his role in the negotiations for the Moscow tower. As former assistant U.S. attorney Mimi Rocah and former deputy assistant attorney general Harry Litman recently wrote, keeping the negotiations secret during the campaign "may suggest a criminal conspiracy":
Cohen's guilty plea indicates that Trump and his representatives were actively negotiating with the Kremlin over the planned Trump Tower in Moscow throughout the campaign, including "as late as June 2016" — in other words after Trump became the presumptive Republican Party nominee in May of 2016. Thus, Trump's business entanglements with Russia coincided with Russia's efforts to interfere in the presidential election and to undermine Hilary Clinton. And, of course, at the same time, Trump the candidate was talking about easing economic sanctions on Russia and generally taking a more favorable foreign policy stance toward Russia.
Trump has defended negotiations for the building, insisting that "there would have been nothing wrong" if his company had gone forward with the project. But if that's the case, why all the lies?