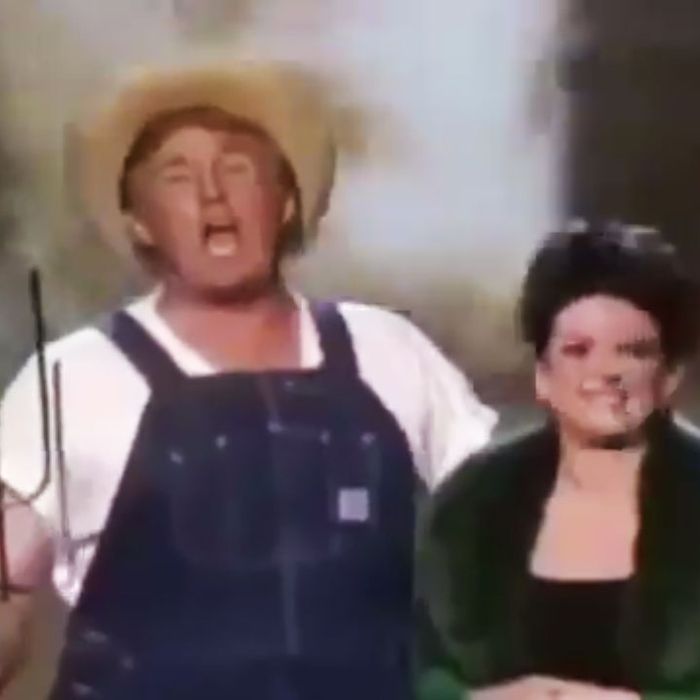 Hell, I tell you. Hell!
Photo: Screenshot via Twitter
Hello, folks. Hope your Thursday is going well. I'd just like to take a moment to remind you all that we are living in truly grim times. Why? Thank you for asking. Allow me to explain. It's this here tweet from the leader of the free world.
In case you, too, are desperately wishing your eyes were deceiving you … they are not. That is a tweet from the verified, personal account of Donald Trump. The video is a clip from the 2006 Emmy Awards where Trump, clad in overalls and holding a pitchfork, and Megan Mullally performed the theme song from Green Acres. Today, Trump will sign the Agriculture Improvement Act, so I guess what he was going for here was some sort of bizarre attempt at comedy that has me feeling like somebody pulled out my brain, ran it through a blender, and then scooped the pulp back into my skull.
For context, Trump and Mullally's performance was part of a gimmick at that year's Emmy's called "Emmy Idol," where different celebrities performed theme songs throughout the night. Trump and Mullally were eventually declared the winners and Trump called her the next day to thank her and let her know they "really needed to win that." Apropos of, well, everything, Trump has never won a real Emmy and definitely isn't bitter about that fact at all.