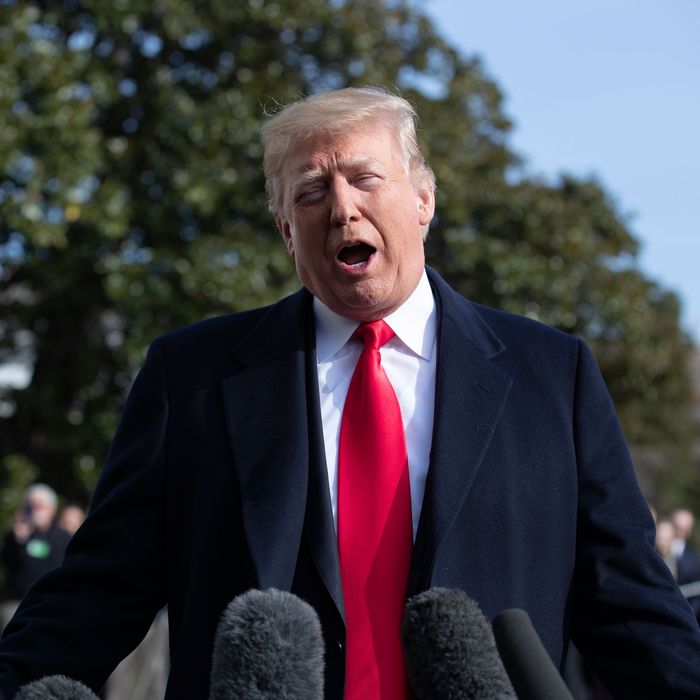 The law and order president.
Photo: Alex Edelman/AFP/Getty Images
Last week, the Justice Department implicated the president of the United States in multiple federal crimes. In their sentencing recommendation for Michael Cohen, federal prosecutors wrote that Donald Trump had directed his longtime fixer to arrange six-figure hush payments to two of his (alleged) ex-lovers in late 2016, for the purpose of aiding his presidential bid, in willful defiance of campaign-finance law. For executing this scheme, Cohen will serve prison time.
For the moment, Trump faces no legal liability for masterminding it. But there's reason to think that this is solely because Justice Department guidance forbids the indictment of a sitting president (the remedy for high crimes committed by commander-in-chief is supposed to be impeachment).
All this has inspired the president to mount a spirited self-defense in the court of public opinion; or, more precisely, to launch several spirited — and utterly mutually contradictory — lines of self-defense. Here is a quick rundown of the president's seven distinct arguments for why he is not criminally guilty of violating campaign-finance law:
1) I didn't even know about the payment to Stormy Daniels.
An oldie but a goodie. Back in April, we already knew that Michael Cohen had paid $130,000 to Stormy Daniels — in exchange for the adult-film actress's silence about her relationship with Trump — in the fall of 2016.
On Air Force One, reporters asked the president whether he'd had any knowledge of the hush payment at the time. "No," Trump replied.
2) I directed the payment to Stormy Daniels but had every reason to believe that it was perfectly legal — after all, if it weren't, why would my personal attorney (whom I trusted with high-level legal work) have allowed me to make it?
Trump's original line of defense fell apart in early May (when his new attorney Rudy Giuliani announced that the president had known about the arrangement on national television). So, on Thursday morning, Trump took a different tack: Sure, he knew about the payments — but how was he supposed to know that they were illegal when Michael Cohen, a lawyer, was willing to arrange them?
I never directed Michael Cohen to break the law. He was a lawyer and he is supposed to know the law. It is called 'advice of counsel,' and a lawyer has great liability if a mistake is made. That is why they get paid.
This might actually be Trump's best defense: To charge him with criminal violations of campaign-finance law, prosecutors would need to prove that Trump broke said laws "knowingly and willfully." That said, the president's specific case for why he did not willfully flout federal statutes was fatally undermined by an argument he made on Fox News a few hours later.
3) I'm not tainted by Michael Cohen's crimes, as he was never really my personal attorney, but rather, a public relations aide whom I only trusted with low-level work.
So: Michael Cohen was simultaneously Trump's trusted attorney, whose scrupulous commitment to abiding by the law the president had no reason to doubt — and, also, a pseudo-attorney whose primary responsibility was protecting Trump's public image (i.e., the kind of person who might arrange a legally dubious payment to an adult-film actress to protect the GOP nominee's public image in autumn 2016). The classic "Schrödinger's lawyer" defense.
4) I don't think I even made the hush payment to that tabloid that I was caught on tape plotting to make a hush payment to.
On Wednesday, prosecutors revealed that American Media Inc., the National Enquirer's parent company, had admitted to paying Playboy model Karen McDougal $150,000 to keep quiet about her affair with Trump in 2016 — on the Trump campaign's behalf.
On Thursday, Trump countered that claim by saying, "I don't think — and I have to go check — I don't think they even paid any money to that tabloid. I don't think we made a payment to that tabloid."
There are a couple flaws with this argument. One is that Trump appears to be arguing merely that he neglected to reimburse the tabloid for making an illegal, in-kind campaign donation at his behest. That much appears to be true — but it wouldn't absolve Trump of legal liability in conspiring to arrange an illegal campaign donation. Meanwhile, if one stipulates that the president intended to say that he had nothing whatsoever to do with the payment, then the biggest problem with his argument is this: There is a tape recording of Michael Cohen and the president discussing how to arrange a payment to American Media Inc. to keep something quiet.
(When the tape's existence was first revealed in July, Trump's first response wasn't to deny its authenticity, but rather, to tweet, ""What kind of a lawyer would tape a client? So sad! Is this a first, never heard of it before?")
5) If I did make the payments, they didn't constitute campaign-finance violations.
Trump tweeted Thursday morning, "many campaign finance lawyers have strongly stated that I did nothing wrong with respect to campaign finance laws, if they even apply, because this was not campaign finance."
Here, Trump is implicitly arguing that the payments weren't illegal because he wanted to silence Daniels and McDougal for personal reasons, not political ones (and thus, the payments should not be understood as an in-kind campaign contributions). But, as the Washington Post's Phillip Bump explains, there's significant public evidence that suggests otherwise:
Unfortunately for Trump, there are several reasons to think that the campaign was, in fact, the impetus for the payments.




For example, they happened in August and October 2016, years after the relationships. Why pay them off then, if not because of the campaign?




More importantly, both Cohen and AMI have stated under penalty of perjury that the payments were meant to influence the election. AMI told the government that in August 2015 — a year before the McDougal payment — its chief executive, David Pecker, had met with Cohen and an unnamed campaign official to offer to help cover up any negative stories that might emerge. It then did so, paying McDougal $150,000 "to suppress the model's story so as to prevent it from influencing the election," as the agreement with the government reads.
6) Even if they constituted campaign-finance violations, they would only qualify as civil offenses.
On Monday, Trump tweeted that the payments were "a simple private transaction," not a campaign contribution — "but even if it was, it is only a CIVIL CASE, like Obama's."
Here, Trump is referencing the fact that the Federal Election Commission fined the Obama campaign $375,000 for failing to report certain campaign expenditures in a timely manner, instead of prosecuting its members. But the two cases are not analogous: The Obama campaign eventually filed corrected reports, demonstrating that its violations of campaign-finance law weren't willful; Trump and his allies, by contrast, attempted to hide the payments from the public for more than a year.
7) Even if they qualified as criminal offenses, prosecuting me for them would be just plain unfair.
Now, this one is bulletproof: There's no question that Donald Trump is the only president who has ever been investigated, by a special federal prosecutor, for allegedly, illegally concealing an extramarital affair from the public.