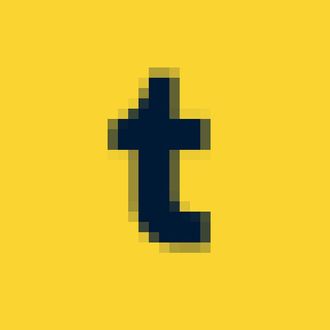 Photo: Illustration by Jed Egan
The blog network Tumblr announced this afternoon that it would be banning all adult content on the platform. For pretty much its entire life span, Tumblr has been friendly to adult content (GIF sets of porn, explicit fan art) although a flurry of recent events have caused the social network to reverse course.
"Over the past several months, and inspired by our storied past, we've given serious thought to who we want to be to our community moving forward and have been hard at work laying the foundation for a better Tumblr," the company announced on its staff blog.
"It is our continued, humble aspiration that Tumblr be a safe place for creative expression, self-discovery, and a deep sense of community," the statement continues. "As Tumblr continues to grow and evolve, and our understanding of our impact on our world becomes clearer, we have a responsibility to consider that impact across different age groups, demographics, cultures, and mindsets." In other words, Tumblr thinks it can potentially grow its user base if users aren't risking seeing porn at every turn.
The new guidelines, which take effect on December 17, prohibit "photos, videos, or GIFs that show real-life human genitals or female-presenting nipples, and any content—including photos, videos, GIFs and illustrations—that depicts sex acts." (The specification of "human" here is … very Tumblr.) Health-related posts, text-based erotica, and nudity found in art are still allowed.
Late last month, Tumblr's iOS app was briefly delisted from the App Store, after child porn was found on the social network. IT also started over-aggressively purging users. Tumblr is now owned by Verizon, which acquired it when it absorbed Yahoo earlier this year. It's possible, maybe even probable, that the legal headaches of porn outweighed the need to keep it around. On the other hand, Tumblr is probably the largest social network with a thriving porn component, so the hit to traffic could be substantial too.