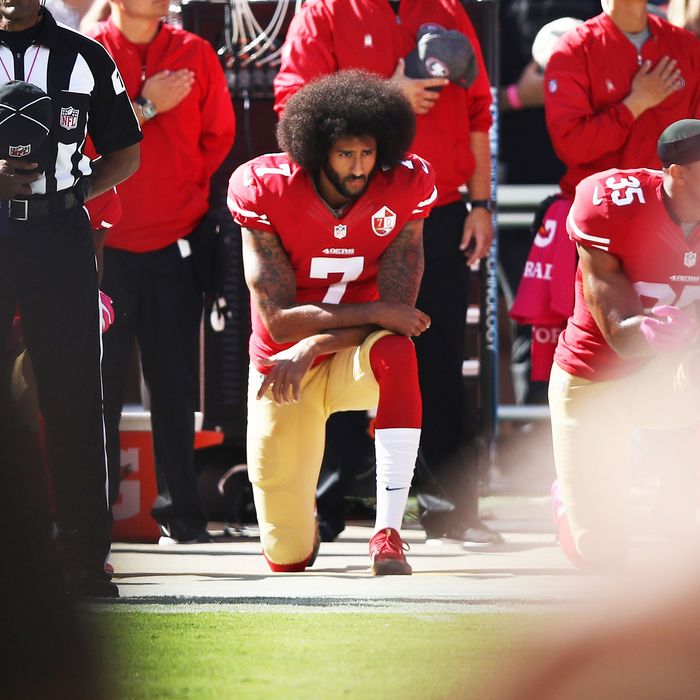 Colin Kaepernick.
Photo: Ezra Shaw/Getty Images
Washington Redskins head coach Jay Gruden told reporters on Tuesday that his injury-racked team would not sign Colin Kaepernick to a contract. The news followed speculation that they were considering the out-of-work quarterback for a roster spot, after their starter and top backup — Alex Smith and Colt McCoy, respectively — each broke a leg within weeks of each other. "He's been discussed [internally] but I think we will probably go in a different direction," Gruden said.
Kaepernick has been a poster child for activism in sports since 2016. His refusal to stand during the national anthem before a preseason NFL game that summer — a protest against racism and police brutality, he explained — sparked a nationwide debate, continuing into the regular season and inspiring other players to kneel in solidarity. The demonstration also drew ire from jingoistic fans and the president of the United States, who called for protesting players to lose their jobs. The inability of Kaepernick to get work since, despite his on-field abilities, has prompted allegations of a conspiracy. In October, he filed a grievance against the NFL, accusing team owners of colluding to keep him unemployed due to his political beliefs. According to reports, Kaepernick would have gladly signed a deal with the Redskins last week, had the team offered one. "He's a professional Super Bowl–caliber quarterback and in the best shape of his life and he would play if given the opportunity on any NFL team," an anonymous source "close to" the quarterback told Yahoo! Sports.
But even as he draws sporadic interest from teams and secured a lucrative endorsement deal with Nike, Kaepernick's job search may present more of a moral conundrum than a professional one. Whether he signs with an NFL team has been a key metric determining the success of his campaign against the league. But had he joined the Redskins — an organization that has spent decades embroiled in its own racism controversy — the cost to his cause and reputation likely would have eclipsed the benefits to his career.
The Redskins are the subject of one of the most persistent and vocal anti-racism campaigns in professional sports. Since at least the 1990s, Native American advocacy organizations — including the National Congress of American Indians, the country's largest — have called on the team to change its 86-year-old name, which is a dictionary-designated racial slur. The National Congress's most recent initiative toward such a change was a 2013 report outlining the name's social costs. These include the perpetuation of stereotypes about Native cultures and customs, which "contribute to the 'savage' image of Native peoples and the myth that [they] are an ethnic group 'frozen in history.'" It also echoed research cited by the American Psychological Association, which has found that the use of Natives as mascots harms "the social identity development and self-esteem of American Indian young people." This is notable, considering suicides among Native youth already defy national trends. Natives have the highest suicide rates of any American ethnic group, but their likelihood of dying by suicide peaks from ages 15 to 24, in contrast to the general population, where rates increase with age.
Adding to these inequities is the fact that Natives are killed by police at higher rates than almost any other ethnic group. According to the Counted — the Guardian's database tracking police killings — they were killed at a rate of 10.13 deaths per million residents in 2016, outstripping even the 6.64 per million rate at which black people were killed that same year. Despite these statistics, team owner Dan Snyder remains unmoved. He has vowed never to change the Redskins' name and justified his stance by citing a 2016 Washington Post poll, which found that the vast majority of Native American respondents were not offended by it — a fact that neither changes its derogatory nature nor the impact on children that psychologists have attributed to it. Nor does it alter the organization's historical status as one of the NFL's most racist. Founder and inaugural owner George Preston Marshall refused to sign a black player until 1962, in defiance of federal integration orders, making the Redskins the last team in the league to do so.
All of these elements compound the culture war of which Kaepernick has become an integral part. Fans incensed by his refusal to show deference to the American flag make arguments parallel to that of those who defend the Redskins' name. For both, the violence committed under each symbol is incidental, if not negligible or nonexistent. The flag is no calling card of oppression, but a stand-in for sacrifices "the troops" have made for us; standing for it means showing respect for them. The Redskins name and mascot have been cast similarly as deserving reverence rather than anti-racist disavowal. "I think most do [understand], that the name really means honor, respect," Snyder told ESPN in 2014. And both arguments have been validated by the NFL. In May, the league announced a new policy — since put on hold — that would force players to stand during the anthem or face punishment. Roger Goodell, the NFL's commissioner, has repeatedly defended the Redskins' name, calling it a "unifying force that stands for strength, courage, pride and respect."
Kaepernick's rationale for protesting racism would, logically, compel him to reject such gaslighting. And he may have, as a member of the Redskins — part of why the Seattle Seahawks declined to sign him in April was that he would not commit to stopping his anthem demonstrations. But the bigger question is whether the premise of his endeavors is justifiable on his own political terms. By making a league contract his stated goal, he is pursuing access to an organization whose racism clearly transcends the negative response to his protests, extending to the open use of — and profit from — racial slurs, and the institutional defense thereof. The NFL is the highest-profile outlet for Kaepernick's skills as a football player. But as a racial-justice advocate, it is hard to avoid the conclusion that he cannot have his cake and eat it too. It is one thing to use the league's platform to amplify one's advocacy from the inside. Kaepernick did it for months before opting out of his contract in 2017, and started a national movement as a result. But it is another to be cast aside as he was, endure the league's racism firsthand, and still see a deal with the Redskins as compatible with his anti-racism cause. Racial justice cannot be reconciled with lining Dan Snyder's pockets. And as long as Snyder gets rich defending the Redskins name and gaslighting its detractors, Kaepernick's cause is far better served by keeping a healthy distance.