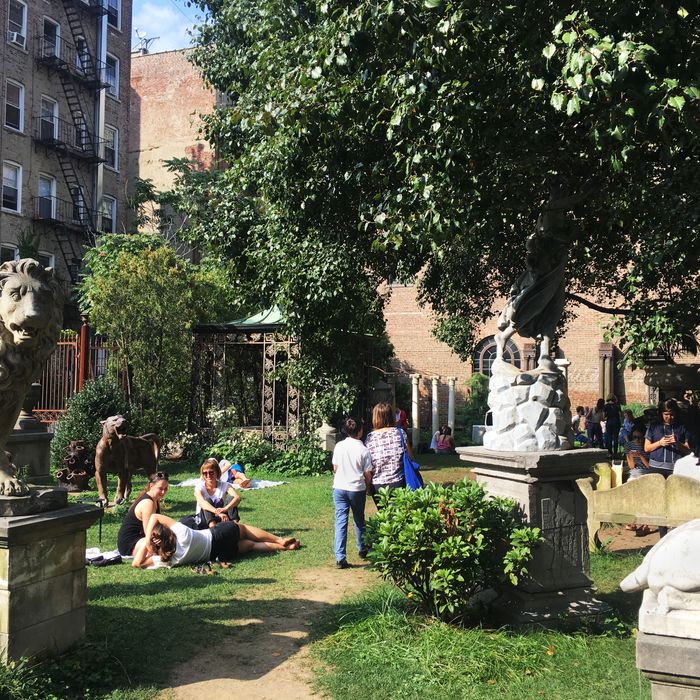 The Elizabeth Street Garden, an ad hoc park that may soon disappear.
Photo: Courtesy of Joseph Reiver
This is a tale of two parklets, 1,000 miles apart. Combined, they cover less than an acre. They harbor no endangered species and embody no distinguished landscape design. They date only to the 1990s. But both belong to the public, and in each case, elected officials plan to turn them over to developers to build desperately needed housing. As open-space causes go, neither Church Street Park in downtown Nashville nor Elizabeth Street Garden in Little Italy attains the grandeur of, say, protecting the Arctic National Wildlife Refuge or the urgency of the Everglades. But in dense cities, every little wafer of unbuilt land acquires outsized significance. Even a miniature wedge of parkland is more than just an empty lot; it is a microcosm of urban life.
The first is a forlorn square in the heart of Nashville's downtown, where strips of historic fabric hold together a patchwork of glam skyscrapers, parking garages, hotels, and concrete fortresses. The Metro Development and Housing Authority carved out Church Street Park in the mid-1990s, tearing down a pair of small buildings and hiring a local design firm to give downtown a nugget of civic grace. It became an ideal habitat for starlings and rats, and a pretty good encampment for the homeless, but everyone else avoided it. "Church Street Park failed because it was designed to," wrote the Nashville Scene's Christine Kreyling. "Not deliberately, of course. But the structure discouraged civic behavior … It was all circulation and offered very little space—or reason—to pause there." A decade later, the agency tore it up and started again, producing yet another dud. Once again, it's a magnet for the homeless, some of whom commute to their daytime stations across the street in the public library. The fountain, the one piece of the 1996 design to survive the 2007 renovation, is dry.
The developer Tony Giarratana had an idea about what to do with this unloved quarter-acre of public space: turn it over to him for a 60-story apartment building, Nashville's tallest. He would swap an equal-sized scrap of land on the edge of downtown, a parking lot bordered by wide roads and big garages. That substitute pocket park seems doomed to be as dispiriting as the original, but Giarratana would also throw in—at cost, though the city would still have to pony up $24 million—a new service center for the homeless (well away from his Church Street tower)*. Which is nice, except that moving people who have nowhere to live from one neighborhood to another doesn't qualify as a solution. "The increasing privatization of public spaces like Church Street Park further disenfranchises people who do not own property and have fewer and fewer spaces where they can legally exist," wrote a group of homeless advocates in the Tennesseean.
As Laura Bliss details in Citylab, the proposal has pitted those who see it as way to redeem a sordid patch of wasted space, while getting more green space and homeless services out of the bargain, against opponents who see it as an undemocratic land grab by a well-connected developer. Still, the deal is sweet enough to have convinced Mayor David Briley and the city's parks board; the Metro Council votes next month.
The conflict reminds me of the long-ago debate over another bleak open space plagued by social ills: Bryant Park. After a man was stabbed there in 1976, the community-board chairman threw up his arms: "If we can't clean up the park, and apparently we can't clean it up, then we should close it." The police objected that giving up on a public park amounted to surrender. Eventually the city turned it over to a private manager, Dan Biederman, who treated the space like an unruly teenager, scheduling it so heavily with music, movies, ice skating and holiday shopping that it never has time to get into trouble.
The widely copied example of Bryant Park proves that desperate measures like privatization and obliteration are not the only ways to deal with problem parks. But even tiny places far from the heart of midtown can find a measure of sylvan bliss. In warm weather, the half-acre vacant lot that runs through the middle of the block from Elizabeth Street to Mott Street becomes a lush and romantic retreat from the thronged sidewalks of Soho. Geysers of black-eyed Susans, hydrangeas, liatris, and bee balm shoot up amid artfully arranged statuary. Even in midwinter, it's a comforting place to linger in the pooling sunlight. The lot spent most of the 19th and 20th centuries as a schoolyard, until the Little Italy Restoration Apartments went up next door in 1981. Its modern history begins in 1990, when Allan Reiver, a collector of architectural salvage and owner of the Elizabeth Street Gallery, got tired of its dusty blankness. Reiver leased it from the city and turned it into a miniature urban version of a Gilded Age estate, planting it with marble balustrades, urns, statues, stone creatures, and even a gazebo rescued from Burrwood, a Long Island mansion landscaped by Frederick Law Olmsted.
This errant fragment of the Gold Coast was a triumph of DIY landscaping. Technically, though, it's still just a vacant lot, and the De Blasio administration wants it back as part of its drive to build as much affordable housing as possible. Last month, it announced that two-thirds of the site would give birth to Haven Green, 121 apartments for low-income seniors, plus a truncated garden—a backyard, really. It's a worthy cause, but a generic one; housing has to go somewhere, just not necessarily there. The garden's defenders, which include the Washington-based advocacy organization, the Cultural Landscape Foundation, argue that while other nearby lots could accommodate more generous habitable square footage, this spot is a unique cultural resource that tells the story of Little Italy's change, resourcefulness, and reinvention.
It's also a case study in not giving up on unpromising places. Today, Reiver's makeover of the Elizabeth Street Garden would be called tactical urbanism or placemaking, a light but radical intervention that turns junk acreage into a shared delight. It can work in Nashville just well as in New York, so long as neither park gets plowed under just because it's expedient.
*This sentence has been corrected to clarify who would be paying for the homeless-services center.