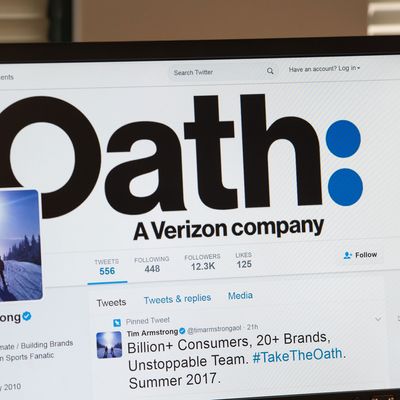 Photo: Nicholas Kamm/AFP/Getty Images
Many within the media industry weren't exactly surprised when Verizon announced this week that it was seeking a massive write-down on AOL and Yahoo.
The telecom giant acquired the two companies in 2015 and 2017, respectively, paying a combined $9 billion for the privilege. Shortly after the Yahoo acquisition, Verizon merged the two into a single brand it called Oath. Helming this ship was AOL CEO Tim Armstrong, and he now oversaw a vast array of properties that included HuffPost, TechCrunch, Engadget, Yahoo Sports, Yahoo Finance, AOL.com, and the social blogging platform Tumblr, which Yahoo acquired for $1.1 billion in 2013. As recently as this summer, Armstrong was fielding interviews with Wired in which he touted the company's new motto: "Build brands people love."
As it turned out, people didn't love Oath. In a filing to the SEC this week, Verizon sought a $4.6 billion write-down for the company, effectively cutting its valuation in half. Verizon claimed that Oath "has experienced increased competitive and market pressures throughout 2018 that have resulted in lower than expected revenues and earnings." These are pressures it expects to continue.
The internet pile-ons were swift. Recode's Peter Kafka wrote that it was "easy to predict" that Oath would ultimately fail. "Hope someone's keeping count of how much dumb money has been burned on internet-media acquisitions in this cycle," tweeted John Cassidy, The New Yorker's economics writer. Many felt that this outcome had been inevitable. After all, these companies weren't exactly thriving when the telecom giant bought them. Marissa Mayer's attempts to turn around the struggling Yahoo were largely regarded as a failure, and while AOL seemed to be faring better under Armstrong, long gone were the days when tens of millions of people would pay $30 a month to the company for dial-up internet.
But were these acquisitions such an obvious mistake from the beginning? If you look back at the media coverage that took place immediately after they were announced, you'll find that many tech pundits were onboard with Verizon's reasoning.
The first thing to remember is that it's become common for ISPs and telecom giants to purchase content companies. In 2009, Comcast initiated a $30 billion merger with NBC Universal, and Verizon's chief competitor, AT&T, bought Time Warner this year for $85 billion. With the telecom market mostly saturated in the U.S. and the government blocking any horizontal mergers due to antitrust issues, these companies have turned toward vertical expansion in their hopes for continued growth.
For both Verizon and AT&T, neither company wanted to continue serving as just the dumb pipes through which content flowed; they wanted to own the content going through those pipes, with the idea that, because they held such granular data on how customers used their networks, they'd be much better at monetizing that content.
But they approached their content acquisitions from two separate directions. AT&T bought Time Warner's high-end, premium content, the kind that's primarily monetized through movie-ticket sales, cable subscriptions, and, the hope is, an on-demand streaming app set to launch next year.
Verizon went with free, cheaply produced content that's primarily funded through digital ads. In acquiring AOL and Yahoo, Verizon suddenly owned a range of popular media properties that, by some measures, had a combined footprint that generated more monthly unique visitors than Google.
These acquisitions took place in 2015 (AOL) and 2017 (Yahoo), which was during the roughly four-year period when venture capitalists were pouring fuel on the digital media space. Digital publishers that included Vox, Vice, and BuzzFeed were taking in hundreds of millions of dollars from investors who were bestowing upon them multibillion-dollar valuations. There was this prevailing assumption still within the industry that if media companies could just reach the right scale, then they could overcome the harsh economics of internet advertising and start clawing back market share from Facebook and Google, which had vacuumed up 90 percent of the growth in digital advertising in 2017.
Some were optimistic that Verizon was particularly well-positioned to benefit in this media environment. After all, it had access to the internet usage data for tens of millions of customers, data it could leverage as Oath served up targeted ads to its visitors. Many tech publications also argued that AOL's heavy investment in advertising technology would help its new parent company in this endeavor.
In a 2015 piece titled "Forget Blogs, Verizon Bought AOL for Its Ad Tech Business," the Verge's Ben Popper pointed to AOL's "real-time bidding platform that helps marketers buy space for their display and video ads on digital properties across the web." Revenue from this business, he noted, "grew at over 40 percent last November and 21 percent in its most recent quarter." Business Insider's Mike Shields wrote that, with its AOL acquisition, Verizon could "become a 'third giant' in the online advertising industry," rivaling the current dominance of Google and Facebook.
So what changed? Why have these rosy predictions transformed into sour I-told-you-sos? Well, flash-forward a few years, and we have the industry finally recognizing that the narrative that drove so many VC-investments and sky-high valuations was based on a lie. Smaller VC-funded companies have gone up in fire sales (Mashable, Mic) while the larger players (BuzzFeed, Vice, Vox) missed their revenue projections by large margins and are laying off people in droves.
It's now clear that Oath was subject to this same grim reality that's weighing down every other media company. Instead of increasing its share of the advertising market, its ad revenues are falling. In its most recent earnings report, Verizon announced that Oath had generated $1.8 billion in quarterly revenue, down 6.9 percent from the same quarter the previous year. For context, the company was originally projecting revenue of $10 billion by 2020, which would require average quarterly revenue of $2.5 billion. This year, it only captured 3.3 percent of U.S. digital ad revenue, down from 4.1 percent last year.
What's worse, Tumblr, which was considered one of the company's most promising properties on account of its young user base, has not only struggled to gain much advertiser interest, it recently sparked a user outcry when Verizon made the controversial decision to ban all pornographic content on the platform. The event that triggered the ban was Apple's decision to remove the Tumblr app from its App Store, though many wondered why it took so long for Verizon to ban content that was making monetization of one of its most prominent properties almost impossible. A source told Vox that the porn ban had actually been in the works for about six months, so the move may have been less a knee-jerk reaction and more of a signal that Verizon is getting serious about monetizing Tumblr.
Were there any actual benefits that were born out of the merger? One could argue that Oath couldn't have secured a major deal last year with the NFL to stream its games if it weren't for Verizon's large checkbook and backing. And the company managed to sign an agreement with Samsung that would result in several Oath apps coming preloaded on millions of S9 and S9+ phones. Verizon's relationship with the device company likely helped there. As we've seen when Apple added its own apps to its iOS home screen, such valuable real estate can be a real boon to an app's adoption with users.
But for the most part, the better ad rates that were supposed to come as a result of increased scale and better consumer data never materialized, and Verizon might not have the patience to stick around and see if they do. Tim Armstrong, who was the chief evangelist for Oath's media strategy, left the company recently, as did Lowell McAdam, the Verizon CEO who pushed through the mergers. As many have noted, McAdam's replacement, Hans Vestberg, hasn't expressed much enthusiasm for the media business. He may try to sell Oath or allow it to continue limping along, but chances are he's not going to invest more money into the venture.
After Verizon acquired Yahoo, HuffPost laid off several dozen staffers, and in 2015 the New York Times reported that the telecom company, uneasy with HuffPost's liberal bent, was considering selling the property. Tumblr has reportedly been rudderless ever since its founder, David Karp, left the company in 2017, and staff morale likely hasn't improved given the recent porn bans and the massive outcry from users. Verizon is considering some kind of paid subscription strategy for HuffPost and Yahoo Sports in order to boost revenue, but it's unclear whether there's enough consumer demand for such services. It's hard to imagine that Oath's thousands of journalists, engineers, and ad salespeople are all that optimistic about their futures at the company.
Meanwhile, we still don't know yet whether AT&T's bet on Time Warner (since renamed WarnerMedia) was a better one. Its biggest future gamble — a stand-alone OTT streaming app — still hasn't launched yet, and when it does it'll be entering a crowded space. AT&T's stock is down about 20 percent this year. It still remains to be seen who will have the last laugh.