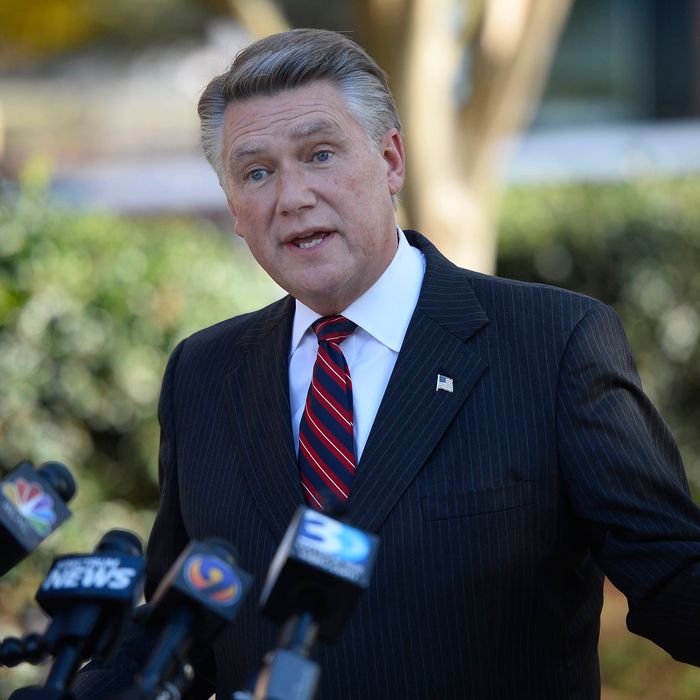 GOP representative Mark Harris at a postelection press conference.
Photo: David T. Foster III/TNS via Getty Images
Republican Mark Harris still hopes that the 116th Congress will seat him as the fairly elected representative for North Carolina's Ninth Congressional District. Harris beat Democrat Dan McCready by 905 votes in November. But on Thursday, amid mounting evidence of electoral fraud in Harris's race, House Minority Leader Nancy Pelosi said that Congress might not seat the Republican with the rest of his class. The same day, the executive director of the North Carolina GOP, Dallas Woodhouse, announced that he would support a new election if an ongoing state investigation uncovered firm evidence of fraud. That's a shift for Woodhouse, who previously dismissed such calls as a Democratic attempt to steal the election from Harris. Hours later, the Washington Post reported that Robert Pittenger, the Republican incumbent Harris defeated in May, had noticed irregularities in the primary results and notified GOP officials at the time. Sources told the Post that the state GOP "did little to scrutinize the results," and focused instead on the general election. GOP officials have denied the report.
Woodhouse's concession comes one day after the editorial board of the Charlotte Observer called for a new election. As the newspaper put it, "There may be no way, however, to know how widespread the fraud was, or whether it involved enough ballots to potentially change the outcome of the election — a 905-vote victory for Republican Mark Harris over Democrat Dan McCready. But we do know enough. Unless new evidence somehow clears the clouds hanging over this election, the Board of Elections should toss out the 9th District results."
It's difficult to fault the paper's reasoning. As my colleague Eric Levitz describes, local and national news outlets continue to uncover evidence of electoral fraud committed by an operative hired by Harris's campaign. The Harris campaign stands accused of paying a Bladen County man, Leslie McCrae Dowless Jr., to conduct ballot harvesting on Harris's behalf. One woman told WSOC-TV that Dowless "paid her $75 to $100 a week to go around and pick up finished absentee ballots." Wake County district attorney Lorrin Freeman told CNN on Wednesday that many appear to have been destroyed. Dowless's operation also appears to have targeted African-American voters, many of them elderly — a constituency that is typically hostile to Republican candidates.
Harris may not be the only Republican to have benefited from Dowless's work, either. The Raleigh News and Observer reported on Tuesday that Freeman has been investigating possible electoral fraud in Bladen, Brunswick, and Columbus counties since 2016. And The New Yorker reported that Dowless, who was also convicted of insurance fraud in 1992, has been implicated in electoral fraud since 2017, when the owner of a video-sweepstakes operation admitted in a sworn affidavit to helping fund Dowless's ballot-harvesting efforts on behalf of a Republican candidate for sheriff in 2014. In 2016, Dowless worked for a Republican primary candidate running against Harris and the sitting Republican representative that Harris would later defeat, Robert Pittenger. The same year, The New Yorker continued, Dowless was running to remain the incumbent vice-chairman of Bladen County's Soil and Water Conservation district board.
Amid these reports, North Carolina's former Republican governor, Pat McCrory, told WSOC-TV on Wednesday that he'd raised the alarm about Bladen County's voting irregularities in 2016. Which is true. After McCrory lost to Democratic candidate Roy Cooper in the 2016 gubernatorial race, he immediately complained of electoral fraud. But in a historically ironic twist, McCrory pointed to a Democratic write-in campaign against Dowless to bolster his own claim that fraud had tainted the gubernatorial race. North Carolina Republicans argued that hundreds of ballots submitted in Dowless's race for the Soil and Water Conservation board seat bore similar handwriting, and thus the results were suspect, even though Dowless won his race for reelection, The New Yorker reported. In other words, McCrory attributed fraud to the Democratic Party.
To use a highly technical term of art, North Carolina's Ninth Congressional District appears to be a mess. And it isn't getting any neater as time goes on. State investigators have issued subpoenas to the Harris campaign, and in Congress, Democratic representative Gerry Connolly of Virginia has called for an emergency hearing into the matter. And with even Woodhouse conceding that a new election might be necessary, Harris's chances of occupying a seat in Congress are beginning, ever-so-gradually, to shrink.