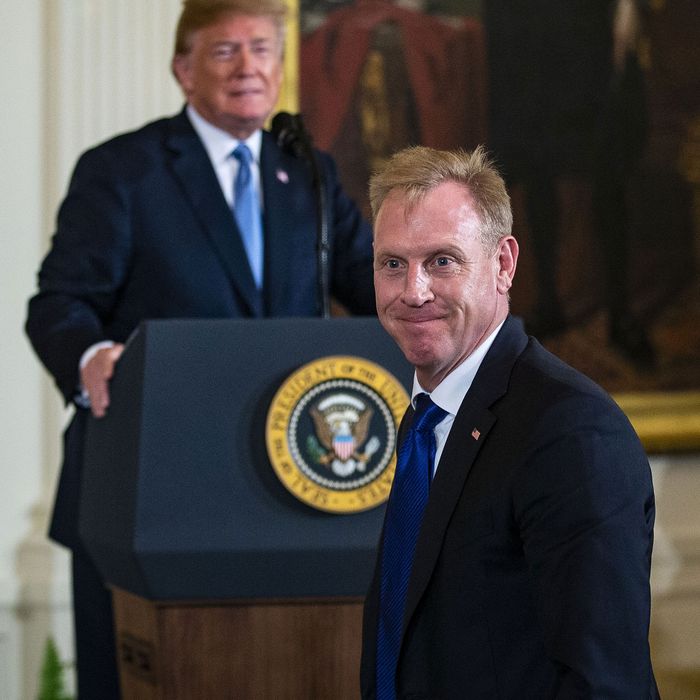 Patrick Shanahan is reportedly doing Boeing's bidding from inside the Defense Department.
Photo: Al Drago/Bloomberg via Getty Images
Shortly after Patrick Shanahan was confirmed as deputy Defense secretary in the summer of 2017, the Defense Department set up an alert system to flag any issues involving Boeing, the giant defense contractor where Shanahan worked as a senior vice-president before joining the Trump administration. The alerts would inform Shanahan's staff to route the issue through other DoD officials, keeping the concerns of Boeing away from the man who worked there for 30 years.
But according to a new report from Politico, that system wasn't foolproof. Shanahan, who became the acting Defense secretary after Mattis's resignation last month, has reportedly spent his time at the DoD serving as an unofficial lobbyist for his former employer. He advocated for Boeing in private meetings and bashed rival defense contractor Lockheed Martin. He went after Lockheed Martin's CEO and argued that Boeing, not Lockheed, should have won the contract to build the F-35.
In high-level Pentagon meetings, Shanahan has heavily criticized Lockheed Martin's handling of the production of the F-35 fighter jet, which is expected to cost more than $1 trillion over the life of the program, according to one of the two sources, a former senior Defense Department official who was present.




Shanahan, this official said, called the plane "f—ed up" and argued that Lockheed — which edged out Boeing to win the competition to build the plane in October 2001 — "doesn't know how to run a program."




"If it had gone to Boeing, it would be done much better," Shanahan said, according to the former official.
The former official also said that Shanahan would use the word "we" when talking about Boeing.
This is the problem with appointing someone with "this deep of a conflict," says Mandy Smithberger of the Project on Government Oversight's Center for Defense Information. She told Politico that after Shanahan spent his entire career at Boeing, it would be "pretty close to impossible" for him to recuse himself from all Boeing-related matters.
When Politico asked Shanahan's office about the allegations of Boeing boosterism, it put out a statement reiterating his commitment to recusing himself from anything involving the company. "Under his ethics agreement, Mr. Shanahan has recused himself for the duration of his service in the Department of Defense from participating personally and substantially in matters in which the Boeing Company is a party," the statement said.
Boeing, counterintuitively, says having a former executive atop the Pentagon is a bad thing.
A Boeing official said the company views having one of its former senior executives at the top of the Pentagon as a complicating factor, not as an advantage. "We couldn't talk to the DepSec and now we can't talk to the acting secretary about our programs," the official said. "That's a disadvantage to Boeing that other companies don't have to deal with."
But it didn't seem like a disadvantage when the Pentagon decided to request $1.2 billion for 12 Boeing F-15 X fighters. That decision was made not at the behest of the Air Force, but after "prodding" from Shanahan, Bloomberg reported last month.
If Shanahan is nominated for Defense secretary, expect these issues to come under much greater scrutiny. And that just might happen. The Defense secretary job is Shanahan's "if he wants it," Vox reported last week.