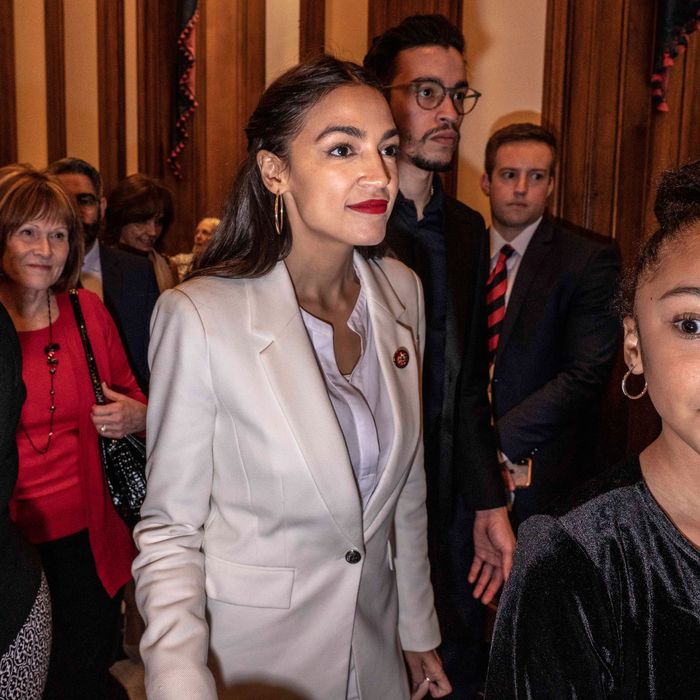 Reporting for duty.
Photo: Mark Peterson/Redux
"You are here," Corbin Trent said, looking at a map mounted on the wall of the tunnel beneath the Cannon House Office Building. It was the end of the Big Day — Thursday, January 3 — and Trent, a 38-year-old veteran of progressive causes with a Tennessee twang, was now the communications director for a member of the 116th Congress: Representative Alexandria Ocasio-Cortez, Democratic Socialist of New York. He was also lost.
Like his boss, who became a national political celebrity overnight when she defeated 20-year incumbent Joe Crowley in the Democratic primary in June, Trent is an outsider in the Capitol Building, a place he said he'd never been until this week. Now he couldn't figure out how to escape it.
"This is C Street, right?" he asked.
I didn't know, and neither did José A. Alvarado Jr., a photographer who has been documenting Ocasio-Cortez's political rise since the campaign, or a deputy who — including Trent — is one of just seven staff members working for the new congresswoman in Washington (two of them haven't even started yet). "If we just keep walking, eventually there will be a door out of here," Trent said, mocking the haphazard plan that had led them to dart aimlessly through the halls for several minutes. He peered around at the signs. "We're not going to Rayburn," he said. "We're not going to Cannon."
He turned around and moved purposefully through the corridor in the opposite direction. "This is why we should hire some staff with Hill experience," he joked. "They know how to get out of the building!"
Reflecting on the day's events as he walked, Trent said one thing was clear: "It's gonna be a long two years."
Ocasio-Cortez had already broken with the Democratic majority by voting against the House rules package over a provision known as PAYGO, which neutralizes all new spending with tax increases or budget cuts. This placed Ocasio-Cortez in official opposition to members of her own party on the same day that she was finding herself subject to a bungled hit job from the right wing, in which a video of her dancing inoffensively in college was circulated online like some kind of digital oppo campaign version of Footloose. Trent said he didn't yet know how much the vote had irritated Speaker of the House Nancy Pelosi and others of her Establishment ilk. "We'll have to read the papers, won't we, and see what they're saying," he said.
He added, "It sort of reminds me of rap back in the '90s — you had East Coast/West Coast — they would do their beefs through their music, right? Well, it turns out here in D.C., you do your beefs through the press, through Politico."
As we walked around the corner, we saw Representative Rashida Tlaib, who was waiting for the elevator with a member of her staff. The Michigan Democrat is a member of Ocasio-Cortez's Instagram-official "squad," and Trent greeted her like he'd found a friend at a party full of strangers.
"Hey! What's up, Rashida!" he shouted. As he moved closer, he asked a series of questions in quick succession: "How's it going? How are you? Were you one of the four?"
"Four?" Tlaib said, confused.
"Nos?" Trent replied, explaining that he was asking about the vote on the House rules package.
"No, no," Tlaib said. "I did a yes."
There had, in fact, only been two Democrats, besides Ocasio-Cortez, to vote against the package: Tulsi Gabbard of Hawaii, and Ro Khanna of California.
Trent let out a dramatic sound of sorrow: "Ooaaawwww!"
"Yeah, sorry!" Tlaib said, her tone awkward and apologetic.
Trent seemed to sense that she was uncomfortable. "No, it's okay!" he told her. They chatted back and forth in friendly half-sentences until they arrived at an understanding. This just wasn't the hill Tlaib was going to die on. She'd be picking a different hill, she said. (Later on Thursday evening, Tlaib may have found it when she announced her plans for the president to a roomful of cheering supporters. "We will impeach this motherfucker!" she said. By Friday afternoon, Pelosi had expressed her disapproval.)
The elevator arrived, and Tlaib's staffer called after us with instructions for how to get out of the building: "A left at the hallway!"
He was right.
The night before the swearing-in, I'd come by Ocasio-Cortez's new office, previously occupied by Republican Barbara Comstock, who lost her bid for reelection in Virginia, to speak to Trent. The space was virtually empty, save for a coat rack and an emergency exit plan decorating the wall. All of the new members were moving in, and the whole building had the vibe of a college dormitory in August. "Mark Meadows popped in, from the tea party," Trent told me. "This is a small place."
A man and woman who said they were moving another member in across the hall came by to ask if anyone had a drill they could borrow. Nobody in Ocasio-Cortez's office could help on that front. "What about a hammer and nails?" the woman asked.
I noticed, walking through the halls, that some members could be seen in the entryways of their new digs, fiddling with their phones or talking to staff. When Ocasio-Cortez came into her office following a photo shoot, by contrast, she was in a hurry. Her status nationally and among the political press here in Washington did not seem to leave a lot of time for hanging around. It also doesn't leave much room for relaxed door policies. Most of the day on Thursday, an older man who wore a CNN hat and a Bob Marley sweater sat in front of her office holding a large walking stick and blowing bubbles. He referred to Ocasio-Cortez as "a child" and he'd come to criticize her for what he described as a kind of general selling-out. He introduced himself to me as "Solutionator Victor Cohen Suarez Eden." Eventually, security came to interview him, and he told them his name was "Art Eden." He refused to provide them with identification, and he was escorted out.
What will such celebrity be worth in Washington, where the Democratic majority in the House votes for something like PAYGO, which leftists consider an outright conservative policy? Ryan Grim of the Intercept noted the central "paradox" of Ocasio-Cortez's position: "Her every tweet is a potential news cycle … She has used that platform to shift the broader political conversation in ways previously unthinkable … But inside the building, she is heavily outgunned."
One progressive operative I spoke with told me that the burden was on Ocasio-Cortez to figure out how to effectively translate her skills as an outside advocate to the insider work of legislating. "Her biggest challenge will be figuring out how to bring her activism into her new life. She now has the power where she doesn't have to protest — she can get a meeting and speak to Nancy Pelosi."
When I read that statement to Trent, he barely waited a beat to reject it. "I don't think meetings work. I don't think you convince people by sitting down with them and telling them what you think. I think you convince people by showing them that there's millions of people that are gonna beat down their door and demand you do something different."
Trent added that this strategy would "probably" make Ocasio-Cortez a lot of enemies here in Washington. "I think you'll either have friends here or you'll have friends around the country and back in the district, and you've gotta pick."