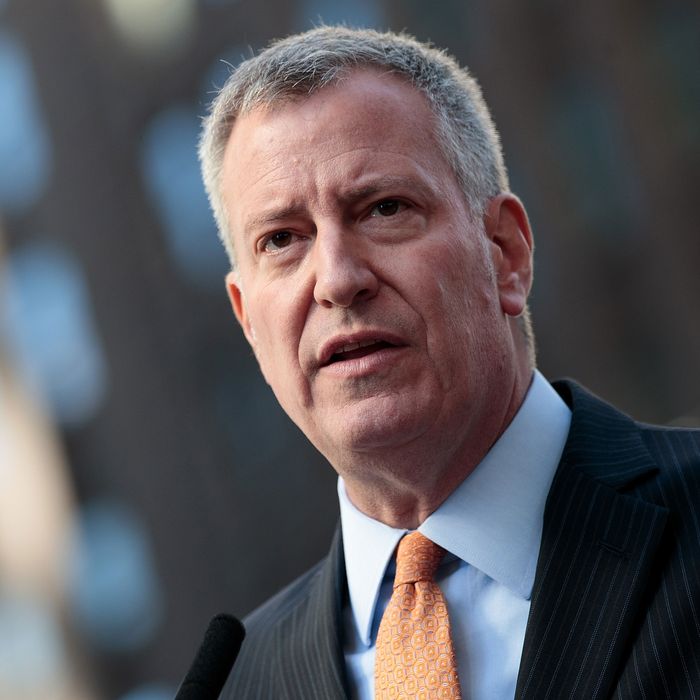 Photo: Drew Angerer/Getty Images
New York City will guarantee comprehensive health-care coverage to low-income residents, Mayor Bill de Blasio announced on Tuesday morning. In a press appearance at Lincoln Hospital, a public facility in the Bronx, de Blasio said the city will spend $100 million to create NYC Care, which the mayor's office has characterized as a universal health-care plan. In an email to New York, a spokesperson for the mayor said NYC Care will work in two ways. It will expand MetroPlus, the city's public option, and it will additionally create a program to cover New Yorkers who are otherwise ineligible for insurance — often because they are undocumented immigrants. As the New York Times reported on Tuesday, NYC Care is a hybrid version of health-care reform that combines insurance coverage with direct entitlement spending. NYC Care will begin its rollout this summer in the Bronx before expanding to the city's other boroughs. The mayor's office says about 600,000 New Yorkers will receive health coverage as a result of the plan's dual-pronged strategy.
In Tuesday's remarks to the press, de Blasio criticized both Washington, D.C., and Albany for failing to act on single-payer health insurance and expressed support for a single-payer bill Democratic state legislators have said they plan to introduce this month. "The ideal solution is single-payer health insurance and Medicare for All, that's what we need," de Blasio said, and added that if the national government won't act, "the state should act." De Blasio previously told U.S. senator Bernie Sanders last January that in New York City, "we want to use our political power, our consumer power etc. to fight for a single-payer system."
Few details are available about either NYC Care or its rollout strategy. The mayor did tell press that it will operate on a sliding fee scale and New Yorkers in extreme poverty will receive coverage for free. All participants will receive a card and a regular primary-care doctor. In addition to preventative and emergency care, NYC Care will also cover gynecological and obstetric services, mental-health care, and substance-abuse treatment. The mayor's office says there are no plans to raise taxes to cover the program's costs. During both an MSNBC appearance and his press conference, de Blasio also promoted NYC Care as a way to reduce expenses for the city's beleaguered public NYC Health + Hospitals network, which faces serious financial difficulty. The Independent Budget Office "projects budget shortfalls of over $156 million in 2018, increasing to $1.8 billion in 2022" for city hospitals, the Times reported. De Blasio told press that low-income New Yorkers "won't end up in a hospital bed" if they get the preventative care they need.
If NYC Care works as it's been proposed, it will drastically expand health-care access to low-income New Yorkers. That's radical on its own, but the plan is still a relatively incremental approach to reform because the city already has a public option in place. NYC Care may also draw on an older, year-long pilot program, ActionHealthNYC, which the city ran from May 2016 to June 2017. Documented, an immigration news website focused on New York City, first reported last December that city officials were considering "a wide-ranging proposal" based in part on ActionHealthNYC, which was designed to reach undocumented immigrants. Before the program ended in 2017, it "offered members reduced health costs and a managed care framework at facilities in the public Health + Hospitals system," Documented explained. Before the program's closure, 1,265 uninsured people received health-care access. A report released by the American Institutes for Research "stated that 'significantly more members reported having a primary care provider, and used primary and specialty care, than did the study group,' and concluded that the program had improved the use of preventive services and the diagnosis of chronic conditions," Documented continued. NYC Care will similarly provide health coverage to the city's undocumented immigrants.
NYC Care also wouldn't be the mayor's first stab at a universal welfare policy. In strategy and scope, the program mirrors the mayor's universal pre-K scheme, and that may be a good thing. The Times reported this month that pre-K enrollment in New York City increased from 19,000 students in 2013 to 70,000 students as of January 1, 2019. Ninety-four percent of those students, the Times said, attended programs that "met or exceeded a threshold that predicts positive student outcomes after pre-K, according to a national evaluation system, the Early Childhood Environment Rating Scale, developed by a coalition of experts." Universal pre-K has experienced its share of turbulence — in May, over 100 schools had wait-lists for pre-K and the program's inclusion of religious schools raised First Amendment concerns — but by two major metrics, the policy looks successful. It expanded access to quality pre-K without bankrupting the city. In theory, those outcomes could help shape the mayor's latest welfare gambit.
And de Blasio could use a victory. The timing of NYC Care is fortuitous for the mayor, whose vaunted progressive credentials are questioned by grassroots activists. The city's ongoing public-housing crisis mars the mayor's left-wing record. So does the persistence of broken-windows policing and a recent, dubious deal to locate Amazon's second headquarters in Long Island City. In announcing NYC Care, the mayor not only makes good on a professed commitment to universal health-care coverage; he may also hope to mollify voters that he'll need if he ever runs for higher office.
If that's the case, he's part of a crowd. De Blasio isn't the only major Democratic politician to announce a major health-care rollout this week. On Monday, California's newly seated Democratic governor, Gavin Newsom, used his inaugural speech to unveil a single-payer health-care proposal. Washington governor Jay Inslee, a Democrat, appeared with state lawmakers on Tuesday to announce the introduction of a bill to add a public option to the state's health-insurance exchange. The Atlantic reported on January 2 that Inslee is preparing for an imminent presidential run, and while Newsom has said repeatedly that he doesn't plan to run in 2020, those denials haven't defused speculation about a possible run in 2024 or later. De Blasio, meanwhile, said last November that he intends "to continue in elected office if there is an opportunity to do so" after his current term expires. NYC Care isn't Medicare for All, the policy that helped make Bernie Sanders a household name; neither is Inslee's public option or Newsom's single-payer plan. These Democrats are constrained by the limits of their offices. But their proposals still illustrate a generalized principle. With health care such a prominent issue in the midterms, and with polling now firmly supportive of more government involvement in care provision, universal health care looks newly attractive. As ambitious Democrats try to build national profiles, they're more likely than they've ever been to make health care a cornerstone issue.