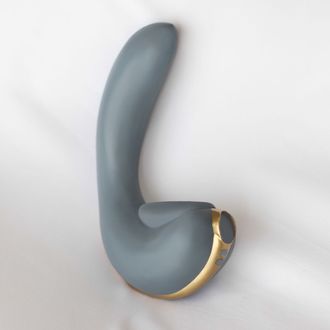 The sex toy in question.
Photo: Courtesy of Lora DiCarlo
CES, an annual tech trade show in Las Vegas hosted by the the Consumer Technology Association that folks in the industry love to hate, is often best remembered each year not for the halls filled with things like motorized suitcases engineered to follow their owners — yes, really — but for the things that go wrong. Last year, the power went out, leaving thousands of people in the dark. This year, the CTA let everybody know exactly what it thinks about women, specifically women's sex tech — i.e., not much.
In September 2018, Lora DiCarlo submitted a product called the Osé for CES's Innovation Award. The Osé is a personal massager that uses micro-robotics to "mimic all of the sensations of a human mouth, tongue, and fingers." In October, the company was notified that it had been selected as an honoree in the Robotics and Drone product category. But a month after that, DiCarlo explains in an open letter on the company's website, they were notified that the award was being rescinded and they were barred from showing at CES. "Entries deemed by CTA in their sole discretion to be immoral, obscene, indecent, profane or not in keeping with CTA's image will be disqualified," CTA initially explained. "CTA reserves the right in its sole discretion to disqualify any entry at any time which, in CTA's opinion, endangers the safety or well being of any person, or fails to comply with these Official Rules."
CTA president and CEO Gary Shapiro followed up with a second letter claiming the product had been disqualified because it was not eligible for the category itself. "[Lora DiCarlo's product] does not fit into any of our existing product categories and should not have been accepted for the Innovation Awards Program," CTA's senior manager of event communications Sarah Brown told TechCrunch. "CTA has communicated this position to Lora DiCarlo . We have apologized to the company for our mistake."
Sex toys and sex tech, for the record, have long been staples of CES. Since 2017, Naughty America, a film company, has shown its VR products at the event. Meaning if you attend CES you could be walking around, minding the levitating electric toothbrushes or whatever, and walk right by a private room full of men with headsets strapped on watching adult videos. From the 1980s until 1998, CES had an entire section devoted to "adult software … where porn stars and adult filmmakers openly displayed their products." So-called "booth babes," women demoing products clad in high heels and not much else, were the norm at CES until only recently. Last year, Solana, a female sex robot, was introduced at the trade show.
Given its record, it should be easy to cast CES as a chauvinist villain. But what makes the DiCarlo drama even more bizarre is that CES has also shown female-centric sex tech in the past. In 2016, Fiera showed a product, the Arouser For Her, that used suction to stimulate oral sex. OhMiBod, another sex toy company, has shown products for years, and won top honors, also in 2016, for the Lovelife Krush, a device for tracking kegels to help women suffering from pelvic floor pain. That award was in the Digital Health and Fitness Product category. Of course, those are just two products, compared to decades' worth products pandering to getting men off. And, if you really want to get into it, those are two products you could spin as related to male sex, anyway. The Arouser for Her was designed to be used before sex to help improve women's libidos. You could make a similar case for the Lovelife Krush. OhMiBod is back at CES this year showing an Apple Watch app that lets app users control Bluetooth-enabled personal massagers for their partners. Female pleasure technology is fine and not "immoral" or "obscene" so long, it would seem, as it's still tied to male pleasure. A robotic massager designed to give women killer orgasms without involving men doesn't exactly fit, as CTA said, in that category.