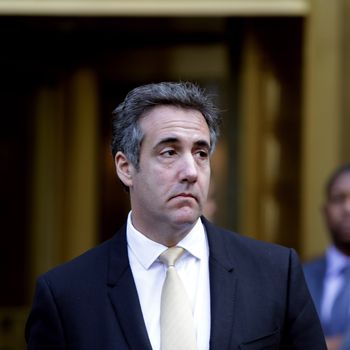 Michael Cohen was once very eager to please Trump.
Photo: Yana Paskova/Getty Images
Last week, the Wall Street Journal reported that Donald Trump's former lackey Michael Cohen hired an IT firm to rig two online polls in favor of his boss in 2014 and 2015. But Cohen's tech guy let him down, failing to land Trump among CNBC's top 100 business icons of the previous 25 years, and only managing to get Trump into fifth place in a Drudge Report poll on GOP candidates. So Cohen allegedly stiffed the guy.
Now, the Journal is back with more ridiculous details about a story that perfectly illustrates Trump's ego and Cohen's willingness to do anything to please it. Cohen, it turns out, wasn't only angry at the guy he hired to rig the polls, he was angry at CNBC. After Trump was left off the website's list of accomplished businessmen, Cohen reportedly contacted CNBC and said Trump would sue because the site was "ignoring the will of the people."
Trump, who tried to get his followers to vote for him, complained to CNBC after he lost and fired off a couple whiny tweets:
After the Journal's initial report, Cohen said Trump ordered him to manipulate the poll. Trump's lawyer, Rudy Giuliani, disputed this, calling Cohen's claim "bullshit." He added: "This is not true. The president did not know about this if it happened."
Cohen's efforts to boost Trump's ranking in the CNBC poll were not confined to hiring an IT guy to manipulate the votes. He also got Liberty University President Jerry Falwell Jr. to drive people to CNBC with a tweet from the school's official Twitter account.
The PR campaign didn't work. When the final CNBC list came out, Trump was no where to be found. Amazon CEO Jeff Bezos was number five though.