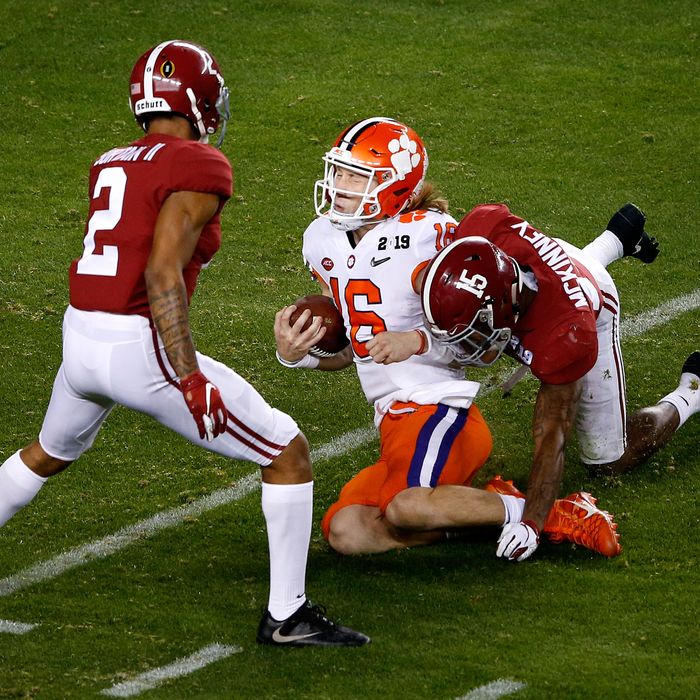 Would Trevor Lawrence of the Clemson Tigers be playing if he were on the verge of being drafted?
Photo: Lachlan Cunningham/Getty Images
One of the enduring delusions sports provides us with is the sense that what we are presently witnessing is something we have never seen before, that every event is unprecedented and will never be duplicated. Every game has to be The Biggest Thing That Has Ever Happened, particularly with this current obsession with massive events, goosed by increased financial reliance on television ratings. Sports' primary job description is to blow your mind. This has always been the case — one of the most famous calls in sports history is Jack Buck's "I don't believe what I just saw" after Kirk Gibson's walk-off home run in the 1988 World Series, as if Gibson had just sprouted wings, breathed fire, and flown away to Mars — but in a social-media age, every game is required to be the best game ever. The Super Bowl is the centrifugal force that has rerouted every other sport's course in this regard, to the point that Monday night's College Football Playoff National Championship game was shown on a stunning 17 different ESPN networks, with a pregame show that started long before any of the players were even awake. With a reported $7.3 billion spent on broadcasting the game, ESPN had every incentive to flood the zone.
This year, though, there was an undeniable sense that everyone was trying a little bit too hard — that ESPN had painted an old car and was attempting to sell it as new. Monday night's game featured Alabama playing Clemson in the College Football Playoff for a fourth consecutive season; every fan base other than their own has long grown sick of seeing these two teams on the national stage. It was also played in a much-unloved NFL stadium, Levi's Stadium in Santa Clara (more than 50 miles from San Francisco, where it rained all week), in an area of the country that is largely indifferent to college football anyway. Tickets were shockingly inexpensive, as low as $110 at one point, nearly a quarter of face ticket value, and the vibe was sleepy from the kickoff. The game itself looked like a barn burner at first, with both teams trading first-quarter touchdowns, but once Clemson set about giving Nick Saban the worst loss of his Alabama era, the half of the stadium wearing red went about covering its collective face with its hands, aghast. Clemson had their deeply satisfying victory, but all told, in a macro sense, that didn't really matter either: both of these teams have won championships in the last three year. Clemson's title is just another trophy on the mantel, the South's equivalent of a yawning Bostonian unable to feel particularly moved by yet another Red Sox or Patriots championship.
The game was, in the end, not that big of a deal. And while that's largely due to the unique circumstances of this game, it is also indicative of a trend in college football that is perhaps worth keeping an eye on. Because this sport — founded on the idea that every game, regardless of when it is played, is of paramount, almost immortal importance — is starting to face a potential existential crisis years in the making. I'm not talking about head injuries or the inability of college athletes risking their health to make even a short-term living doing it — those are close to moral abominations, but they haven't really seemed to make anyone less interested in watching the sport. But now, suddenly, players are starting not to care about the games. In fact, games that were once centerpieces of players' entire careers are, to them, beginning to look like more trouble than they are worth.
You started to notice this a couple of years ago, when top prospects, wanting to protect their health before heading into the NFL draft, would announce that they were skipping their team's bowl games. This was a tacit admission of something that college football, in a playoff era, had attempted to pretend wasn't true: Any bowl game that wasn't for the National Championship Game was, for all intents and purposes, meaningless. Suddenly, the Rose Bowl, the Sugar Bowl, the Orange Bowl — once the centerpieces of the college football season — were exposed for what they were, glorified exhibitions meant to give wealthy alumni something to do over the holidays and make an old boys' network increasingly rich. (Including the hilarious and indicative story of the Outback Bowl executive who makes more than a million dollars a year organizing one entirely irrelevant football game.) Over the last couple of years, players skipping their bowl games became more and more common, and it is now, save for your occasional back-in-my-day cranky former players, generally accepted by coaches, fans, and media alike that any player who doesn't skip a bowl game to preserve his draft status is doing himself a disservice. The game doesn't matter, and hey, he's not getting paid anyway.
Except … when you take a step back from it, well, for a college football player who isn't getting paid, who is putting his body and brain on the line every time he steps on the field, who could theoretically be paralyzed in a game and rely on the opposing team's fans to put together a fundraiser to pay his medical bills … for that college football player, isn't everything a glorified exhibition meant to give wealthy alumni something to do over the holidays and make an old boys' network increasingly rich? If you've decided that bowl games aren't worth risking your future earning power on, well, then, why are any of them worth it?
This is not necessarily an academic question. One of the best players in college football heading into this season was Ohio State defensive end Nick Bosa, who was expected to help lead the Buckeyes to a potential national championship. But three games in, he suffered a lower abdominal injury in a game against Texas Christian, one that was expected to keep him out for a few games, but not the entire season. But a month later, Bosa announced that, even though Ohio State was undefeated and ranked No. 2 in the country, he would not be returning to the team, preferring to focus on preparing for the NFL draft. This was the best player, on one of the best teams in the college football (a team his older brother Joey played for and won a national championship with), with a chance to win a title for his embattled head coach … begging off for his own well-being. And it was unquestionably a smart play: He's widely expected to be the first overall pick in next April's NFL draft.
His example will be noticed. This is the peril of having a billion-dollar sport that doesn't pay its players: When they see how much money they have on the line, and how much everyone else is making off them, they will eventually make the logical decision to take care of themselves, and only themselves. Because of an NFL rule, players must be in school for three years before they are eligible to be drafted — Monday's star Trevor Lawrence still has to take hits for two years at quarterback, even though he'd be the first pick in April if they let him in the draft. And because many players redshirt their freshman year, they theoretically could play only one season and a few games in their second season, like Bosa, and then decide they've showcased their skills enough to leave altogether. This is already happening in college basketball — a sport with far less danger of catastrophic injury —to the point that it is actively harming the sport: One of the major criticisms of last year's Final Four was how few players were recognizable to the average fan. Most stars stay just their one year, which is often not long enough for fans to really get to know them or to develop enough to propel their team all the way to the championship. College football, with less of a reliance on individual stars, has mostly eluded this problem so far. But it is gaining on them.
It has long been speculated that the way to force change in college sports would be for players themselves to go on strike — to, on the eve of a game like Monday's, with billions of dollars of network money on the line, simply decide not to play. This has long been considered too much to ask of the players, who are, after all, just trying to hang on long enough to get paid in the first place. But when you pan back a bit, and look at the game for what it is — a game that will make millions of dollars for thousands of people who don't have to go through the trouble of actually playing in it, in a sport that keeps adding more and more games, decreasing the value of the ones they already have — it is beginning to look like the only logical endpoint. And perhaps, someday soon, a plausible one.