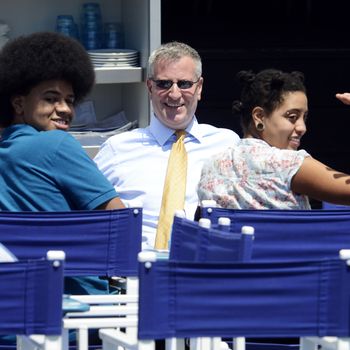 The mayor took some time off for a trip to Italy in 2014 and thinks other New Yorkers should have the same opportunity.
Photo: STR/AFP/Getty Images
New York City residents will have two weeks of guaranteed paid time off if city councilmembers pass a new proposal from Mayor Bill de Blasio. As the Washington Post's Jeff Stein reported on Wednesday, the policy would make the city a national labor leader. Only Puerto Rico requires paid time off. "At least 20 countries — including New Zealand, Ireland and Greece — mandate at least 10 days of paid vacation, making the United States an outlier in not offering these benefits," Stein wrote, adding, "Several states and cities have adopted mandatory paid sick leave since 2011 but not paid vacation." Roughly 500,000 people would gain access to paid time off if the proposal becomes law.
De Blasio made the announcement one day after unveiling NYC Care, a new universal health-care program for the city's low-income residents. If enacted, paid leave would certainly polish the mayor's self-styled progressivism — and it would also make an immediate, significant difference in the lives of New York City workers. In 2018, the Center for Economic and Policy Research found a full quarter of American private-sector workers have no paid time off at all. Mexican workers, by way of contrast, are guaranteed at least six days of paid annual leave; British workers get 28.
Americans also work more hours on average than their peers in other developed nations even though there's no reliable evidence to support a causal link between overwork and increased productivity. There is evidence, however, that overwork can contribute to serious health problems. A study from University College London found that workers "who worked more than 55 hours per week had a 13% greater risk of a heart attack, and were 33% more likely to suffer a stroke, compared with those who worked 35-40 hours per week," according to the blog of Harvard Medical School. That University College London study isn't the only evidence of its kind. According to a 2017 paper published in Occupational Medicine, researchers from the University of Lisbon found that work weeks of 48 hours or more are associated with sleep disturbance and more prevalent symptoms of depression and anxiety.
Though this is all evidence that paid time off could benefit workers, the history of paid sick leave initiatives augurs a mixed response from the powerful restaurant and retail industries. The New York State Restaurant Association opposed a paid sick leave proposal in 2010; and in 2015, the Pennsylvania Restaurant and Lodging Association joined a group of Pittsburgh restaurants to file suit against a paid sick leave proposal in that city. The National Restaurant Association, which says it represents "over 500,000 restaurant businesses," routinely lobbies against paid sick leave proposals in various states. Their argument — that paid sick leave cuts into restaurateurs' profit margins — can be applied to paid time off, and as the Post notes, de Blasio's new proposal is modeled on his 2014 paid sick leave law.
Democrats control City Council, and the proposal may be popular with New Yorkers. In a 2015 poll conducted by the Huffington Post and YouGov, 78 percent of respondents said they believed employers should be required to provide some paid time off. If there's going to be a political fight over paid time off, it may not be one that business interests can win.