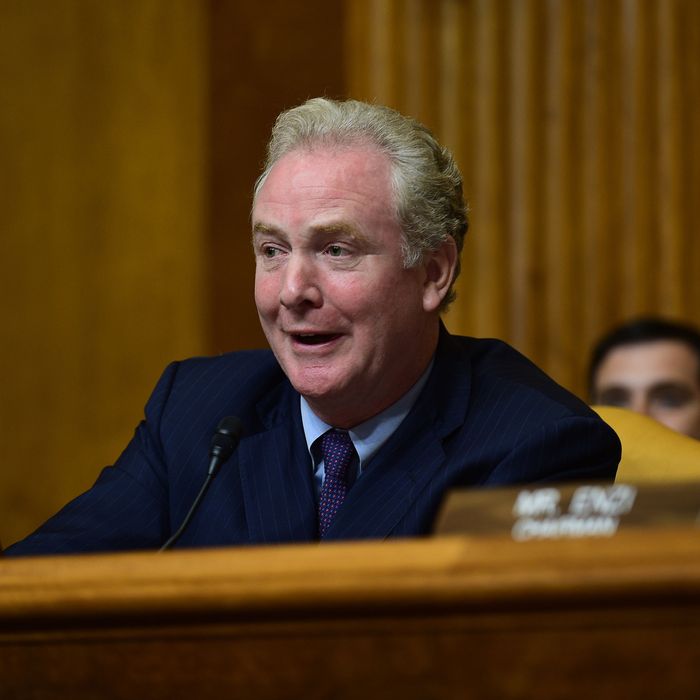 Maryland senator Chris Van Hollen wants his constituents back to work and paid.
Photo: Astrid Riecken/Getty Images
While formal negotiations to reopen the federal government haven't gone anywhere so far as we can tell, the president clearly thinks his latest gambit — a prime-time speech on border issues before his own trip to the border to dramatize the phantom specter of an immigration "crisis" — will move this thing along. Perhaps Trump just wants to keep his base energized and restive Republicans behind him. Or maybe he has some roundabout strategy for resolving the stalemate, like the "national emergency" declaration he's hinted at that would (at least until federal courts stymie him) let him claim he's using Pentagon money to build his wall, and thus doesn't need a congressional appropriation anymore.
In any event, the administration isn't alone in contemplating unilateral actions. Senate Democrats are now threatening to prevent any Senate votes on other matters until Mitch McConnell allows a vote on House-passed bills to reopen the federal government while continuing border-wall negotiations, as the Washington Post explains:
A growing coalition of Senate Democrats — hailing primarily from states that have a large population of federal workers, as well as the contingent of senators eyeing presidential bids in 2020 — say the chamber should not vote on anything else until the shutdown ends. Those tactics were first proposed by Sen. Chris Van Hollen (D-Md.) …
The first scheduled cookie on the plate, though, involves a package of Middle East legislation, notes Roll Call:
That first real Senate vote of the Congress, which is scheduled for 5:30 p.m. Tuesday, is on a motion by McConnell to short-circuit any potential filibusters on the motion to proceed to a bundle of foreign policy bills held over from 2018 that have had bipartisan support …




A senior Senate Democratic aide said Minority Leader Charles E. Schumer would be joining in the opposition to taking up the Middle East policy package before votes on the House-passed spending bills. "Senate Republicans should instead bring to the floor the House-passed bills to reopen the government," the aide said.
Senate Republicans, of course, don't want to be forced to vote to keep the federal government closed, and would prefer simply to hide behind Trump. But unsurprisingly, they've chosen to claim Democrats are taking the Middle Eastern bills hostage because they hate Israel:
The highlights of the actual legislative package up for debate Tuesday, which is being led by Florida GOP Sen. Marco Rubio, are a measure that would provide for a new round of sanctions targeting Syria and language that is getting the most attention because it would seek to thwart efforts to promote boycotts and disinvestment from Israel.




In a debate that has been playing out on Twitter, in no small part because senators have not been on Capitol Hill for several days even as the shutdown has continued, Rubio has argued that the shutdown is not really why a number of Democrats are pushing to block the foreign policy bills.




"A significant # of Senate Democrats now support #BDS & Dem leaders want to avoid a floor vote that reveals that," Rubio tweeted, referring to the campaign that calls for boycotts, divestments and sanctions against Israeli companies.
Senate Democrats sharply dispute that claim.
So Republicans will try to play the Israel card to keep Democrats from playing the "reopen government" card while everyone tries to figure out whether Trump can get out of the trap he set for himself by blundering into a government shutdown without having a viable strategy to end it.