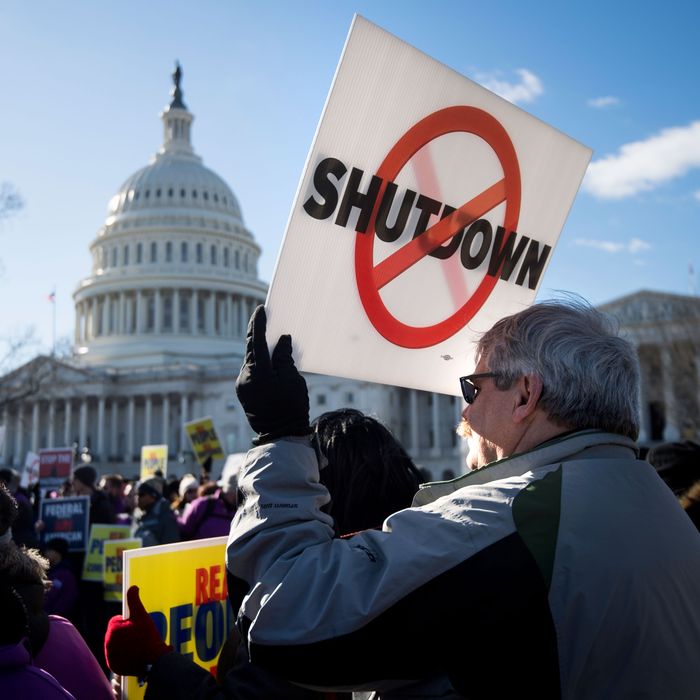 A Stop the Shutdown rally in front of the Capitol Thursday.
Photo: Bill Clark/CQ-Roll Call,Inc.
Furloughed federal workers, hundreds of thousands of whom have been working for weeks without pay, are tired of waiting for lawmakers to find a solution to the partial government shutdown. So they're taking to the streets, and the courts.
On Thursday, the same day they received pay stubs for zero dollars, air traffic controllers staged a protest outside the Capitol. They were joined by unions representing other groups of federal workers, including TSA workers and pilots. They were also joined by several lawmakers, including Democratic senators Mark Warner and Richard Blumenthal.
The rally is part of a coordinated push by labor unions representing federal workers to put pressure on lawmakers to end the shutdown, and a sign that workers are growing increasingly frustrated with working for free.
Another sign came this week from the National Treasury Employees Union. The union, which represents workers at 33 federal agencies, sued the Trump administration for forcing people to work without pay during the shutdown. The suit names two Customs and Border Protection officers who have been forced to continue working even though they won't receive a paycheck until the government reopens.
The NTEU lawsuit is the second of its kind, coming a week after the American Federation of Government Employee, which represents correctional officers and ICE agents, among others, sued the federal government for the same thing. In a statement, AFGE president David Cox said: "Our members put their lives on the line to keep our country safe. Requiring them to work without pay is nothing short of inhumane."
As air traffic controllers and their allies rallied near the Capitol, the National Federation of Federal Employees gathered members outside the White House Thursday. Protestors marched with signs that read "Let me work for the people," "We want to work," and "Trump: End the shutdown."
Lila Johnson, a contracted custodian at the U.S. Department of Agriculture for more than two decades, told USA Today that she has relied on her daughter for financial help. "It's a struggle. It's time for them to open the government back up so people like me … can go back to work," she told the paper.
The rallies aren't just taking place in Washington, though. With furloughed workers spread around the country, protests against the shutdown have taken place in Atlanta, Covington, Kentucky, Detroit, Minneapolis, and Philadelphia, among other places.
And if these workers seem angry now, just wait until tomorrow, which would have been payday.