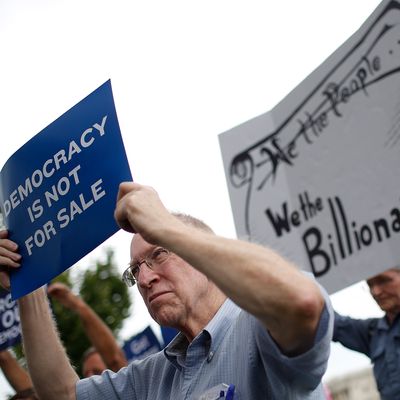 Supporters of campaign finance reform rally outside the U.S. Capitol on September 8, 2014.
Photo: Win McNamee/Getty Images
Congressional Democrats are preparing to introduce a bill that would provide some public financing for elections, the Intercept reported on Thursday. H.R. 1 would grant a $50 tax credit to individuals who donate under $300 to House campaigns. "People in the states selected to pilot the voucher program would have the option to request a 'My Voice Voucher' and allocate funds in increments of $5 to multiple candidates of their choice. Taking part in the voucher program also precludes eligibility for the tax credits," The Intercept continued. Candidates who opt into the program could receive a six-to-one match for small dollar donations, and if they agree to some restrictions on how they finance their campaigns, that match would increase by 50 percent.
Democrats had initially unveiled H.R. 1 in November. At the time, the party called the bill an anti-corruption measure and its public financing provisions received little attention, as the Intercept notes. With public opinion largely united on the need to root out corruption in Washington, H.R. 1 is the most tangible effort from either major party to address the issue. Donald Trump ran on draining the swamp, but he perceives his class interests with clarity; Trump, a self-proclaimed mogul, has stocked his administration with other moguls and moneyed lobbyists.
H.R. 1 isn't just about Trump, or the well-established discrepancy between his campaign rhetoric and his actions as president. For Democrats, the bill is also an exercise in identity formation, a way to preview a corruption message that goes beyond superficial anti-Trumpism by incorporating a real critique of power in Washington. Public financing for elections would make candidates less reliant on major donors and corporate money, a problem that did not originate with Trump's fateful campaign announcement.
The legal right to run for office levies no restrictions on income level. A fry cook at McDonald's can run for Congress. But his chances of victory or failure will depend largely on his bank account. He can run on a strong platform, with policies informed by his life as a member of the working class, and lose for reasons that have nothing to do with his merit as a candidate. Maybe the Democratic Party ignores him, underwhelmed by his social connections. How likely is it, after all, that he would attract enough rich donors to pique the party's interest? Maybe his opponent is so wealthy and so well-connected that they can drown out his message — with TV ads, radio spots, signs, and events. As I previously reported for The New Republic, members of the 115th Congress owned combined wealth of around $2.43 billion. Recent successes by working-class candidates like Alexandria Ocasio-Cortez will make Congress slightly more representative of the American people — but without significant structural reform, victories like hers threaten to be outliers. Congress remains very white, male, and wealthy.
H.R. 1 has little chance of becoming law during this congressional session. But it may boost existing reform efforts if it ever becomes law. Over two dozen states and municipalities already have pilot public financing programs in place. In Seattle, residents can donate "democracy vouchers" worth $100 in public funds to city candidates who opt into the program; according to one analysis, political donations from households making under $150,000 per year increased after the program's implementation. Last March, Washington D.C. mayor Muriel Bowser signed a bill that creates a similar pilot program for city elections after having previously opposed it; she credited her reversal to obvious public support for the measure.
While anti-corruption rhetoric is popular, HR 1's future viability still depends on the party's commitment to it. But there's some basis for optimism. As the Wall Street Journal reported on Thursday, 49 Democratic members of the incoming Congress signed a pledge against taking corporate PAC money, and 47 signed a letter promising to make campaign finance a priority. Two years after the left-wing, populist presidential campaign of U.S. Senator Bernie Sanders highlighted the power of small donors and popularized the rejection of corporate PAC funds, the broader issue of money in politics has become a key talking point for Democrats of various persuasions. During the midterms, Conor Lamb, a moderate Democrat from Pennsylvania, refused corporate PAC money; so did Ayanna Pressley, a left-wing Democrat from Massachusetts. It'll take more than public financing to inch the country forward after Trump, but there are dumber ways for the Democratic Party to herald its gradual revival.