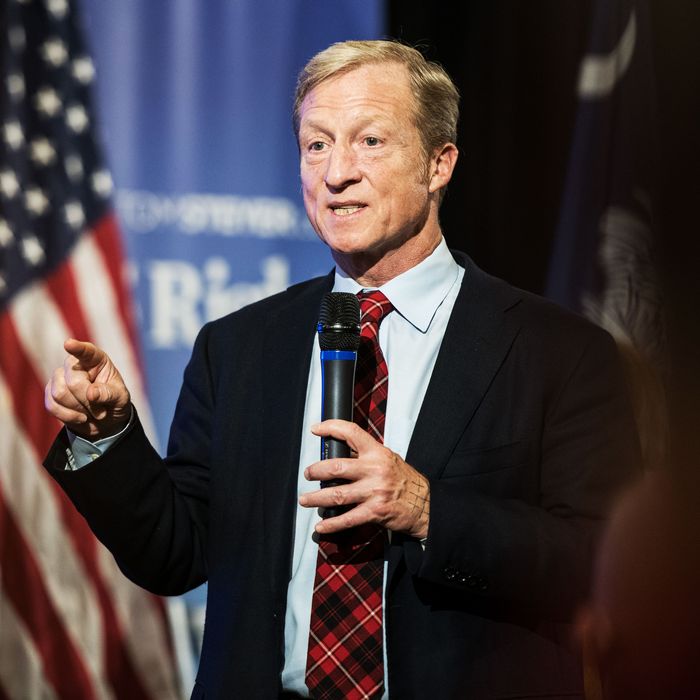 Tom Steyer will not pour his vast wealth into a 2020 candidacy after all.
Photo: Sean Rayford/Getty Images
After months and months in which it appeared that every elected official and billionaire in the country was taking the temperature in Iowa and mulling a 2020 presidential candidacy (to the point where pundits were referring to this as the "Why Not Me?" cycle), a potentially serious aspirant has bowed out, as CNN reports:
Billionaire Tom Steyer will not run for president in 2020, his spokeswoman tells CNN, ending months of speculation that the Democratic donor will escalate his efforts to defeat Trump by attempting to take him on at the ballot box.




Steyer, a 61-year-old hedge fund manager, will make the announcement in Des Moines, Iowa on Wednesday.




Aleigha Cavalier, Steyer's spokeswoman, told CNN on Wednesday that the billionaire will instead focus on his efforts to take on Trump from the outside, namely through Need to Impeach, a group he founded after Trump's win in 2016 that looked to garner public support around impeaching Trump.
Steyer's bankroll (he spent an estimated $120 million on 2018 political efforts) and his identification with the popular progressive causes of climate change action and impeachment of Trump made him a player for 2020. And his withdrawal is particularly good news for fellow Californians remaining in the field, notably Senator Kamala Harris. Perhaps she won't need to spend a gazillion dollars to win her home state in March of 2020, assuming she does well in the first four states.
More broadly, we may finally be reaching the point where the vast Democratic presidential field is shrinking rather than expanding. After the midterm elections, New York governor Andrew Cuomo, always on everyone's list of potential candidates for the Big Job, ruled out a run. And in December former Massachusetts governor Deval Patrick announced he would not, after all, be running for president. It's also been a while since an entirely new possibility has come onto the scene, unless you take New York mayor Bill de Blasio's announced plans to travel "all around the country" promoting progressive causes as an unlikely proto-candidacy, despite his protestations otherwise.
That's a good thing for Democrats, since the process of winnowing a field of as many as 20 viable candidates between now and the Iowa caucuses just over a year from now must begin sometime. Yes, the caucuses and primaries themselves will quickly dispatch a number of pretenders, but thanks to the Democratic Party's strict adherence to proportional representation in delegate awards and the money multiple candidates may be able to spend or raise, there's a nontrivial chance no one wins a solid majority before the July convention. And that sort of chaos could be exactly what Donald Trump needs.
As possible candidates withdraw, of course, there's a chance additional pols or self-funding moguls will see the Next President of the United States in a nearby mirror. Perhaps Democrats should post a "no vacancy in 2020" sign at every hotel and motel in Des Moines.