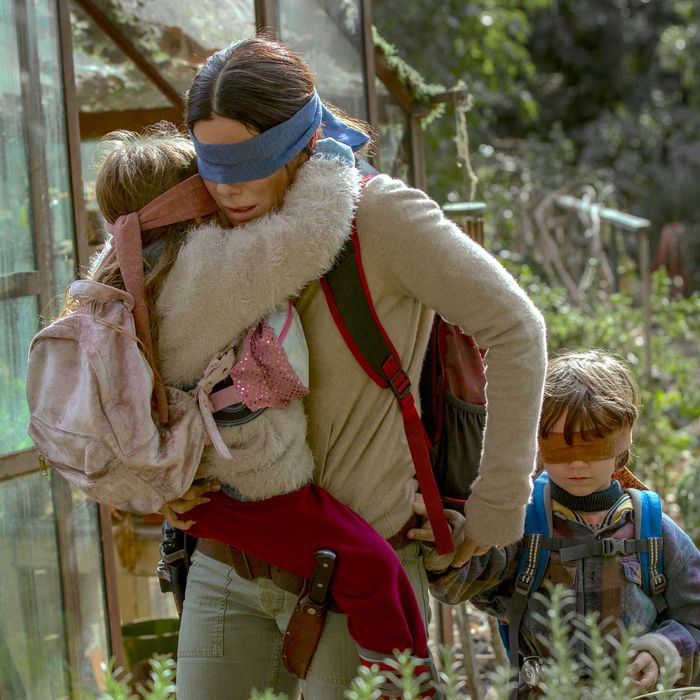 Sandra Bullock and her children attempt to avoid the more than 90,000 minutes of original content Netflix produced in 2018.
Photo: Netflix
Netflix has spent a tremendous amount on producing original content in the past few years, as the company has increasingly pivoted from streaming third-party content to creating its own titles for subscribers.
Ashley Rodriguez at Quartz went through everything listed as "Only Available on Netflix," and then whittled that list down to the true Netflix originals, eliminating the huge amount of content Netflix also licenses and syndicates on its streaming service. (For instance, the series Altered Carbon was a Netflix original, while Netflix bought the first-run rights for the movie Annihilation outside of the U.S., so Rodriguez didn't count the latter in her tabulation.)
Adding up the run-times for the nearly 345 Netflix originals released in 2018, Rodriguez calculated 90,000 minutes of bingeable video. That's 1,500 hours, or 62.5 days, or just under 9 weeks. "It would have taken more than four hours of streaming per day, every day of 2018, to watch all of it," writes Rodriguez.
Netflix began producing original content five years ago, with its political thriller House of Cards debuting on February 1, 2013, but original content production began to shift into overdrive in 2017, as companies like Disney and CBS began either pulling previously licensed content or charging Netflix more for it. The service, which had already begun producing more original content since 2013, started churning out an immense amount of video — thus the 62 days of original content in 2018 alone. While the upfront costs for producing all this content are high — Netflix estimated it spent $8 billion on producing its own shows and movies in 2018 — in the long run, it allows for the service to control its own fate much more than it would if solely at the mercy of other studios.
There have been some prestige wins along the way — Alfonso Cuarón's Roma took home two Golden Globes last night, and currently enjoys a 96 percent rating on Rotten Tomatoes. Netflix was also the home for the Coen brothers' latest film, The Ballad of Buster Scruggs, as well as a slew of well-regarded festival fare.
Netflix has also seemed able to key into an almost algorithmic approach to producing titles that become part of the cultural conversation; the Sandra Bullock post-apocalyptic thriller Bird Box was mostly panned by critics, but was watched by a staggering number of users, and has become a meme machine, to the point where some suspected ordinary users of being Netflix bots devised to gin up memes about the movie.
But Roma and Bird Box account for just 0.002 percent of the 90,000 minutes of original content Netflix put out last year — if you really wanted to watch everything Netflix released in 2018, you'd need to prepare to watch a lot of series. About 58,000 minutes — or just over 40 days — of Netflix original content was comprised of series, ranging from more-familiar titles like GLOW, The Chilling Adventures of Sabrina, and BoJack Horseman, to international titles like Busted! I Know Who You Are (범인은 바로 너!) a South Korean "madcap whodunit variety show."
All of this original content — and all the money Netflix is spending on it — is a long-term bet that Netflix can not only keep subscribers happy, but continue to drive subscriber growth. The company was expected to add 21 million subscribers globally in 2018, but it now appears the company will likely have ended the year with an additional 29 or 30 million subscribers.
The question that will be on investors' minds while they await Netflix's annual earnings report, due at the end of January, is whether Netflix's model of spending enormous upfront sums on original content in order to bring in new subscribers will work out in the long term. Luckily, those investors have plenty of stuff to watch on Netflix while they wait to find out.