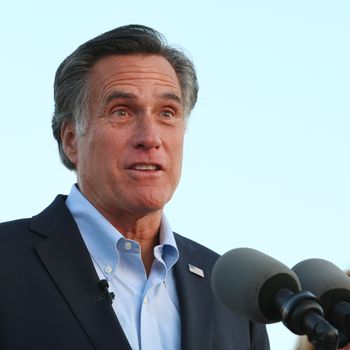 Mitt Romney is ready to be the new Jeff Flake.
Photo: George Frey/Getty Images
Mitt Romney is looking for a fight.
Two days before he's sworn in as Utah's junior senator, the on-again, off-again critic of President Trump announced his arrival in Washington with an op-ed bashing the president's character and praising his policies.
"The Trump presidency made a deep descent in December," Romney wrote in an op-ed published by Trump's most hated newspaper, the Washington Post. He lists some of the ways Trump has failed in his eyes and declares that Trump's "conduct over the past two years, particularly his actions this month, is evidence that the president has not risen to the mantle of the office."
Romney is quick to point out that he supported Trump making the rich richer through tax cuts and he loves the dismantling of regulations at the expense of consumers and the environment. But Trump's personality? That's a problem:
To a great degree, a presidency shapes the public character of the nation. A president should unite us and inspire us to follow "our better angels." A president should demonstrate the essential qualities of honesty and integrity, and elevate the national discourse with comity and mutual respect. As a nation, we have been blessed with presidents who have called on the greatness of the American spirit. With the nation so divided, resentful and angry, presidential leadership in qualities of character is indispensable. And it is in this province where the incumbent's shortfall has been most glaring.
Romney is clearly ready to take over Jeff Flake's vacated seat as the Senate's resident anti-Trump Republican who talks big and does little (the outgoing Arizona senator endorsed the op-ed in a tweet), but he may also be maneuvering for a primary challenge of Trump in 2020. Or, perhaps more likely, he's positioning himself as a backup candidate in the event that the Mueller probe, or a flood of investigations from the Democratic House, prevent Trump from contending for a second term. If Republicans want a Trump replacement who will pursue all the same policies without the asinine tweeting, Romney is saying he's their guy.
Far-fetched as Romney 2020 may seem, the Trump team signaled that it's taking him seriously minutes after the op-ed was published. That's when Trump's 2020 campaign manager, Brad Parscale, tweeted a link to it, along with the head-scratching phrase, "Jealously (sic) is a drink best served warm."
There's a pretty good chance that's not the only tweet from a member of the Trump 2020 campaign that will be sent about this op-ed.