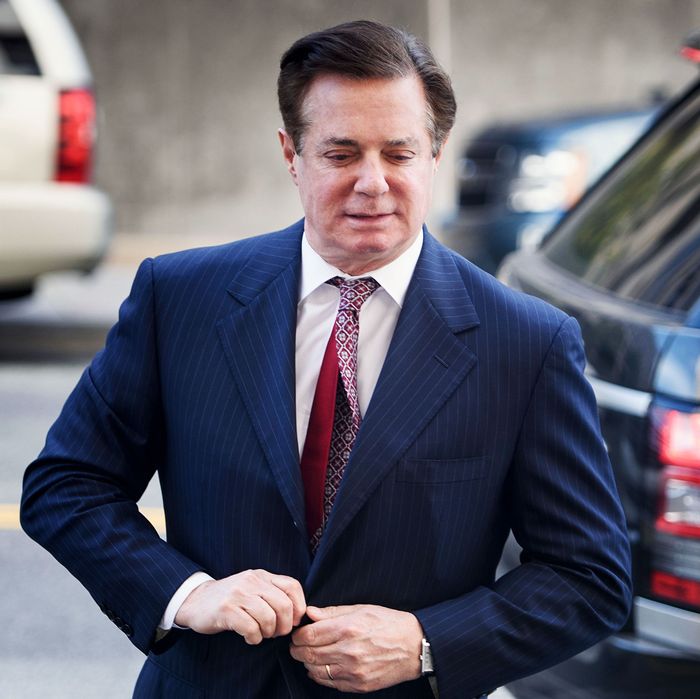 Not quite prison stripes.
Photo: Brendan Smialowski/AFP/Getty Images
When Paul Manafort arrives in federal court Friday for a hearing regarding his alleged lies to Special Counsel Robert Mueller, he'll be accompanied by his most loyal companion — an expensive suit.
A judge ruled on Thursday that Donald Trump's former campaign manager may wear a suit, rather than prison garb, to the hearing. Manafort is "permitted to wear a suit at the January 25, 2019 hearing and any future court appearances in this matter," the judge ordered.
Friday's hearing concerns Manafort's alleged dishonesty with Mueller's team after he reached a plea agreement in the Russia investigation. Manafort's lawyers argue that he hasn't lied to Mueller, claiming the allegations made by the special counsel's office merely amount to "a lack of consistency in Mr. Manafort's recollection of certain facts and events."
Manafort has asked permission to wear one his many expensive suits to court before. Last October he was denied the chance. Instead, he showed up to court in a green prison jumpsuit and one shoe. He was also in a wheelchair. This time he has a decision to make: wear his $15,000 ostrich jacket AND his $9,500 ostrich vest, or stay subtle and just wear one.