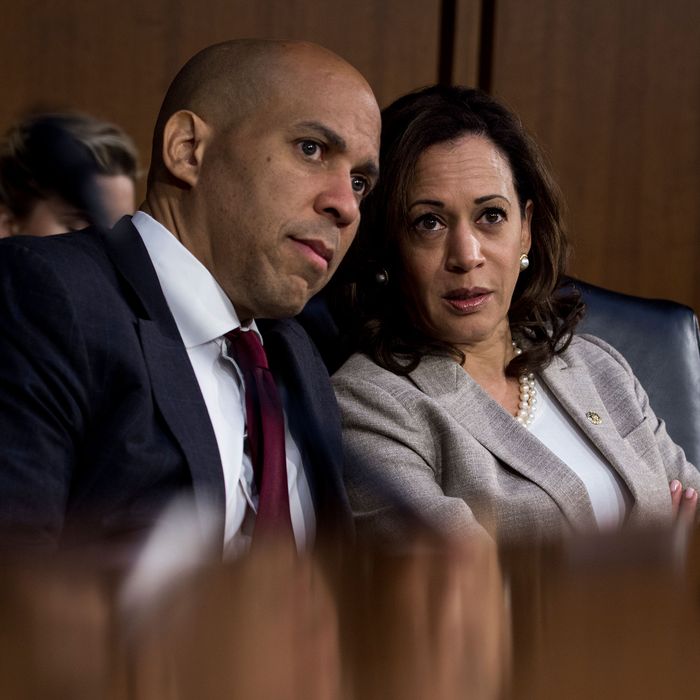 Take the money and run?
Photo: Sarah Silbiger/CQ-Roll Call
Kirsten Gillibrand, Cory Booker, and Kamala Harris have spent the past two years racing to the leftmost edge of respectable opinion. Collectively, they have endorsed a single-payer health-care system, a federal jobs guarantee, a multitrillion-dollar expansion of the Earned Income Tax Credit, a universal basic wealth plan, the abolition of Immigration and Customs and Enforcement (ICE), universal child care, labor-law reform, and a "Green New Deal," among other social democratic policies.
In recent weeks, they have also all reached out to Wall Street executives, in hopes of securing some funding for their prospective presidential campaigns. Or so CNBC reports:
Billionaire and Blackstone Chief Operating Officer Jonathan Gray; Robert Wolf, CEO and founder of economic advisory firm 32 Advisors, and Mark Gallogly, a founder of private investment firm Centerbridge Partners, are just a few of the Democratic financiers who have spoken with 2020 hopefuls about a wide range of topics, including the upcoming campaign, according to people with direct knowledge of the matter.




Wolf, a former advisor to former President Barack Obama, including as a member of the President's Economic Recovery Advisory Board, said he had been in touch with 2020 hopefuls — but declined to name the individual lawmakers.




… However, people familiar with the talks say Wolf's contact list has included Gillibrand, along with New Jersey's Booker and California's Harris. Wolf has a history of backing the three senators. He wrote a check to Gillibrand for $2,700 in 2018 and donated to Harris' campaign in 2016. In 2014, he backed Booker's Senate campaign … Booker also recently met with a top New York donor who described the encounter to CNBC on the condition of anonymity. "I had tea a while ago with Cory," this person said. "The meetings aren't officially about running, but of course they are about running in 2020." Booker seemed to be trying to see whether this financier could help raise money for a White House run, according to the person.
This CNBC report — along with a prior one that exclusively highlighted Gillibrand's overtures to Wall Street — have reignited an intra-left debate that raged throughout the 2016 primary: Can Democrats accept money from industries whose interests are antithetical to progressive goals, and still call themselves progressive?
Or, put differently: Is it rational to simultaneously believe that corporate money corrupts our nation's politics (as virtually all Democrats do) — and that corporate money does not have any corrupting influence on progressive Democrats who accept such funds?
In my view, the answer is "yes but."
As a socialist will eagerly inform you, this is a billionaire's world; we just live in it. In a country where wealth is concentrated at the top — and winning presidential campaigns typically cost upward of half a billion dollars — progressives will have a hard time taking power without the help of some wealthy class traitors (and/or socially liberal plutocrats who got taken for a ride). In fact, the socialist left would never have secured its current modicum of political influence and cultural capital without the aid of "woke" millionaires and billionaires. Virtually every major left-wing publication owes its existence to (at least in part) the patronage of superrich individuals. Without billionaire Pierre Omidyar, there is no Intercept. Without a $100,000 gift from a Twitter millionaire, Jacobin would have had a harder time getting off the ground. And while Bernie Sanders does not accept direct contributions from Wall Street firms, the Democratic Senate Campaign Committee does — and Bernie Sanders accepts contributions from the DSCC. Further, the socialist senator's 2016 campaign accepted money from people who worked in the financial industry, including some Wall Street executives (albeit much less money than other leading presidential contenders raked in).
So it is both necessary for progressive presidential candidates to accept money from corporate executives and possible for them to do so without compromising their ideological goals.
Still, there is a distinction between accepting such funds, and aggressively soliciting them. And there are also very sound reasons for progressives to adopt a zero-tolerance, "better safe than sorry" policy toward the appearance of coziness with the financial industry. Barack Obama accepted significant funds from Wall Street banks in 2008, appointed Wall Street veterans to many of his Cabinet's top positions — and then, when overseeing the government's response to the financial crisis, bailed out Wall Street firms, while doing little to aid the underwater homeowners that those firms had exploited. And the 2008 crisis itself is at least partially attributable to financial deregulation enacted by the previous Democratic president, who had also accepted significant funds from Wall Street banks and appointed Wall Street veterans to top Cabinet posts.
It's entirely possible (perhaps, likely) that Kirsten Gillibrand's recent conversations with Wall Street executives tell us nothing about how she would govern as president. And the same can be said of Harris and Booker. In general, a lawmaker's behavior in Congress is a more reliable indicator of their ideological views than whether they seek financing from rich people who work in one of our country's largest industries.
But putting CNBC's scoop to the side, and looking solely at the 2020 hopefuls' conduct in Congress, it would remain the case that Elizabeth Warren and Bernie Sanders have challenged the financial industry's influence over American politics in general — and Democratic politics, in particular — far more consistently, and vigorously, than any of their progressive rivals. No senator has done more to demonize Wall Street in the public imagination than Sanders; and none has done more to redistribute wealth from predatory lenders to the consumers they fleeced than Warren.
All of which is to say: When assessing 2020 candidates' independence from Wall Street, the amount of money they've accepted from financial executives might be less telling than the amount of vitriol they've attracted from them. And the titans of finance are more unanimous in their hatred for Warren and Sanders than for any other Democrats on offer.