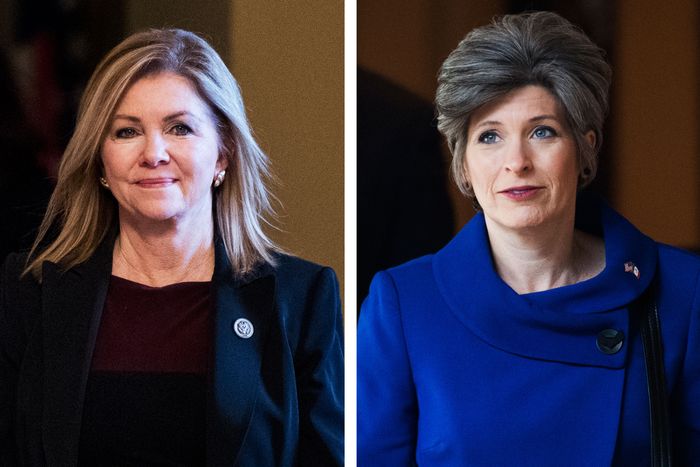 Senators Marsha Blackburn of Tennessee and Joni Ernst of Iowa, the first Republican women to serve on the Judiciary Committee.
Photo: Bill Clark/CQ; Tom Williams/CQ
During the epic confirmation hearings for Supreme Court Justice Brett Kavanaugh, in which the judge's past treatment of women and future disposition towards women's reproductive rights were front and center, it was embarrassingly obvious that the Republican membership of the Senate Judiciary Committee was all male (as it had always been). This was particularly discomfiting during the committee's examination of Kavanaugh accuser Christine Blasey Ford, to the point that Republicans brought in an outside counsel, Arizona sex crimes prosecutor Rachel Mitchell — who just happened to be a woman, of course — to question that particular witness.
With some retirements clearing spots on the Judiciary Committee, Republicans hastened to supply some gender balance — or cover, depending on how you look at it — from the slim ranks of Republican women. They've placed Iowa's Joni Ernst (first elected in 2014) and Tennessee's Marsha Blackburn (elected in 2018) on the committee.
Neither of these lawmakers has a law degree. That's hardly unprecedented; the immediate past chairman of the Judiciary Committee, Chuck Grassley, was a farmer by trade and training. Current ranking Democrat Dianne Feinstein has no formal legal education, but did spend many years dealing with criminal-justice issues in San Francisco before joining the Senate. One of the Republican men still on the committee, Ben Sasse, didn't go to law school, though he did briefly work at the Justice Department in a policy capacity.
What Ernst and Blackburn do bring to the table other than gender diversity are two assets: unquestioned party loyalty (Ernst recently joined the Senate GOP leadership, and Blackburn was in the House leadership) and a fervent commitment to the cause of outlawing abortion. Ernst has gained some national attention for her defense of Iowa's new, blatantly unconstitutional law banning abortions after about six weeks of pregnancy (when a fetal heartbeat can be detected), and as a state legislator she supported a constitutional amendment establishing fetal "personhood" (the most extreme position available in denial of reproductive rights). And Blackburn is one of the anti-abortion movement's most prominent and obsessive leaders in Congress. Rewire News recounts her most notorious contribution to the cause:
Blackburn is perhaps best known for leading a $1.59 million congressional "witch hunt" into a discredited anti-abortion propaganda campaign that falsely alleged Planned Parenthood profited from legal donations of fetal tissue. Over the course of the year-long anti-choice showcase, Blackburn's so-called Select Investigative Panel on Infant Lives undermined life-saving fetal tissue research, while endangering the privacy and safety of researchers and reproductive health-care providers alike.
The freshman senator from Tennessee is more or less the poster pol for the Susan B. Anthony List, the strident organization that promotes the election of strictly anti-abortion women to public office. Blackburn's appointment to the Judiciary Committee is, among other things, a nice reward for the SBA List, an increasingly powerful GOP constituency group.
Ernst and Blackburn will serve as automatic votes for Donald Trump's pre-vetted anti-abortion judicial nominees. And next time there are high-profile hearings that involve male sexual misconduct or the future of Roe v. Wade, these two women will be placed before the cameras as regularly as possible to rebut the horrible smear against the Republican Party as hostile to women's rights and aspirations. They don't need law degrees for that kind of symbolism.