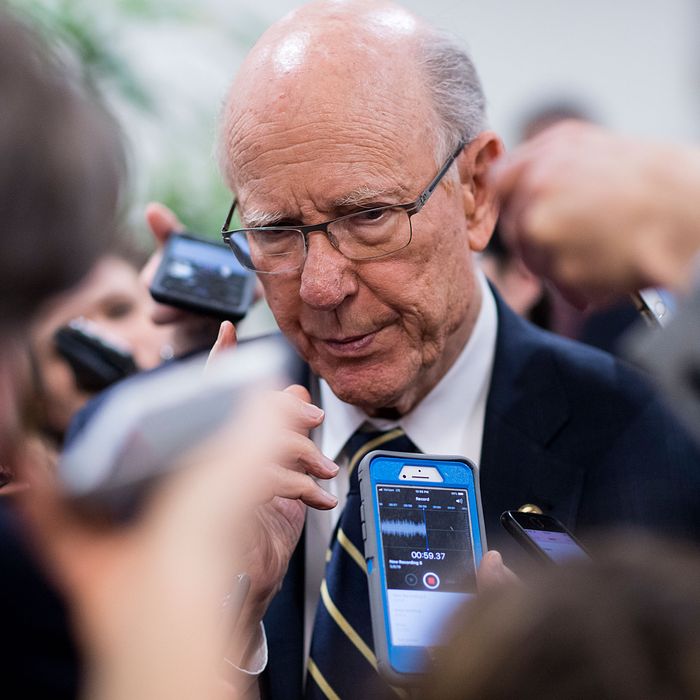 The veteran Kansas Republican is hanging it up, creating a scramble for a suddenly open Senate seat.
Photo: Bill Clark/CQ-Roll Call
Senator Pat Roberts's announcement today that he would not run for a fifth term in 2020 was not a big surprise, since he's 82 years old. But the Kansan's decision does take a relatively safe Republican Senate seat and make things at least theoretically dicey.
A long list of Republicans who might run to succeed Roberts is already being formulated, beginning with secretary of State (and former Kansas congressman) Mike Pompeo, assuming he gets tired of the Trump Cabinet pretty soon. The likeliest is current U.S. representative Roger Marshall, who is very much in the Roberts tradition of a non-insane conservative focused on farm policy issues (he knocked off right-wing zealot Tim Huelskamp in a 2016 primary). Marshall already seems to be working to cover his right flank, according to KWCH:
Marshall's campaign manager Brent Robertson tells FactFinder 12, "Since the moment speculation of Senator Roberts' retirement began, Dr. Marshall's phone has been ringing. It's safe to say that Dr. Marshall is seriously considering it, but he is dead set on making sure we get border security funding to the President's desk first. Until then, I don't anticipate an official decision on a Senate run just yet."
Yeah, right, he's working too hard on the wall to think about his political future.
Speaking of "border security," though, the name that probably sends chills down the spine of many Republicans in Kansas and in Washington is Kris Kobach, the former Kansas secretary of State and 2018 gubernatorial nominee whose legendary extremism on immigration and voting rights made him a favorite liberal bogeyman. He's fresh from a loss to Democrat Laura Kelly that was significantly enabled by the revulsion some of his fellow Republicans felt toward him. He's been widely expected to join the administration of his close friend and ally Donald Trump in some capacity, but he hasn't ruled out another Kansas race.
A Kobach run could boost Democratic odds significantly, but in any event there will likely be a substantial Democratic effort to flip this seat. Former U.S. Attorney Barry Grissom was mulling a race even before Roberts's announcement.
All in all, Kansas looks to have joined Tennessee (where another senior GOP senator, Lamar Alexander, is retiring) as a strongly Republican state where an open Senate seat and possible GOP divisions are producing Democratic dreams of an upset. Democrats need that sort of moral encouragement. Although the 2020 Senate landscape is the reverse of 2018's in the sense that Republicans have more seats to defend (22 as opposed to just 12 Democrats), most of them are in very red states. Colorado's Cory Gardner, Maine's Susan Collins, and Arizona's Martha McSally are all vulnerable GOP senators (potentially along with Iowa's Joni Ernst and North Carolina's Thom Tillis), but then Democrats are obviously worried about Alabama's Doug Jones. Even if Democrats topple Trump and hang onto the House, they badly need control of the Senate to secure confirmations as well as to enact legislation. As of now, they might need an upset for the three-seat net gain required to flip the upper chamber. Kansas is a good place to look for small miracles.