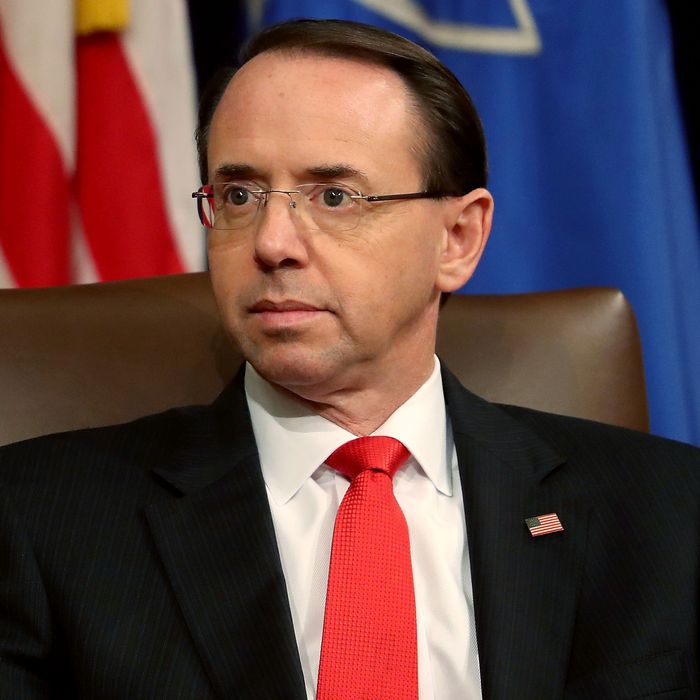 The deputy attorney general somehow survived this long without getting fired.
Photo: Mark Wilson/Getty Images
Deputy Attorney General Rod Rosenstein, who oversaw the special counsel investigation into Russian election interference, will leave his post at the Justice Department in the coming weeks, according to multiple reports.
Appointed as former Attorney General Jeff Sessions's No. 2 in April 2017, Rosenstein chose Robert Mueller to lead the Russia investigation, thus earning President Trump's everlasting ire. But Rosenstein managed to survive. He seemed closest to the cliff's edge last September, after the New York Times reported that he had proposed to wear a wire to secretly record Trump. In the aftermath, Rosenstein reportedly offered his resignation, but he and Trump ended up smoothing things over.
Rosenstein has reportedly long planned to leave the Justice Department after two years, and the confirmation of a new attorney general, which could happen as soon as the beginning of next month, provides a logical moment for him to do so. The first confirmation hearings for William Barr, Trump's pick for AG, are set for next week and a vote in the full Senate could be held in early February.
If Barr is confirmed, that will leave the special counsel investigation in the hands of a man who has called it "grossly irresponsible." In a memo written last year, Barr wrote that the investigation has "potentially disastrous implications" and "would do lasting damage to the presidency."