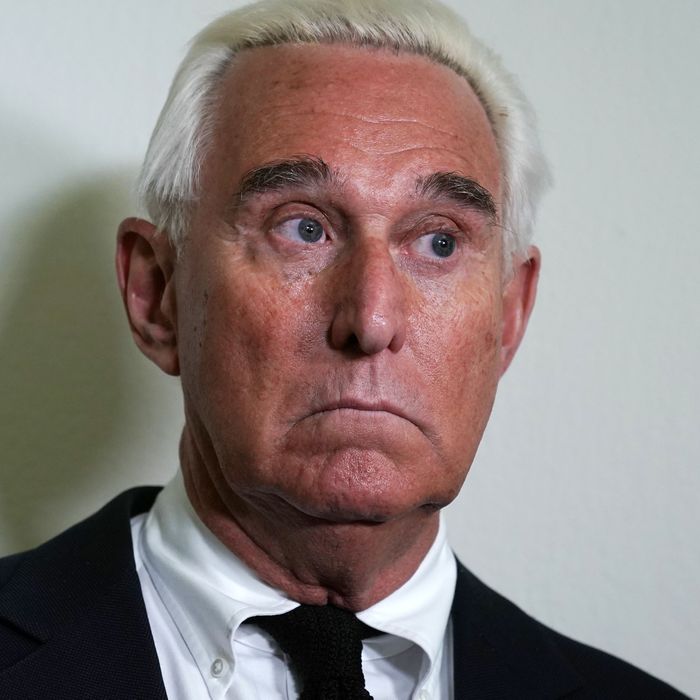 Photo: Alex Wong/Getty Images
Special Counsel Robert Mueller has been circling Roger Stone for months, and on Friday he finally made his move. The longtime Trump adviser was arrested and charged with seven counts, including obstruction of an official proceeding, making false statements, and witness tampering.
In indictment focuses on Stone's efforts to find out when "Organization 1" (which is clearly WikiLeaks) would release damaging information about Hillary Clinton's presidential campaign. U.S. officials say Russian agents hacked Democratic officials and shared them with WikiLeaks, which released them during the final months of the campaign.
The indictment states: "After the July 22, 2016 release of stolen DNC emails… a senior Trump campaign official was directed to contact Stone about any additional releases and what other damaging information Organization 1 had regarding the Clinton campaign. Stone thereafter told the Trump campaign about potential future releases of damaging material by Organization 1." According to CNBC, one of the senior officials who reached out to Stone was Steve Bannon.
On October 1, 2016, according to the indictment, "Person 2" sent Stone text messages that said, "big news Wednesday … now pretend u don't know me … Hillary's campaign will die this week." Sources told the Washington Post that "Person 2" is New York comedian Randy Credico, who was in contact with WikiLeaks head Julian Assange in 2016.
As the House and Senate intelligence committees began investigating Russian interference in the 2016 election, Stone allegedly "took steps to obstruct to obstruct these investigations," including making false statements to the House Intelligence Committee and trying to persuade "Person 2" (Credico) to provide false testimony. Authorities say that in December 2017, Stone reference the Godfather movies while pressuring Credico to keep quiet.
"Stone told Person 2 that Person 2 should do a 'Frank Pentangeli' before (the committee) in order to avoid contradicting Stone's testimony," the indictment says, adding: "Frank Pentangeli is a character in the film The Godfather: Part II, which both Stone and Person 2 had discussed, who testifies before a congressional committee and in that testimony claims not to know critical information that he does in fact know."
CNN broadcast footage of a dozen FBI agents in riot gear showing up at Stone's Fort Lauderdale home before dawn on Friday.
Stone is expected to appear in a federal courthouse in Fort Lauderdale later this morning. His attorney, Grant Smith, called the charges "ridiculous," adding, "this is all about a minor charge about lying to Congress about something that was apparently found later."
As the New York Times notes, Stone initially bragged that he knew information damaging to Clinton's campaign would soon be released, then he changed his story once Mueller's team started closing in:
In social media posts and numerous interviews before the 2016 election, Mr. Stone indicated that he had advance knowledge that a trove of information damaging to Mrs. Clinton's campaign might be about to spill into public view, and even suggested that he had personally spoken to the WikiLeaks founder, Julian Assange.




Mr. Stone has changed his story in the months since, saying that he was not actually speaking to Mr. Assange and that he had no direct knowledge that Russians were responsible for the Democratic hacking. Still, it was revealed last year that, in the weeks before the election, Mr. Stone was messaging on Twitter with Guccifer 2.0, a pseudonym used by one or more operatives in the Russian intelligence scheme to steal the emails and funnel them to WikiLeaks.
Stone has acted as an informal adviser to Trump for decades. He's embraced the label "dirty trickster," touting his role in generating or exposing scandals targeting Democrats dating back to the Nixon administration (Stone famously has a large Nixon tattoo on his back).
The Mueller indictment is a long time coming. During an appearance on Meet the Press in May 2018, Stone said he was "prepared" to be indicted, "But I think it just demonstrates, again, this was supposed to be about Russian collusion, and it appears to be an effort to silence or punish the president's supporters and his advocates."
This story has been updated throughout.