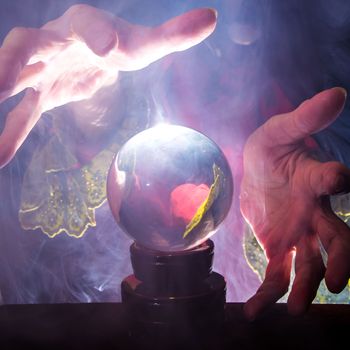 Photo: Rainer Fuhrmann / EyeEm/Getty Images
Folks, it's that time of year: the start of a new year. Lots of stuff is supposed to happen this year. Platforms, memes, tweets — there is even supposed to be a hashtag or two. As we enter a new solar cycle, let's look into the crystal ball and see what's in store for all of us.
January
Jeff Bezos will announce the search for HQ4. The process will end with Amazon annexing most of the Florida panhandle. Mueller indictments will reveal PewDiePie to be a Russian troll, but he's only doing it as satire/social experiment. Top Meme: 6ix9ine Dog, a dog that sounds like 6ix9ine, will go viral. Many will find the discourse problematic.
February
To demonstrate how safe the Hyperloop is, Elon Musk will be its first human test subject. The train will go so fast that it will be caught in a time loop and Musk will flit in and out of existence, never aging, never slowing down. Grimes will make a double album about the experience. Top meme: Donald Trump will accidentally tweet the phrase "Yoop got it," claiming it was intentional
March
A glitch in Facebook's security will allow one user in Sacramento, Keith, to access everyone's private messages. He will download all of them to a hard drive before the loophole is closed and then charge people money to search through the archive (the archive is on the dark web; you can only pay in Ethereum). Keith will become known as the Message Master and heads of state will fear him. At least one will order an unsuccessful attempt to assassinate him. Top meme: A GIF of Reba McEntire.
April
A new online challenge called the #GetStrepThroatChallenge will take YouTube by storm. Markiplier will become embroiled in a new controversy when he is exposed for only pretending to have strep. He will be roasted without mercy by the newly formed #StrepGang — six popular Minecraft streamers. Using vast caches of data taken from new owner Verizon, Tumblr will drastically improve its porn-detecting and -eradicating artificial intelligence. In addition to blocking out "female-presenting nipples," the updated algorithm will warn users if they are being "horny on main." Top meme: Gritty canon will expand to include his wife and daughter.
May
Vine successor Byte launches and within minutes, someone will have uploaded video of a murder. Jake Paul's Team 10 collective will unionize. TikTok will rebrand as the "Murder-Free" video platform. Top meme: The new object-labeling meme will be a stock photo of a casket being carried by pallbearers.
June
Mark Zuckerberg will discover Jordan Peterson videos, and read his book. He'll recommend it to friends. Alex Jones will return on LinkedIn as one of those guys who posts statuses like, "Always Moving 😤 Never Stopping💪 Today's The Day, Let's Get It 💯" Top meme: Fortnite 2.
July
In addition to quantifying likes, retweets, and replies to a single tweet, Twitter will introduce a fourth metric: dunks. What qualifies as a dunk will be determined using a proprietary, secret algorithm. Terminally online users will obsess over notching dunks, complaining to Twitter about their dunks being suppressed. Jack Dorsey will appear before Congress in the fall to answer questions about dunk bias. Top meme: A screenshot from a new Drake video in which he cries on the toilet.
August
WhatsApp will finally tell us what's app. Tumblr will announce that it's gonna bring back the porn in an apologetic blog post that starts with the phrase, "We screwed up …" Top meme: Thomas the Tank Engine, but horny.
September:
The next stage of the Internet of Things is that the new Instant Pots will include Alexa. The Unicode Consortium throws caution to the wind and announces official emoji for all sorts of genitalia. Top meme: Instagram will become obsessed with the phrase "get me the beans" and posting selfies with beans.
October
A popular Instagram meme account with some name like "ConJNCOs Junction" will get a seven-figure book deal. Amazon will announce that it can control the weather. Top meme: Some anime thing.
November
The president will get really into ironically livetweeting athletic events, posting things like, "Oh, are they doing a sportsball?" Worse yet, it will win over #resistance tweeters, paving the way for his reelection. A redditor uploads an optical illusion so confounding it causes anyone who views it to die seven days later. That doesn't stop bloggers from writing countless posts about "The Science Behind the Optical Illusion That's Killing Everyone." Top meme: The Sonic the Hedgehog movie.
December
A Snapchat of Obama doing the YMCA at a bar mitzvah leaks. The war on Christmas will be reinvigorated after Facebook's algorithm flags "Jesus" as hate speech for .02 seconds.