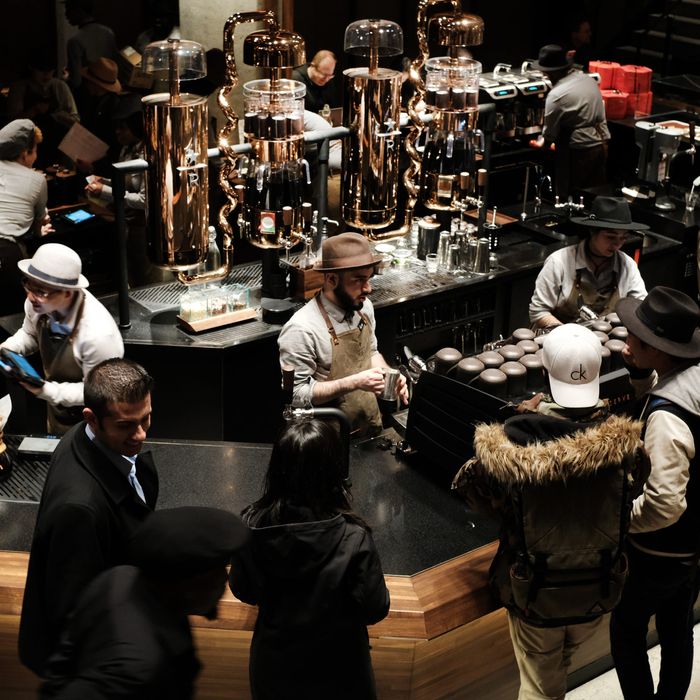 Santa may have put coal in investors' stockings, but he left jobs under the tree.
Photo: Spencer Platt/Getty Images
While investors were worrying last month about their 401ks, the American job market was doing a-okay.
That's the top-line message of the Labor Department's latest jobs report. The stock market's dreary December had sparked fears of an impending recession. And those concerns were amplified in recent days, amid sharp declines in both manufacturing activity, and major corporations' revenue forecasts. This gloomy climate tempered economists' expectations for job growth last month; collectively, they estimated that U.S. employers would expand payrolls by 180,000. According to federal data, that figure was actually 312,000.
Meanwhile, wages rose by 0.4 percent, making America's paychecks 3.2 percent fatter now than they were at this time last year. The unemployment rate did tick up from 3.7 to 3.9 percent — but this was actually good news. Americans who are too discouraged to actively seek work are not considered "unemployed." And growth in job openings and hourly wages lured 419,000 such workers back into labor market last month, thereby increasing the ranks of the officially jobless. In reality, this superficially negative development might be the report's most encouraging finding. Prime-age labor-force participation remains lower today than it was before the Great Recession. Many economists had insisted that this decline was structural and permanent, and thus, that the U.S. economy had already reached "full employment." December's report suggests that they're wrong, and that if policymakers allow wages to rise sufficiently (by avoiding fiscal austerity and sharp interest-rate hikes), then more Americans will become workers again, and the nation's productive capacity will increase.
On occasion, economic news this good can actually push the stock market down, as the more wages rise, the more likely the Federal Reserve is to raise interest rates. But in this instance, investors proved to be far more frightened of an impending recession than of bigger rate hikes. Major stock indexes shot up Friday morning — and then, after Fed chair Jerome Powell signaled that the central bank "will be patient" with rate hikes, share prices soared.
All this said, job growth is a lagging indicator. It remains possible that Wall Street's bearish mood over the past month has been rooted in realistic perceptions of where the economy is headed in 2019. The stimulative benefits of deficit-financed tax cuts will soon wear off, earnings growth is expected to slow, China's economy appears to be weakening, and a senescent Fox News addict is poised to remain in charge of the world's most powerful country — which is to say, the risks inherent to President Trump's trade wars, shutdowns, and tantrums still loom.
But before today, there was a real threat that Wall Street's anxieties would prove self-fulfilling: that fears of an economic slowdown would drive down the value of Americans' retirement accounts, causing them to cut down on consumer spending and then businesses to cut back on investment, leading to more fears of an economic slowdown … until the real economy began to resemble investors' nightmares. For the moment, that hazard has been averted.