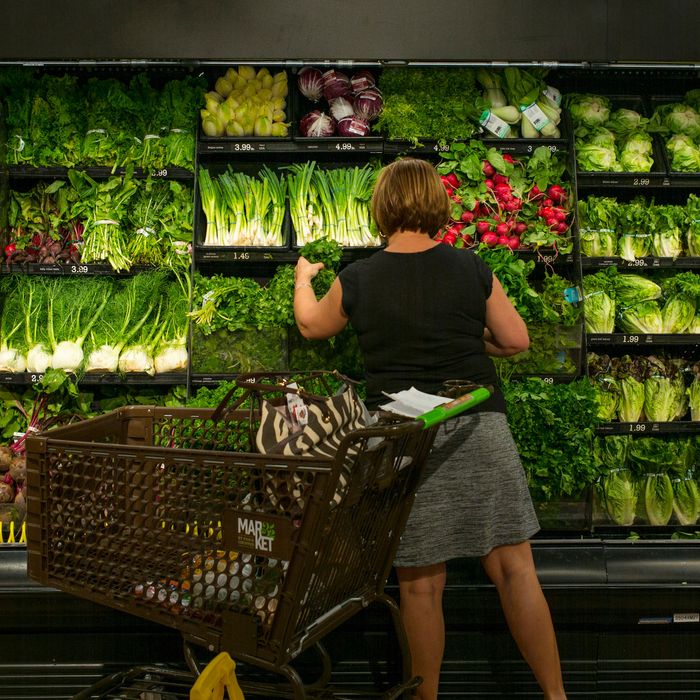 The FDA is lacking 41 percent of its employees due to the shutdown.
Photo: Robert Nickelsberg/Getty Images
In normal times, the Food and Drug Administration keeps an eye on E. coli in romaine lettuce, listeria in ice cream, and salmonella in peanut butter. But during the during the government shutdown, some of those inspections are falling by the wayside.
The agency, which oversees the inspection of 80 percent of the U.S. food supply, is down roughly 7,000 of its 17,000 employees. That's led it to suspend nearly all of its inspections of domestic food producers.
"There's no question of whether it's business as usual at FDA," commissioner Scott Gottlieb told NBC News. "It's not business as usual, and we are not doing all the things we would do under normal circumstances. There are important things we are not doing."
The agency is still performing some of its core duties. It's continuing to inspect foreign food producers, along with domestic food companies involved in outbreaks or recalls. But the reduction in its portfolio has some employees worrying about people becoming sick or even dying due to foodborne illness.
"With the shutdown, surveillance is not effective. They are doing the bare minimum to get by," Geneve Parks, a furloughed FDA chemist, told CNN. "When you don't have enough funding, then it becomes a life-or-death situation. It's scary."
According to the Centers for Disease Control and Prevention, an estimated 47.8 million people get sick because of foodborne illness each year. Of those, 128,000 are hospitalized and just over 3,000 die.
With the government showing little sign of reopening, Gottlieb is attempting to bring back some furloughed employees to work without pay. Their first order of business would be inspecting high-risk facilities that are under the FDA's purview, such as cheese producers.
But Gottlieb acknowledged to NBC News that working without pay is far from ideal, especially for food inspectors, who are not paid very well and sometimes expected to use their own credit cards for travel.
Gottlieb is worried about hurting employees who have been furloughed. He has come up with one creative way to limit out-of-pocket expenses. Food inspectors who travel overseas use credit cards that are billed in their own names, and the staff are reimbursed later by the FDA. Foreign travel can rack up thousands or tens of thousands of dollars in charges quickly, so Gottlieb said he was working to change that billing so it goes straight to the agency.




But there's another issue for inspectors, many of whom are not paid especially high salaries and who may be living paycheck to paycheck. FDA food inspectors often start at what is known as a GS-5 on the federal government pay scale — a job with a base pay of $30,000 to $37,000 a year.
Nearly three weeks since the shutdown began, advocacy groups are raising concerns about the FDA's limited capacity. Fewer inspections "puts our food supply at risk," Sarah Sorscher, deputy director of regulatory affairs at the Center for Science in the Public Interest, told the Washington Post. "Regular inspections, which help stop foodborne illness before people get sick, are vital."