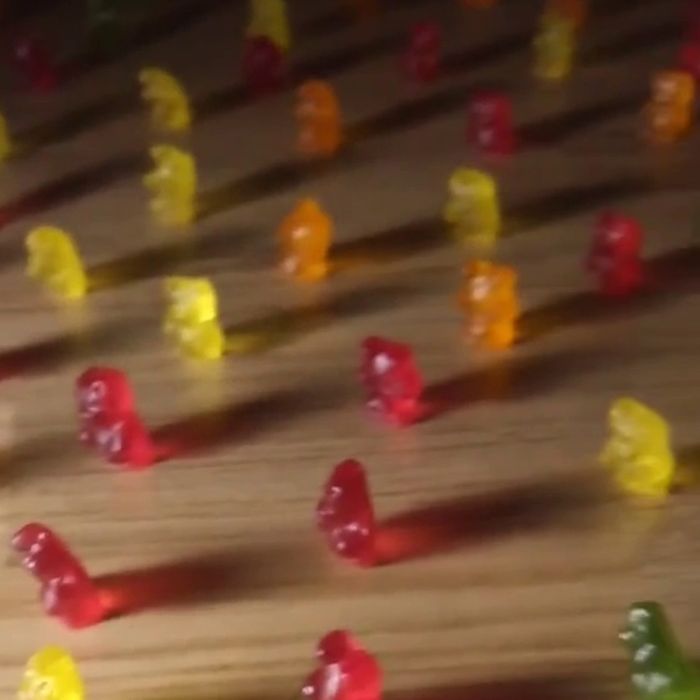 Photo: David Kaspřák/TikTok
For a while, my co-workers and I had a system where one of us would order a five-pound bag of Haribo gummy bears from Amazon and keep it at our desk. At some point in the afternoon on most days, we would decide it was "gummy time" and pass around the enormous bag and each take some bears. Sometimes we did this multiple times in an afternoon. We ate a lot of gummy bears. Then we read reports that Haribo gummy candies might be made through the help of slave labor and were like, "Hmmm, guess that's the end of gummy time!" (We did try one bag from another brand and it was … not good.)
I bring all this up to say that since we abandoned gummy time, I have not thought much about Haribo candy — until today. Yep, it's time for the #haribochallenge, the only meme that combines Adele with the ursine confection.
The starting point of the Haribo challenge is a video posted on TikTok by David Kasprak. It is set to audio of Adele singing "Someone Like You" live, where her mic cuts out and the audience sings back the next line of the song. "Never mind, I'll find—" Adele sings. The audience doesn't miss a beat and responds, "someone like youuuuu" in unison, their collective sorrow filling the air as the crowd becomes a single body, moving and singing in unison. The sound pings off of every surface in the area. In this distance, a bird turns its head and looks at the horizon.
On TikTok, it's got 1.6 million likes, though it got renewed attention on Twitter, where @Vknbberiv uploaded the video (caption: "I'M- WHEEZING") and it sits at nearly half a million retweets. So: It's viral. Kasprak documented his making-of process on Instagram yesterday.
Since then, other TikTok users have jumped in, spreading gummy bears all over their house for a silly joke.
Very fun, very cute. Thank you, little candy bears, for this sing-along.