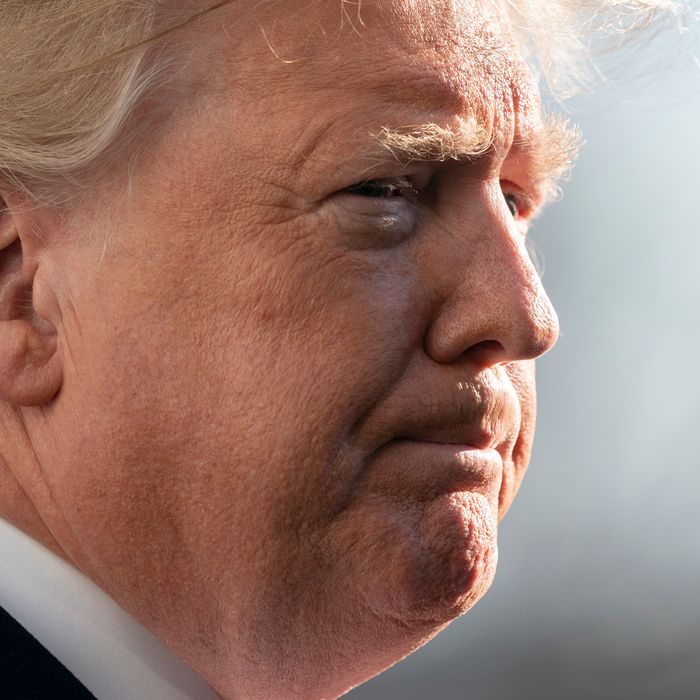 Add it to the list of constitutional crises.
Photo: Chris Kleponis/Getty Images
As Donald Trump prepares to give his first prime-time televised address from the Oval Office on Tuesday night, his lawyers are said to be scrambling to justify his desire to declare a national emergency to fund a southern border wall without congressional approval.
According to the Washington Post, the president increasingly considers a national emergency to be the preferred method of securing funding for the wall, as his self-inflicted shutdown enters its 18th day. During a senior staff retreat at Camp David on Sunday — the day on which this shutdown tied 2013's for the second-longest in American history — Trump reportedly said he might invoke the National Emergencies Act and bypass the congressional purse if he could not secure $5.7 billion in wall funding soon.
The White House Counsel's Office is now preparing for legal roadblocks to the plan, of which there are many. Since the president has exaggerated the security threat at the border — the White House claimed last week that the CBP had stopped 4,000 known or suspected terrorists at the southern border, when the number was closer to six — the action would be immediately challenged in the courts. "He has fatally compromised his ability to defend this," Robert F. Bauer, White House counsel under President Obama told the Post. "He has so politicized the issue, and he has been so reckless in his presentation of what the stakes are that he walks into court with two strikes against him, the ball about to break over the plate and he's swinging too late."
Democrats claim that the potential emergency order is an obvious violation of constitutional norms. "We will oppose any effort by the president to make himself a king and a tyrant," said Jerrold Nadler, the House Judiciary Committee chairman. "The president has no authority to usurp Congress' power of the purse." House Democrats have also warned that if Trump attempts a state of emergency over a self-manufactured crisis, they would consider investigations into abuse of power.
Outside of the White House, Republicans aren't thrilled by the idea of the executive order either. "I'm confident he could declare a national emergency," Senator John Cornyn told CNN. "But what that may mean in terms of adding new elements to this — court hearings and litigation that may carry this on for weeks and months and years. To me, injecting a new element in this just makes it more complicated."