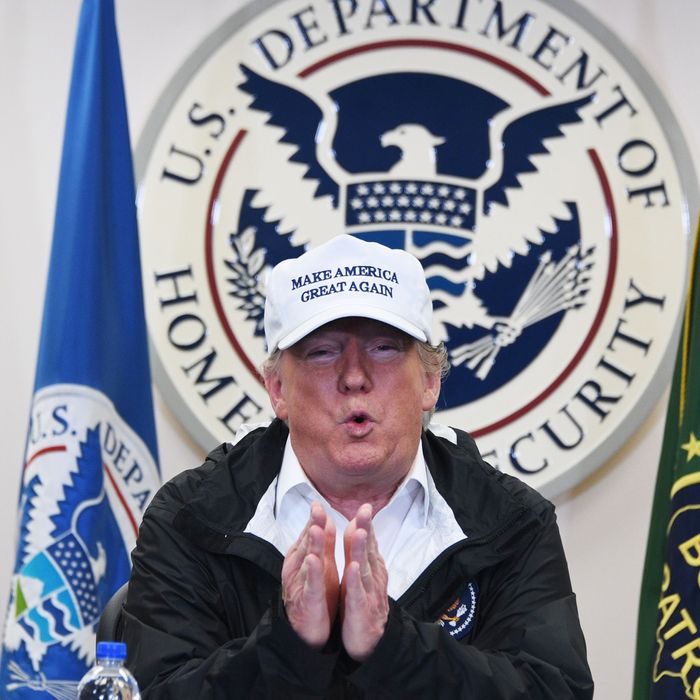 President Donald Trump.
Photo: Jim Watson/AFP/Getty Images
If there was any doubt that President Trump did not fully believe his own bombast about an immigration crisis at the U.S.–Mexico border, his comments to reporters on Wednesday in the Oval Office should put it to rest. During a press conference, Trump insisted on his "absolute right" to declare a "national emergency" to secure funds for a border wall — his signature campaign promise and the defining symbol of his national security ambitions. The Democrat-led House of Representatives has denied the president any of the $5.7 billion he is asking for, prompting him to shut down or defund roughly a quarter of the federal government and hold as hostage the paychecks of more than 800,000 workers. His obstinance is predicated on the assertion — repeated ad nauseum by himself and much of his administration — that undocumented immigration from Mexico and Central America poses an immediate threat to internal security, resulting in the free flow of terrorists and killers across the southern border.
But when reporters on Wednesday asked the president what his threshold was for abandoning dead-end negotiations with Congress and declaring a national emergency to get the wall built, Trump replied, "My threshold will be if I can't make a deal with people that are unreasonable." Time is presumably of the essence during an emergency. Action must be taken decisively to avoid catastrophe. For this reason alone, Trump's claims of a border crisis — and his insistence that a wall is the only solution — have been consistently unconvincing. If Americans were being victimized by immigrants and terrorists at the rate the Trump administration claims they are, it seems unlikely that a dramatic security overhaul to resolve the crisis could wait the "months, or even years" he has threatened to keep the shutdown going. The headline to a tongue-in-cheek essay from Slate's Ben Mathis-Lilley frames this dissonance in blunter terms: "Could there be a slower response to an actual 'invasion' at the border than laboriously building a 1,000-mile wall?" The illogic is compounded by reports that the wall was not intended as a literal policy proposal in the first place. During the early stages of the 2016 campaign, Trump's advisers reportedly chose it as a mnemonic device to ensure that their undisciplined candidate — "who hated reading from a script but loved boasting about himself and his talents as a builder," according to the New York Times — remembered to talk about immigration and border security during his rallies.
Now, it is all too real. But it remains a difficult conclusion to avoid that Trump's insistence on a border wall stems less from his belief that it solves an actual security need than from an ego trip gone wrong. The president, of course, recalls better than anyone that "Build the wall!" chants whipped his nativist base into a frenzy when he was a candidate, ringing out through campaign arenas and across youth soccer game fields as both rallying cry and racist taunt. Few phrases — short of "lock her up" or "make America great again" — became as inseparable from his political brand. Trump's well-documented love for the adoration of crowds, including a habit of rewatching his own rallies so he can "[luxuriate] in the moments he believes are evidence of his brilliance," according to Axios, suggests the rapturous thrall in which he holds his audiences is mirrored by that in which their adulation holds him.
But Trump's fear that such adulation might be conditional — predicated, perhaps, on whether he actually keeps his promises — seems to have driven his recent decision-making far more than the actual rate of undocumented border crossings, which has declined steeply since its zenith in the early 2000s. It feels like a lifetime ago that Christmas was approaching and a deal between the president and Congress to fund the government seemed imminent. Then, the conservative punditocracy that Trump consumes daily on Fox News and quotes like gospel in his tweets threatened to turn on him. Ann Coulter told the Daily Caller that Trump's tenure will have amounted to a "joke presidency" with "no legacy whatsoever" if he did not get the wall built. Republican representative Mark Meadows of North Carolina warned of the "political fallout" from reaching a deal that included no wall funding, saying it would hurt Trump's chances for reelection in 2020. Commentator Michelle Malkin characterized a funding deal without wall money as "a cave." The result is 20 days and counting of a government in limbo, with actual emergencies — in contrast to Trump's fake one — on the horizon. The Food and Drug Administration, which oversees 80 percent of America's food supply, according to the Washington Post, has been forced to halt all routine domestic food inspections due to lack of funding, sharply increasing the risk of foodborne illnesses reaching the general population. Air traffic controllers missed their first paycheck this week, and the implementation of new communications systems for them has been placed on hold. The Small Business Administration is not processing new loans during the shutdown, leaving many business owners in precarious financial straits.
In these ways and likely others that are not yet apparent, the human cost of Trump holding out for money for his border wall — which 56 percent of Americans actively do not want — is higher than getting no wall at all. The most logical reason he is using federal money as a hostage is that his base is functionally doing the same to him. Trump did not want this. He wanted to win an election and wanted something catchy and galvanizing to say in order to accomplish that goal. It is a mandate he continues to pursue. He recently lied that a wall was needed to stop the "unbelievable vehicles" immigrants use to plow across the border — "stronger, bigger, and faster vehicles than our police have, than ICE has." It was utter nonsense with no evidence supporting it. The wall has become a prison of Trump's own making, his desire for its construction a prolonged ego trip and a carrot for his supporters, not a response to an actual security need. He has chosen not to test his own maxim that he "could stand in the middle of Fifth Avenue and shoot somebody and [not] lose voters." Now he is stuck with the literal consequences of his rhetorical irresponsibility. And so, unavoidably, are the rest of us.