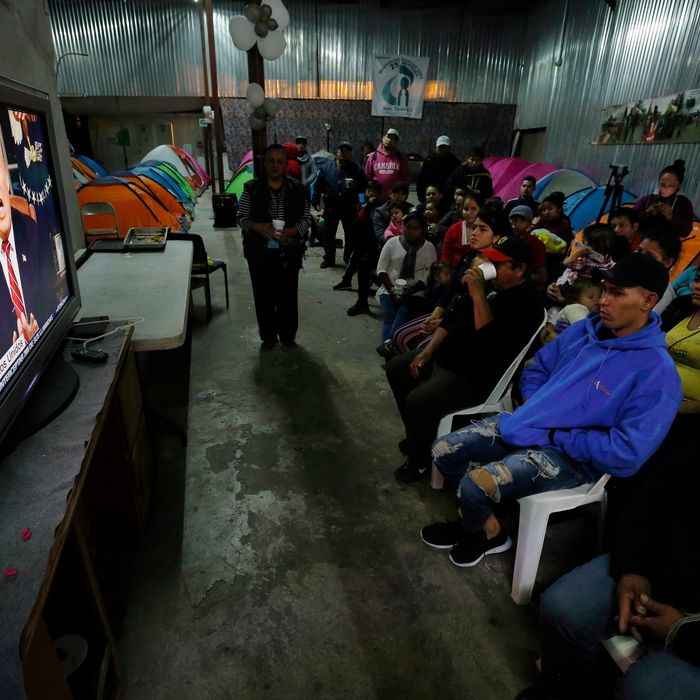 Migrants near the U.S.-Mexico border watch as Donald Trump describes them as dangerous scum.
Photo: Gregory Bull/AP/REX/Shutterstock/Gregory Bull/AP/REX/Shutterstock
Perhaps the president originally had a plan, or at least a notion, for saying something new when he announced a prime-time Oval Office address, whether it was a national emergency declaration or just a different line of argument than he's used a hundred times before. But instead, we got a very familiar recitation, poorly delivered, about heinous crimes committed by "illegal aliens" and the heartlessness of Democrats who won't give him the money he wants to build a border wall even though he's let go of his concrete dreams and is willing to accept a barrier of steel.
It was a message he could have conveyed in a tweetstorm or a press availability or a photo op or a tossed-off comment to reporters as he came or went from the White House. Since he was determined to blame the government shutdown he stumbled into on Democrats, he could have at least expressed some sympathy for the government employees and contractors who have been furloughed or who are working without pay, or the many Americans affected by interruption of services or benefits (or as he obliquely put it, "those who are impacted by the situation"). But his one-note nine-minute address had no space for any of that.
All the president really added to his usual border "crisis" rap (other than the strange "concession" on steel versus concrete) was a request that his listeners contact Congress to press his case — potentially creating a benchmark that Team Trump may well fail if the Capitol switchboard is not jammed. And he gave fact-checkers a fresh opportunity to point out how much of his manufactured crisis is based on lies and misleading half-truths, including such howlers as another assertion that somehow Mexico will pay for the border wall.
What made this whole exercise especially pointless were reports today that Trump knew it made no sense, according to the New York Times:
In taking his argument to a national television audience to be followed by a trip to the Texas border on Thursday, Mr. Trump hoped to reframe the debate. After spending much of the first two weeks of the shutdown cloistered in the White House, he has now opted to use the powers of the presidency to focus public attention on his ominous warnings about the border …




Yet privately, Mr. Trump dismissed his own new strategy as pointless. In an off-the-record lunch with television anchors hours before the address, he made clear in blunt terms that he was not inclined to give the speech or go to Texas, but was talked into it by advisers, according to two people briefed on the discussion who asked not to be identified sharing details.




"It's not going to change a damn thing, but I'm still doing it," Mr. Trump said of the trip to the border, according to one of the people, who was in the room. The border trip was just a photo opportunity, he said. "But," he added, gesturing at his communications aides, Bill Shine, Sarah Huckabee Sanders and Kellyanne Conway, "these people behind you say it's worth it."
Perhaps Trump's communications staff can explain to him and to the rest of us why he wasted the unique optics of his first Oval Office address on this warmed-over hamburger job of a speech.