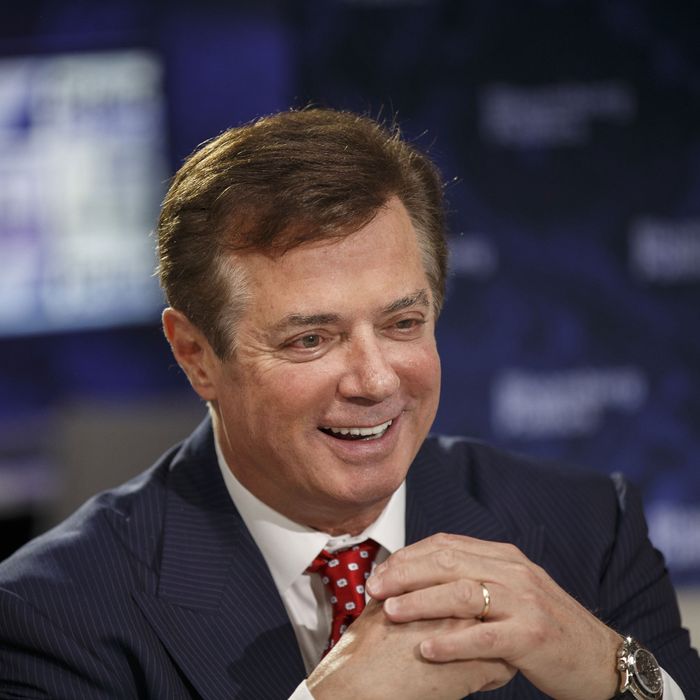 Manafort.
Photo: Patrick T. Fallon/Bloomberg via Getty Images
The idea that Donald Trump's campaign did not collude with Russia always rested on an implausible scenario, in which every single one of the many trails connecting Trump Tower to Moscow ended short of contact. A court document shared today by Paul Manafort's lawyers inadvertently spills a detail that makes the no-collusion scenario even more remote.
The document by Manafort's lawyers attempts to redact several key details, but mistakenly left them legible. The most important detail is that Manafort, who served as Donald Trump's 2016 campaign manager, shared polling data with Konstantin Kilimnik, a Russian intelligence agent. The detail comes up because the special counsel is charging Manafort with omitting this fact when he cooperated with them, while Manafort's lawyers maintain he merely forgot about it. But the real significance of this event is not why he failed to share it but that it happened at all.
Why was Trump's campaign manager sharing polling data with a Russian intelligence agent? Kilimnik was of course an employee of Manafort's, and the two cooperated in other political work on behalf of pro-Russian candidates in Ukraine. Manafort also appears to have been in debt to Oleg Deripaska, a Russian oligarch close to Moscow, during the Trump campaign. Most importantly, Russia carried out social-media attacks on the American electorate in 2016, which have already featured in previous indictments by Robert Mueller.
One question about Russian social-media messages, and a key potential avenue for collusion between Trump's campaign and Moscow, is how Russia targeted its messaging so precisely. The Russians may have studied the American electorate closely on their own. But it seems more likely that they tapped their contacts for data to help them figure out what messages to use, and where.
The New York Times reported that Manafort asked Kilimnik to pass on the polling data to Deripaska (which means to the Russian government.) It also reports that most of the data was public but some of it "was developed by a private polling firm working for the campaign." The Times updated its reporting to note that Manafort actually asked for the data to be shared with different Russian oligarchs, for whom he had also previously worked:
So the fact that Manafort apparently "lied about sharing polling data with Mr. Kilimnik related to the 2016 presidential campaign" is quite important. It's possible the polling had nothing to do with any of Russia's political operation, and was nothing more than gossip. But the fact that Manafort shared the information suggests he was offering information that Kilimnik couldn't just find from public polls. And the fact Manafort lied about it, and is being charged with the lie, raises the very strong possibility he was painting the target for Moscow.
*This story has been updated throughout.