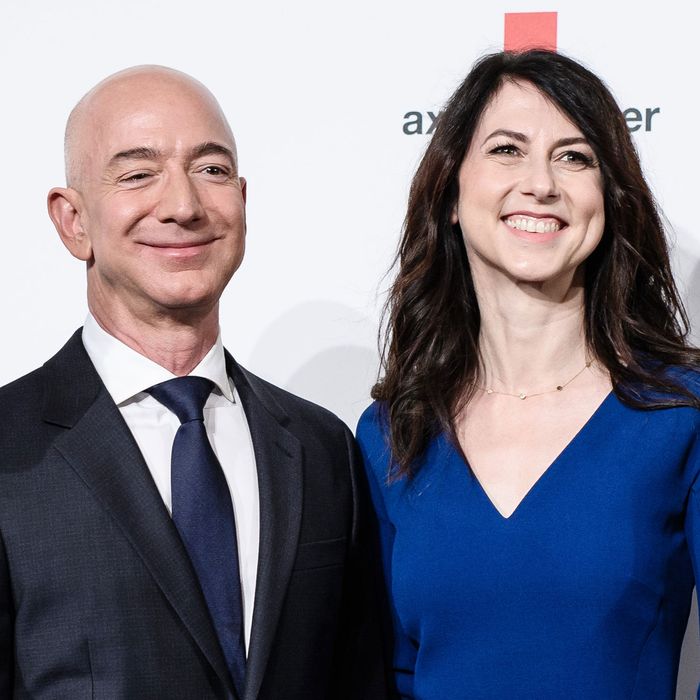 Amazon CEO Jeff Bezos and writer MacKenzie Bezos announced their divorce Wednesday.
Photo: Clemens Bilan/EPA-EFE/REX/Shutterstock
Amazon CEO Jeff Bezos and his wife, MacKenzie, are splitting up after 25 years, the couple announced Thursday. In a joint statement issued on Twitter, the couple wrote that the split comes after "a long period of loving exploration and trial separation."
It also comes just a day before the National Enquirer's "blockbuster exclusive" alleging that the Amazon CEO was "caught cheating on his wife of 25 years with the spouse of a Hollywood mogul." In a post Wednesday, the Enquirer took credit for the divorce announcement, which came just a few hours prior, and bragged about a four-month investigation into Bezos's affair with former TV host Lauren Sanchez.
The Enquirer says it tailed Bezos in "private jets, swanky limos, helicopter rides, romantic hikes, five-star hotel hideaways, intimate dinner dates and 'quality time' in hidden love nests." Reporters followed Bezos "across five states and 40,000 miles," and apparently took pictures of him and Sanchez "doing the dirty."
On Thursday, the Enquirer spilled more dirt, publishing text messages Bezos allegedly exchanged with Sanchez in April of 2018.
In another pillow talk exchange, on May 13, the horn-dog billionaire wrote: "I want to smell you, I want to breathe you in. I want to hold you tight.… I want to kiss your lips…. I love you. I am in love with you."
A lawyer for Bezos told the Enquirer that Jeff and MacKenzie Bezos had been "long separated," and TMZ reports that the CEO's relationship with Sanchez did not begin until after he and his wife split. TMZ is also reporting that Jeff and MacKenzie Bezos did not have a prenuptial agreement in place when they got married. That's little surprise, considering the couple wed before Bezos even started Amazon.
The Enquirer clearly invested a lot in its takedown of Bezos, who, as the richest man in the world, is a fairly natural target for the tabloid. But it's hard to imagine his position as a high-profile foil of President Trump's didn't factor into the Enquirer's investment.
David Pecker, the chief executive of the Enquirer's parent company, American Media Inc. (AMI), and Trump have long had a cozy relationship. The tabloid endorsed Trump in 2016 — its first presidential endorsement ever — and reportedly ran stories by him during the election. Pecker has also admitted to paying $150,000 to former Playboy model Karen McDougal to prevent her story of an affair with Trump from coming out in the lead-up to the election, a potential campaign-finance violation.
In December, AMI reached an immunity deal with federal prosecutors, allowing it to escape prosecution. Along with Pecker, the non-prosecution deal included Dylan Howard, the chief content officer at AMI, and one of the three writers whose byline appears on the Bezos article.
That deal was seen as endangering Trump. It was as "disaster" for the president and it marked "the unraveling of the deep relationship Trump and AMI chief executive David Pecker had forged over decades."
In a story about AMI's deal with the feds, reporters for the Washington Post, which Bezos owns and Trump hates, wrote that Pecker "has turned on the president." The Enquirer's efforts to embarrass Bezos suggest maybe not?
Asked to respond to allegations that the Enquirer's Bezos story was done to please Trump, an American Media spokesperson said, "The National Enquirer has been doggedly investigating this story for four months and the extraordinary details and evidence uncovered by our team, and presented to Mr. Bezos's representatives for comment early this week, underscores the kind of investigative reporting that the publication has long been known for."