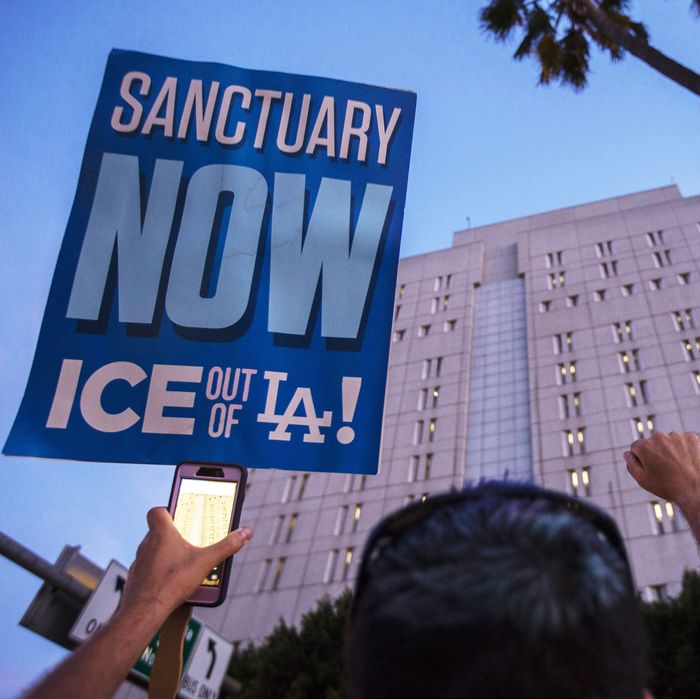 ICE enforcement priorities far from the border are now front and center in the border-security negotiations.
Photo: David McNew/Getty Images
Today represents an informal deadline for congressional negotiators to reach an agreement on border-security issues in time to get it ratified by both Houses of Congress and the president before the latest stopgap funding measure expires on Friday, February 15. They seem to be close to a $2 billion benchmark for border-security funding, with more or less clarity on how much of it can be spent on something the president can claim as a "wall." That's just a little above the amount Trump rejected in December before partially shutting down the federal government, and far short of the $5.7 billion he's been regularly (if arbitrarily) demanding.
But there's another dispute now hanging fire that needs to be resolved before a deal heading off a potential second government shutdown can be consummated: a dispute over the number of detention facilities ICE can maintain, and who can occupy them, as Bloomberg News reports:
There are currently 40,520 ICE immigration detention beds funded by Congress. Heading into the talks, the White House sought to increase the number to 52,000, while Democrats wanted a reduction to 35,520. Democrats have proposed a 16,500 cap on beds to be used for interior enforcement, with the rest to be used for those captured at the border, according to people familiar with the talks.




A senior Republican aide said [Senate Appropriations Committee Chairman Richard] Shelby won't accept an interior cap, and Democrats told Republicans they won't proceed without one.
The underlying issue for Democrats is an effort to curb ICE efforts to harass and intimidate immigrants far from the border whose only crime is their undocumented status (these are mostly people who overstayed visas). Republicans, of course, are framing this as an effort to protect "criminals," with the president making the most extreme mischaracterization:
Part of the GOP messaging strategy here is to treat the detention-bed issue as a last-minute poison pill Democrats are using to screw up the negotiations. Bloomberg explains the actual state of play:
Democrats proposed the cap at the beginning of the negotiations, but Republicans were surprised and dismayed that the proposal remained in the latest Democratic offer on Saturday. The initial offer, which had no money for border barriers, was seen a low-ball opening bid.
Democrats' rationale for the cap and the level at which they would place it is to restore ICE's pre-Trump priorities, as Roll Call reports:
[A] Democratic aide said 16,500 is the level of such arrests from the last three months of President Barack Obama's administration. By contrast, the comparable level for the Trump administration as of Feb. 4 was 20,700, according to the aide, about 25 percent more than in late 2016.




"A cap on ICE detention beds will force the Trump administration to prioritize deportation for criminals and people who pose real security threats, not law-abiding immigrants who are contributing to our country," House Homeland Security Appropriations Subcommittee Chairwoman Lucille Roybal-Allard, D-Calif., said in a statement Sunday.




Republicans have said they would agree to such a cap only if it excludes criminals from the count, a senior GOP aide said. But that condition would make the cap "totally useless," the Democratic aide said.
Negotiators are meeting again this afternoon to try to break the impasse, which should be possible since it really does come down to numbers, rather than any irreconcilable matter of principle. But Trump's newly combative position, which he will surely amplify at his El Paso rally tonight, will likely complicate matters. You'd have to guess that some of his advisers, not to mention outside right-wing commentators, who were alarmed at Trump's apparent willingness to abandon his border-wall demands, will seize on this latest dispute to sabotage a deal. Trump may even become convinced that the he can shift blame to Democrats for a second government shutdown by deploying the new/old issue of ICE detention policies.
After a week in which the whole border-wall fight was beginning to look as stupid and pointless to nearly everyone as it looked to Trump's critics from the get-go, Washington is back in shutdown crisis mode, with no clear resolution immediately in sight.