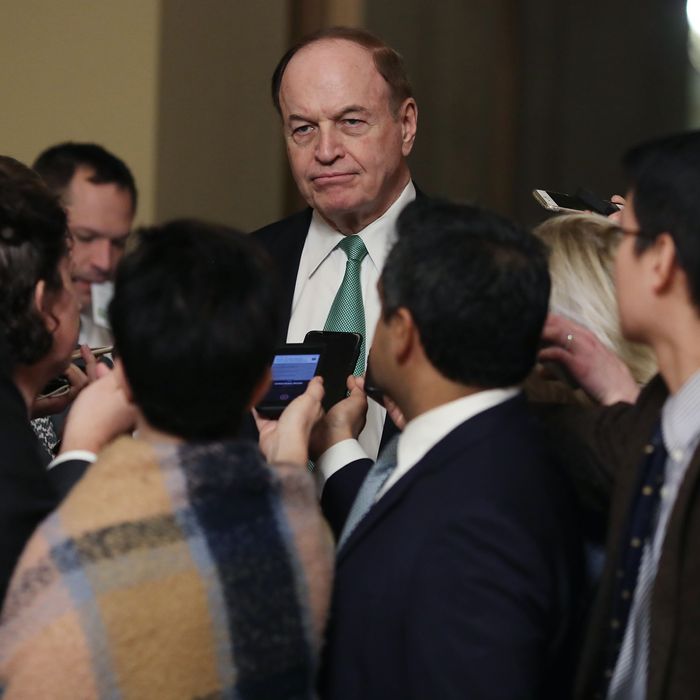 Alabama senator Richard Shelby, a GOP leader in the shutdown talks.
Photo: Mark Wilson/Getty Images
As the president flew down to El Paso to rant before a crowd of his most passionate supporters on Monday, bipartisan negotiators reached a deal "in principle" to keep the government open, as the effects of last month's shutdown, the longest ever, still reverberate. Facing a Friday deadline, negotiators in the House and Senate agreed on $1.375 billion for fencing on the southern border, a number noticeably short of the $5.7 billion President Trump demanded, sparking the shutdown. That $1.375 billion is also conspicuously close to the original $1.3 billion that Nancy Pelosi and Chuck Schumer first proposed in the December 11 Oval Office meeting where the president claimed he was "proud to shut down the government for border security." Two months, and $11 billion in damage to the economy later, the money would reportedly cover just 55 miles of new "steel-slat" fencing on the southern border.
In exchange for the barrier funding, Democrats dropped their demand to reduce the number of people Immigration and Custom Enforcement can detain at a time. A major point of contention in the shutdown talks, Democrats hope to keep the bed count as low as possible. (If ICE does not have the space to hold migrants, the agency's roundups are limited in scope.) The current number of beds is around 49,000; Democrats wanted to drop it to 34,000, the number during the Obama administration, while the president requested 52,000. According to the tentative agreement, Democrats have signed off on 40,520. However, the New York Times suggests it may all be for naught: "Aides in both parties had warned that a final deal might leave the number of detention slots — or "interior beds" — unchanged, not reduced as Democrats want and not increased as Mr. Trump wants."
If Congress cannot agree on a spending bill by Friday, the government will shut down again, a result that led in January to a 58 percent disapproval rating for the president. Still, despite laying the groundwork for a huge surrender on the border wall, Trump appears to be considering the option that brought him his worst poll numbers yet. On Sunday, acting Chief of Staff Mick Mulvaney said not only is a shutdown "still on the table," but that a border wall will "get built with or without Congress."
Trump's rallies are notoriously unreliable for predicting real policy, but during his 90-odd minute speech in El Paso, he suggested moves in Congress may be irrelevant. "As I was walking up to the stage, they said that progress is being made with this committee," Trump told the crowd, adding, "Just so you know, we're building the wall anyway."