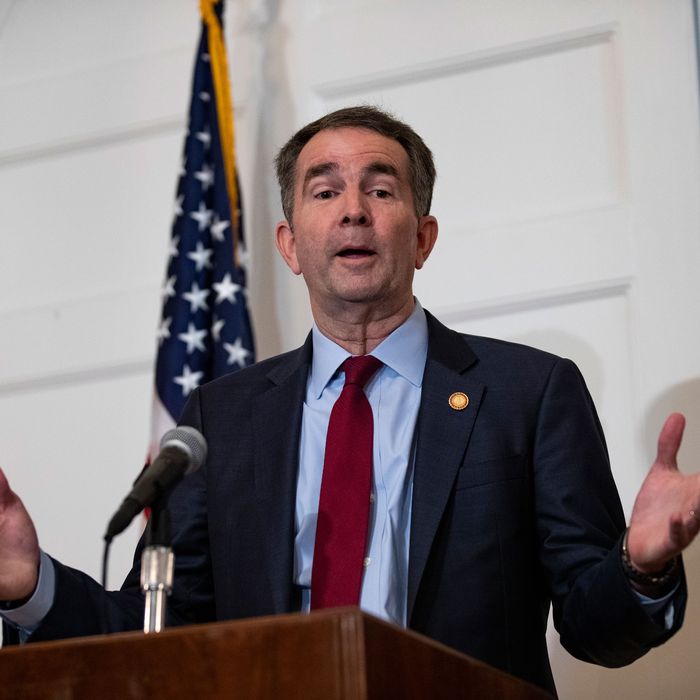 Virginia governor Ralph Northam.
Photo: Alex Edelman/Getty Images
Virginia governor Ralph Northam is still resisting calls to resign over a racist yearbook photo from 1984.
Dozens of major Democratic Party figures, including the state's two U.S. senators, have called for Northam to step down following the revelation that his medical-school yearbook page included a picture of a man in blackface next to a man in a KKK hood. After first apologizing, Northam now says that he is not either of the men in the photo.
As he tries to chart a way forward, Northam convened a group of black senior staffers Sunday night to discuss his next step, the Washington Post reports. The meeting, according to one Democrat present, was "emotional in tone."
One Northam ally who was not at the meeting is Lieutenant Governor Justin Fairfax, who would take over as governor should Northam resign. It's not clear why he wasn't in the meeting, but it could have something to do with a brewing controversy of his own. The Virginian-Pilot has the details:
Big League Politics, the conservative news outlet that first posted photos of Gov. Ralph Northam's Eastern Virginia Medical School yearbook on Friday, wrote a story Sunday night based on a tip regarding a woman named Vanessa Tyson, a fellow at Stanford University. She claims a man sexually assaulted her at the 2004 Democratic National Convention in Boston.




The website posted a screenshot of a private Facebook post from Tyson. It doesn't name Fairfax, but Big League Politics linked it to him. The post says the man was elected as the Democratic candidate for statewide office "in a state some 3000 miles away" and won the election in November 2017 and "by strange, horrible luck, it seems increasingly likely that he'll get a VERY BIG promotion."
Early Monday, Fairfax released a statement denying the allegations and threatening legal action against the website that published them. He also referenced attempts to corroborate the woman's story by other news outlets, including the Post. WUSA9 reporter Mike Valerio reports that the TV station "and news outlets across Virginia have known about the claim for months, and have not been able to corroborate the allegations."
The claims against Fairfax have some looking into the details of Virginia succession. Should Northam resign and Fairfax not replace him, the state's attorney general, Democrat Mark Herring, would be next in line.
Among those joining the chorus calling for Northam's resignation is Virginia House Speaker Kirk Cox, a Republican. "It's become clearer to us … regardless of the veracity of the photograph, the governor has lost the confidence of the people and cannot effectively govern," he said Monday. But he stopped short of threatening to remove the governor from office.
"I think the constitutional provisions are very specific on succession of office. It really does call for mental and physical incapacitation," he said. "That's why we have called for resignation. We hope that's what the governor does. I think that would obviously be less pain for everyone."
Protestors outside the Virginia governor's mansion appear to agree with Cox.
The news continued to worsen for Northam Monday, as the College of William & Mary rescinded an invitation to the inauguration of its president. "That behavior has no place in civil society — not 35 years ago, not today," President Katherine Rowe said in a statement. "It stands in stark opposition to William & Mary's core values of equity and inclusion." The decision by Williams & Mary follows a call for Northam to resign from University of Virginia president Jim Ryan.
As Northam appears increasingly isolated, one prominent former politician has emerged to defend him. Former senator and vice-presidential nominee Joe Lieberman told CNN Monday that Northam doesn't need to resign. "I think there's a rush to judgment that is unfair to him. One, he says he wasn't in that picture. Two, I think we ought to fairly ask him, 'Did he know the picture was on his page of that yearbook?' And then three, really, he ought to be judged on the context of his whole life."