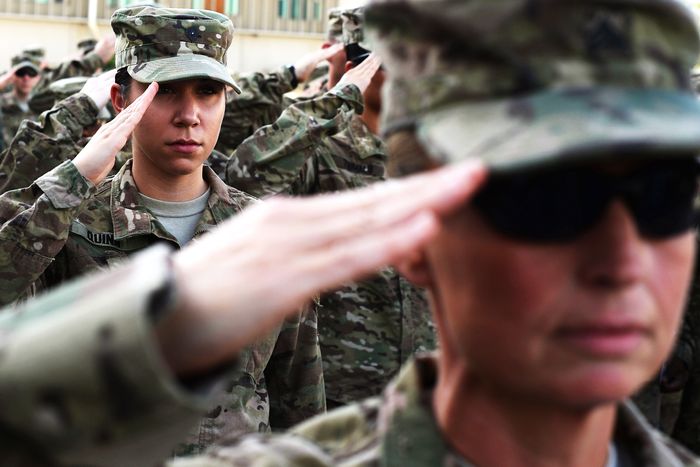 Men and women should have to register for the draft, a federal judge said Friday.
Photo: Shah Marai/AFP/Getty Images
U.S. District judge Gray Miller ruled Friday that the law requiring all men to register for a military draft, while excluding women, is unconstitutional.
The ruling comes 38 years after the Supreme Court found that excluding women from the draft is "fully justified" since they were not allowed to serve in combat roles. But that changed four years ago, when then-Defense Secretary Ash Carter opened up all combat roles to women. In his decision, Miller wrote that the previous prohibition against women in combat "may have justified past discrimination."
But times have changed. "If there ever was a time to discuss 'the place of women in the Armed Services,' that time has passed," Miller wrote.
Though there hasn't been a military draft since 1973, men in the U.S. are required to register for the Selective Service System when they turn 18, just in case. If they don't, they can face fines and the denial of federal student loans, among other punishments.
The case challenging that rule was brought by two men who argued it was unfair to require men, and not women, to register. The men were joined in the suit by the National Coalition for Men, a San Diego–based group that says it's dedicated "to ending harmful discrimination and stereotypes against boys, men, their families and the women who love them."
"Women are now allowed in combat, so this decision is long overdue," said Marc Angelucci, who represented the men's-rights group. "After decades of sex discrimination against men in the Selective Service, the courts have finally found it unconstitutional to force only men to register."
The government asked Miller for a stay while the National Commission on Military, National, and Public Service reviews the question of whether women should be required to register. In ruling against the government, Miller gave those seeking a change to the law a victory, albeit a symbolic one. Women are still not required to register for the draft, but clearly that may soon change.