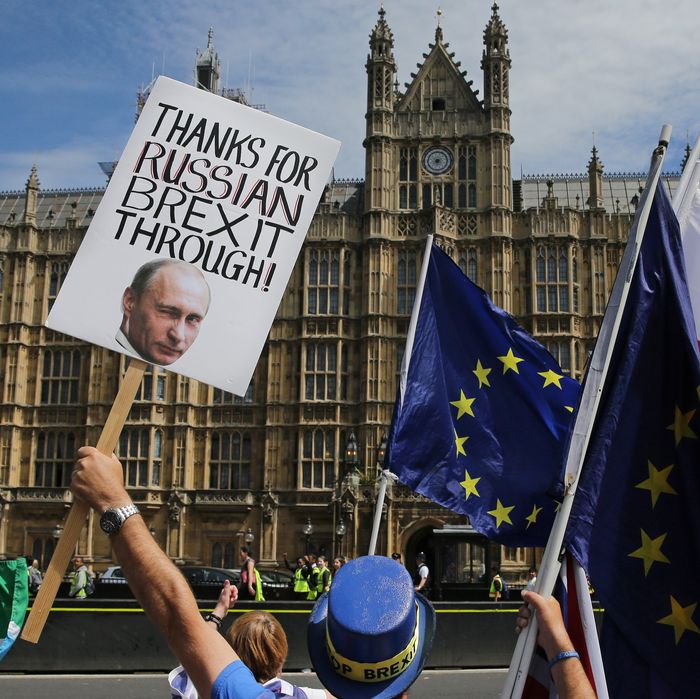 A pro-E.U. demonstrator holds a placard featuring Putin in London on June 11, 2018.
Photo: DANIEL LEAL-OLIVAS/AFP/Getty Images
After days of wall-to-wall coverage of the conclusion of the Mueller investigation — about which we still know nothing except for Attorney General Barr's four-page summary, which Stacey Abrams described as "like having your brother summarize your report card to your parents" — you might wonder what the rest of the world is making of these titanic developments.
Not all that much, it turns out. As difficult as this may be to comprehend, our friends and foes alike seem to have taken our measure and concluded first, that President Trump is not going anywhere this year; and second, that yet another surge of controversy around him is no longer of top interest to international media consumers hungry for local stories — and focused on their own crises.
The British press, understandably, was filled with coverage of the million-person London demonstration calling for a Brexit revote as an alternative to crashing out of the European Union, and of developments in Parliament that don't seem to be making a no-deal Brexit any less likely. While U.K. papers did feature Barr's "no collusion" verdict prominently on Monday, over in France, headline pride of place went to a massive new Chinese order of Airbus jets, at the expense of Trump's friends at Boeing. The conservative German paper Bild asserted that the Mueller outcome "had won Trump reelection" — but both French and German media devoted as much analysis to Washington's surprise recognition of Israeli sovereignty over the Golan Heights as to Mueller.
By Monday afternoon, leading African news outlets weren't even covering the Mueller developments — though the state-owned Nigerian Television Authority's home page still featured a ten-day-old story about the Trump administration's decision to deny entry to anyone working on International Criminal Court investigations targeting the U.S. And while some major Asian outlets were covering Mueller, Chinese state-run media was busy pondering Kellyanne and George Conway's relationship among its lead U.S. stories ("pretty husband is still quite a boss," read one translated headline).
There was one place where Mueller's report, and Barr's conclusion that there wasn't sufficient evidence that Trump obstructed justice, got a lot of excited attention: Moscow. The Daily Beast's Julia Davis collected some of the most over-the-top Russian commentary, including politician Alexei Pushkov's description of the Mueller report as "a mountain that birthed a dead mouse," which, if it's not exactly Pushkin or Dostoevsky, does convey a certain strength of feeling. A popular Russian TV host declared that "Russia didn't elect Trump [but] will most definitely elect him in 2020."
Which does lead to an important point: Mueller's investigation led to the conviction of several senior Trump campaign officials for improper ties to Russian and other foreign actors. Along with its two dozen indictments of Russian intelligence operatives, who will likely never appear in a U.S. court, came a mound of evidence laying bare how Russian intelligence operatives and their partners made multiple efforts to influence the 2016 election outcome, and sow dissension and doubt about the strength and integrity of the U.S. democratic process.
One reason to insist on the release of the entire report is to learn as much as possible about the evidence linking Moscow to the Trump campaign, whether or not anyone is ever charged, or in president's case, impeached.
But there's another reason that ought to transcend the partisanship around pursuing various charges: to spread as broadly as possible what Mueller learned about Russian tradecraft — how Moscow did what it did, never mind who may have helped out. That information could be the foundation for an effective policy to make it harder for any outside actors to undercut U.S. democracy, no matter whose interests they may harm or benefit. Laura Rosenberger, who runs the Alliance for Securing Democracy (and who lived this experience firsthand as a foreign policy adviser on the 2016 Clinton campaign), described the situation to me in stark terms:
We also know from separate DOJ charges and administration officials that these efforts continued through the midterms, and are ongoing today. Addressing Russia's interference is a matter of national security, and will require partisanship to be put aside to take real steps to harden our defenses, deter Russia and other countries that might seek to follow suit, and build societal resilience. A partisan response would not only hamper such efforts; with increasing polarization and weakening our institutions a goal of Putin's efforts, it would play directly into Putin's hands.
So global media and the international public may have tired of the Trump circus, and decided that Washington is now too enmeshed in its own delusions and dysfunctions to affect their lives. But intelligence agencies around the world will be watching the next steps carefully to see whether Washington can summon the will to repair our system and protect ourselves — and whether anyone can protect a democracy when some of its contestants are determined to win at any price.