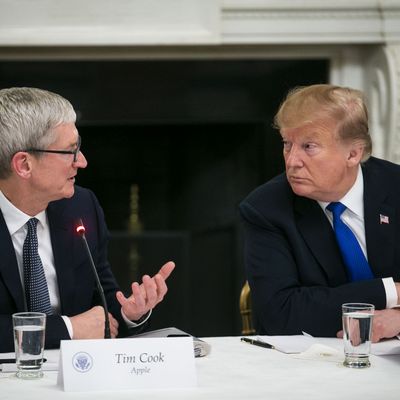 Tim Cook with Donald Trump in Washington, D.C., on March 6, 2019.
Photo: AL DRAGO/Bloomberg via Getty Images
President Trump's nicknames, in and of themselves, are rarely funny. Ranging from the outright offensive ("Pocahontas" for Elizabeth Warren) to the repetitious (Lyin' Ted, Lyin' Hillary, Lyin' James Comey), the combination of derogatory adjective plus first name is usually too forced, too formulaic to work. Unlike his sobriquets, it's usually pretty funny when the president calls a person the wrong name, like on Wednesday when Trump called Apple CEO Tim Cook "Tim Apple" while Cook was sitting right next to him.
Trump sat with Cook in the State Dining Room, as part of a panel with the American Workforce Policy Advisory Board, a meet-up of 25 executives from IBM, Visa, Lockheed Martin, and others. After praising Cook for his company's "big investment in our country," Trump botched his name – though he'd addressed Cook properly earlier in the meeting.
Cook did not respond to the gaffe while seated next to the president, but on Thursday afternoon he quietly changed his name in his Twitter bio.
Trump, a chronic name-forgetter, has made similar errors in the past: Last March, the president introduced Lockheed Martin CEO Marillyn Hewson as "Marillyn Lockheed." But there's something less funny about subbing in the title of a notorious defense contractor for a CEO's name, compared to say "Tim Apple," which suggests a VeggieTales character who has abandoned Christian messaging in the pursuit of corporate excellence. Still, in the pantheon of Trump gaffes, the event is less funny than when the president spelled his wife's name as "Melanie."
This post was updated to include Cook's response on Twitter.