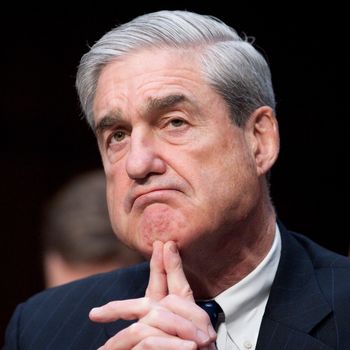 Photo: Bill Clark/CQ-Roll Call,Inc.
On Sunday afternoon, Attorney General William Barr delivered his summary of special counsel Robert Mueller's investigation into Russian efforts to interfere in the 2016 election. In short, the synopsis states that Trump and his campaign are not legally on the hook for obstruction of justice, or any criminal "collusion," which isn't a major surprise: The president's lawyers have repeatedly pointed out that collusion isn't a crime. But, according to Barr, "the Special Counsel states that 'while this report does not conclude that the President committed a crime, it also does not exonerate him.' "
President Trump, not known for his reading comprehension skills, took that to mean that the report is a "complete and total exoneration." "There was no obstruction," Trump told reporters before boarding Air Force One. He quickly pulled the pity card from his rhetorical pocket: "It was a shame that our country had to go through this. Frankly it's a shame that your president had to go through this." Even as he promoted the Mueller report summary, Trump couldn't help but attack the investigation: "It began illegally. And hopefully somebody's going to look at the other side. This was an illegal takedown that failed. And hopefully somebody's going to be looking at the other side." And on Twitter, the president previewed what is likely to become his unofficial 2020 branding:
Trump's defenders responded with similar expressions of joy and condemnation:
Trump whisperer and occasional MAGA-rally surrogate Sean Hannity delivered his opinion with particular restraint.
House Judiciary Chairman Jerrold Nadler led the charge among Democrats, responding to the letdown summary with a vow to continue to hold Trump accountable. Nadler tweeted that he intends to call William Barr to testify about "very concerning discrepancies and final decision making at the Justice Department." Representative David Cicilline, a fellow member of the House Judiciary Committee, agreed, saying that "The Special Counsel did not exonerate the president. In fact, according to the attorney general's letter, he described a pattern of evidence suggesting the president engaged in obstruction of justice. The attorney general needs to make this evidence available to Congress immediately, along with the entirety of the Mueller report, so we can decide what steps to take next." Nadler added:
Democratic lawmakers, frustrated by William Barr's prompt turnaround and previous, unprompted criticism of the special counsel investigation, do not intend to go gentle into the post-Mueller night:
Also entirely without prompting, former FBI Director James Comey felt the need to express himself during this historic moment: