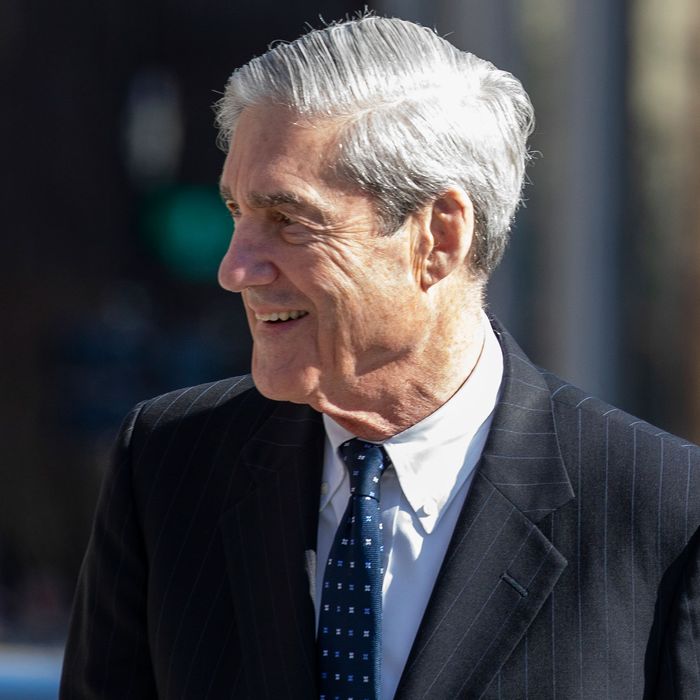 Special Counsel Robert Mueller.
Photo: TASOS KATOPODIS/Getty Images
Thursday's Mueller mania began in earnest at 9:30 a.m. That's when Attorney General William Barr began a press conference in which he rehashed his summary of the special counsel's report and repeated the phrase "no collusion" roughly six times.
But the reactions to the upcoming release of the Mueller report began even earlier. Early Thursday, Senator Kirsten Gillibrand was the first 2020 candidate to tweet that the full, unredacted Mueller report should be given to Congress.
After Barr's presser began, other candidates weighed in. Senators Elizabeth Warren and Kamala Harris, Representative Eric Swalwell, and Gillibrand accused Barr of acting as Trump's personal defense attorney.
Senator Cory Booker echoed the calls for the full report to be released, and Senator Amy Klobuchar said Robert Mueller himself must testify to Congress.
Harris was the first to use the report to try to build her email list. Warren later followed.
Swalwell took a slightly different approach with a petition demanding Barr's resignation.
Once the report was released, Gillibrand and Klobuchar did what the rest of us are doing and started reading.
Mayor Pete Buttigieg and Julián Castro eventually weighed in with pretty banal takes.
At around 3:20 p.m., Senator Bernie Sanders joined the party with a call for continued Congressional investigations into "Trump's conduct."
One candidate will not be reacting to the report at all.
Well, maybe just once.