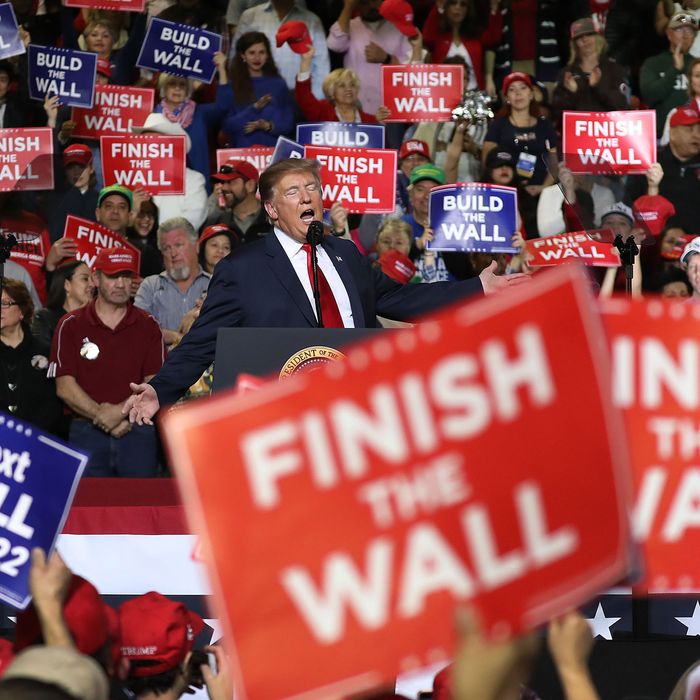 Photo: Joe Raedle/Getty Images
There are times when it feels as if two huge tectonic plates are colliding beneath the surface of Western politics, and, right now, neither seems to be giving ground.
The first plate is the force of demography. In most Western countries, the pace of immigration from the fast-growing and ever-younger global South, and the higher birth rates of immigrants, is shifting us to a whole new model of nationhood: culturally and ethnically far more diverse, with no single historical or traditional national narrative. At the same time, the inhabitants of those countries — still largely white — are increasingly troubled by the pace of change, panicked about the fast-shifting identity of their country and angry at the elites who created this swift ethnic transformation. You have an almost irresistible demographic force and a near-immovable psycho-political response. Hence the deadlock. "The old world is dying, and the new world struggles to be born," in Gramsci's words. "Now is the time of monsters."
Maybe this is, in fact, the single most powerful force in Western politics. That's the really engaging thesis of Eric Kaufmann, whose new book, Whiteshift, is by far the most thorough and scholarly treatment of the politics of white majorities I've read. Kaufmann is a professor at Birkbeck, University of London; a Canadian born in Hong Kong and living in England, one-quarter Chinese and one-quarter Latino, he passes as "white." And what's so refreshing is that Kaufmann is not afraid to go there. He's candid about race and identity — and how they fit into any immigration debate — and argues that much of the right's gains (for decades, in fact) have come from a white majority witnessing its own decline and even disappearance, and freaking out. In this, Kaufmann echoes in some ways the critique of the left: that all that's really going on right now is white fear of a nonwhite future. But that's a whole lot going on!
The difference is that where the left regards "whiteness" as a form of unending oppression, Kaufmann sees the potential for a kind of inclusive liberation. Yes, white racism is still around. Perhaps a good deal. And it's vital to call that out. But what Kaufmann insists on is that much of the resistance to mass immigration is not so much racist as merely conservative, emerging not from generalized loathing of others but from attachment to one's own in times of rapid change. He makes a distinction between "racism" and "racial self-interest," the first abhorrent, the second understandable. No one objects to nonwhite groups defending their self-interest. So why not whites as well, Kaufmann asks? I learned from Kaufmann's book, for example, that in the 1990s, Congress granted five territories — including American Samoa, Micronesia, and the Marshall Islands — the right to control immigration to maintain their ethnic majorities.
The lack of outrage at that policy, Kaufmann argues, is due to something he calls "asymmetrical multiculturalism." That's a definition of diversity that does not include white people (i.e., the current definition of "diversity"). And if your model of society uniquely excludes white people from the rights and privileges of being an ethnic group, or denies them the right to express their racial self-interest like every other ethnicity, then whites will begin to push back. And, when they push back, they are called racists, or deplorables, or bigots, and they tend to double down. That's what's behind increasing numbers of Americans, specifically most Republicans, telling pollsters that white people are more discriminated against in America than black people. That's absurd in almost all cases, but I suspect it's more of an expression of frustration at being left out of the future than an accurate view of the present.
Sure, you can stigmatize this resistance to a majority nonwhite America (and a little stigma is probably a good thing). But the truth is that repression often strengthens the thing it is trying to repress. Resistance to mass nonwhite immigration was intense when diversity began to take off in the 1960s. If you go back and read the debates around the 1965 Immigration Act, which ended a national-origin-quota system that favored immigrants from majority-white countries, you find that no one seemed to believe it would alter the ethnic composition of the country at all! Robert Kennedy, for example, was asked at one point how many Asian immigrants he foresaw as likely to come to the U.S. in the future and he replied: "I would say for the Asia-Pacific Triangle it [immigration] would be approximately 5,000, Mr. Chairman, after which immigration from that source would virtually disappear." Later this century, Asians are forecast to be the single largest group of immigrants.
Similarly, the British public were never formally asked whether they wanted their country to be a multiracial society when they first began admitting immigrants from the Commonwealth countries in the 1950s and 1960s. When the British Tory, Enoch Powell, made his infamous (and racist) "Rivers of Blood" speech, denouncing nonwhite immigration in 1968, he was buoyed by 74 percent support in the polls. But he was dismissed from his Shadow Cabinet position, exiled from the Tory party, banished from respectable society, and the taboo against any mention of race deepened.
What we're seeing now in both Europe and the U.S., Kaufmann argues, is the long-delayed, long-suppressed consequences of this suppression. We have forgotten in our good intentions that human beings are tribal creatures, that race is a part of tribal identities, and that the racial composition of a country, for good and ill, is something people care about. But you can only ignore human nature for so long until it comes back to bite you.
It's that force of human nature — often an irrational but still potent force — that has given us the agonies of Brexit and Trump. A revolt against mass nonwhite immigration lies at the heart of both developments. It's perfectly clear by now that Brexit was not about trade: If the E.U. had allowed the U.K. to control E.U. immigration, the Brits would have been fine with the customs union and the single market. But they were told they had to lose trade if they wanted to control borders. So they chose to control their borders. In the U.S., Trump's core distinction was his appeal to white Americans to cut down on nonwhite immigration. It was his first message, it was a winning message, and it will be central to his reelection attempt.
And look at what has happened in both countries, with respect to immigration, over the last three years or so: Nothing. The U.K. remains in the E.U. — with freedom of movement — and there's now a distinct, if small, possibility of never getting out, as Brexit's cliff edge is extended to — yes! — Halloween. In the U.S., undocumented immigration will likely be higher this year than in any year under Obama, and there seems to be absolutely no way to change that. Over 100,000 migrants entered the U.S. last month — on pace for more than a million this year alone, including many, many children (it's forecast that 2019 will have more unaccompanied minors entering the country than in the last influx in 2014). Finally, liberal outlets are beginning to cover this as the crisis it is. These migrants are being ushered in quickly and will get a court hearing in a few years' time, if the system works as it should. But the system is not working as it should. It's on the verge of what even the New York Times has to report is a "breaking point." Yes, a majority will probably show up for their asylum court hearings. But between 25 and 40 percent will not. And for that group, there is no quick or easy mechanism for deportation. There are no cops in immigration courts tasked with arresting or detaining anyone. There's no good data on what percentage of those deemed deportable are actually removed from the country. "ICE officials occasionally make a statement about the very low number of failed Central American asylum seekers who are removed, and it's probably around 5 percent or less of the number who could be," says Jessica Vaughan, director of policy studies at the restrictionist group the Center for Immigration Studies. That means that more than 95 percent of all immigrants showing up at the border get to stay in America. And that is a massive incentive, as we are now seeing, for yet more millions to come.
At some point, sooner rather than later, we will have to find a point between allowing mass immigration and outflanking white nationalism. "We can't label everybody who is disturbed by immigration as racist," Barack Obama said this week. "You know, that's a self-defeating tactic. You push away potential allies, people who maybe just haven't thought about it … but if they're exposed to new information and they're meeting people from other countries and they understand the nature of these different traditions and they see that others are eager to work with you, then suddenly they go, 'Ah, okay.'" And he's right. (As usual.) In a meta-analysis of all academic articles published between 1995 and 2016 on the relationship between support for diversity and opposition to immigration, Kaufmann found that "both ethnic change and raw minority levels counted at a national level — though minority change was a somewhat stronger predictor of white hostility than national share." Yes, there are racists; but there are also many who are simply uncomfortable and conservative. The only way to stop the populist, white-nationalist right is to separate the former from the latter, and engage the conservatives.
What Kaufmann recommends is some kind of reassurance to the worried whites. I think that may be the only way forward — and it's the only reason I favor Trump's wall. Merely as a symbol of border control, it could calm people down, curtail some of the hysteria, and dampen the appeal of the far right. But it's also why I favor limiting immigration, and reminding people that this kind of ethnic shift (if not quite on this scale) has happened in the past and America didn't cease to exist. It's a moment to remind ourselves how integrative and expansive and inclusive idea of "whiteness" has been in America, as new immigrant groups, with each subsequent wave, claim it as their own. Throughout the next century, it's important to tell people, Kaufmann argues, that America will always have a large "white" majority — but this time with simply a lot of Hispanic last names. And this is in part because many Latinos want to integrate, admire the Anglo-Saxon roots of this experiment in self-government, and want to decrease immigration themselves. (A Quinnipiac poll last year found that 54 percent of blacks and 55 percent of Hispanics thought illegal immigration across the southern border was an "important problem." One-quarter of Hispanics support Trump's wall.)
I understand why this feels so wrong to many who believe that "whiteness" is the source of our problems rather than a semi-solution to them. But until we tell a convincing story of the future evolution of American identity, and include whites firmly within it, I fear white nationalism will only get worse. We can and should call out xenophobia and racism, but we also need to accommodate the deep human need for continuity in national and community life. Especially if the alternative only alienates those who are afraid, and empowers the demagogues who exploit them.
Benedict's Awful, Wonderful Letter
Pope Benedict XVI's decision to let the rest of us know his own deep thoughts on the sex-abuse crisis is a somewhat mixed blessing. It doesn't seem to me to be a thumpingly good idea to resign as pope because you cannot hack it anymore … and then to keep issuing somewhat papal-like missives years later as if you were still in Saint Peter's chair. It's confusing enough with two popes as it is, but particularly perilous when Benedict clearly represents a different faction and mind-set than Francis, and when those two factions are, effectively, at war. Yes, I know Francis permitted publication of the letter, but it just depresses me to see Benedict risk fanning these flames. It feels as if in the church, as everywhere else, the center is not holding.
And this is especially true because Benedict's critique is so familiar, evasive, and exhausted that he sounds more like an old neocon re-upping Allan Bloom one last time than a pope emeritus speaking with any kind of restraint or serenity. And it's all to say one more time that everything went to hell in the 1960s and that every sex scandal in the church since then stems from that, and there was no real abuse before. Seriously. The hippies made us do it! The crisis had nothing do with clericalism, or stunted psychosexual development in some priests, or the corrupting culture of the clerical closet: It was still just those damned students all those years ago.
And the porn. Did he have to start with that? Sex education, it appears, was just the beginning: "I also remember arriving in [Regensburg, Germany] on Good Friday in the year 1970 and seeing all the billboards plastered up with a large poster of two completely naked people in a close embrace." This kind of thing created "a propensity for violence. That is why sex films were no longer allowed on airplanes because violence would break out among the small community of passengers." Ooohhhkaaay. And there was porn in the seminaries: "One bishop, who had previously been seminary rector, had arranged for the seminarians to be shown pornographic films, allegedly with the intention of thus making them resistant to behavior contrary to the faith." Allegedly. He's a subtle one, isn't he?
Placing himself at the center of all that is good and true, he fondly remembers the times when he was able to rub his theological opponents' noses in it. This is not exactly what you'd call charitable: "I shall never forget how then-leading German moral theologian Franz Böckle, who, having returned to his native Switzerland after his retirement, announced … that if the encyclical [which Ratzinger helped write] should determine that there were actions which were always and under all circumstances to be classified as evil, he would challenge it with all the resources at his disposal. It was God, the Merciful, that spared him from having to put his resolution into practice; Böckle died on July 8, 1991."
Seeing a former pope reduced to this is just sad. There is no reflection at all on his own culpability in handling all the sex-abuse cases under John Paul II; there is just an easy, knee-jerk attempt to blame his old enemies for them. And then, as so often with Benedict, something happens, and the anger and bitterness and lashing out cedes to a suddenly beautiful statement of the truth of Christianity:
The Lord has initiated a narrative of love with us and wants to subsume all creation in it. The counterforce against evil, which threatens us and the whole world, can ultimately only consist in our entering into this love. It is the real counterforce against evil … A world without God can only be a world without meaning. For where, then, does everything that is come from? In any case, it has no spiritual purpose. It is somehow simply there and has neither any goal nor any sense. Then there are no standards of good or evil. Then only what is stronger than the other can assert itself. Power is then the only principle. Truth does not count, it actually does not exist.
Been boning up on some Nietzsche, I see. But Benedict is and always has been this strange combination: rigid and bitter and petty — while also bearing a gift for cutting through the cant to craft words, often beautiful, that convey the essence of the faith. It makes me want to yell at him and revere him at the same time.
The End of Gay Culture, Again
A couple of observations about the impact of the trans revolution within the gay and lesbian world. Last week saw a historic first: a lesbian testifying in Congress against a legislative pillar of the "LGBTQ" movement. The seemingly unflappable Julie Beck, a lesbian and former law and policy co-chair for Baltimore City's LGBTQ Commission, made the case that the Equality Act — which I wrote about in February — goes too far: "The authors of this bill have done a lot of work to make it sound like gender identity is well understood and has been around for a long time, but it's a new concept that can only ever refer to stereotypes and unverifiable claims." The maximalist claims of critical gender and queer theorists abolish critical biological distinctions between men and women — which in turn make it harder to protect those communities built around all-male or all-female identity.
Women's sports was the focus. A sane Duke law professor, former track athlete Doriane Lambelet Coleman, backed Beck up. She thinks sports requires a compromise: "Those of us who are athletes know that separation on the basis of sex is necessary to achieve equality in this space," Coleman said. "With respect, it is accepted, beyond dispute, that males and females are materially different with respect to the main physical attributes that contribute to athletic performance." The Washington Blade reported: "Coleman added she thinks transgender women should be allowed to take part in sports, but the Equality Act should be modified to allow some basis for sex-based attributes, such as reduced testosterone levels, for transgender women's participation."
It is hard not to retch at the GOP's sudden interest in lesbian-only spaces, and alliance with people who remain solidly left wing. But the point is: It is perfectly possible to protect transgender and gay people from discrimination without redefining gender for the entire species. Why not make that practical case rather than risk splitting your own coalition over critical gender theory?
Then another trivial little thing. In the trans era, Grindr is for straight men now! C. Brian Smith explains: "Jeremy is one of an increasing number of straight men on Grindr, the hookup app created in 2009 for men who have sex with men. Like most of them, however, Jeremy's profile includes a perplexing caveat: "No Guys," it reads, adding that any messages from men will be deleted. The 27-year-old personal trainer from Northern California is only interested in meeting trans women."
And Grindr, it appears, is a more efficient way of doing this than Tinder. And so you actually find the following now on a hookup and dating app for gay men: profiles insisting "nohomo," "no men," "trans only," "ts/cds ONLY," etc. Some of these dudes are straight with a thing for women with dicks, some are just into women and trans women fit into that, others may be self-hating and want to sleep with men but cannot own it, and so find transwomen the next best option — and, well, the human sexual psyche is a deep and strange thing and I begrudge no one their particular predilection. But it does change the vibe a bit, no? As one Reddit commenter put it: "I don't really understand why Grindr has gone to the extent of bringing in gender identities and preferred pronouns filters, when it's literally a gay hookup/dating app. It's like we're being excluded within our own community."
A different but similar phenomenon can be found in the newfound popularity of gay bars for straight women. There were always gay-friendly women around but this influx is new and sometimes overwhelming. I've seen large bridal-party groups simply walk in and take over a leather bar, for example. But at least they come to hang with the gays. Trans-loving straight dudes want to keep us at bay on Grindr.
Well, we asked for it, I suppose. It's a cultural achievement, in some ways, that many straight guys are on gay apps, that the next generation, far from being homophobic, likes taking safari trips into gay clubs for kicks, and that trans people and gay people — often not integrated in real life — find themselves cheek by jowl while "playing the squares." "The End of Gay Culture" I once called this. But it's hard not to miss the more fledgling and separate subcultures we are now rapidly leaving behind.
See you next Friday.