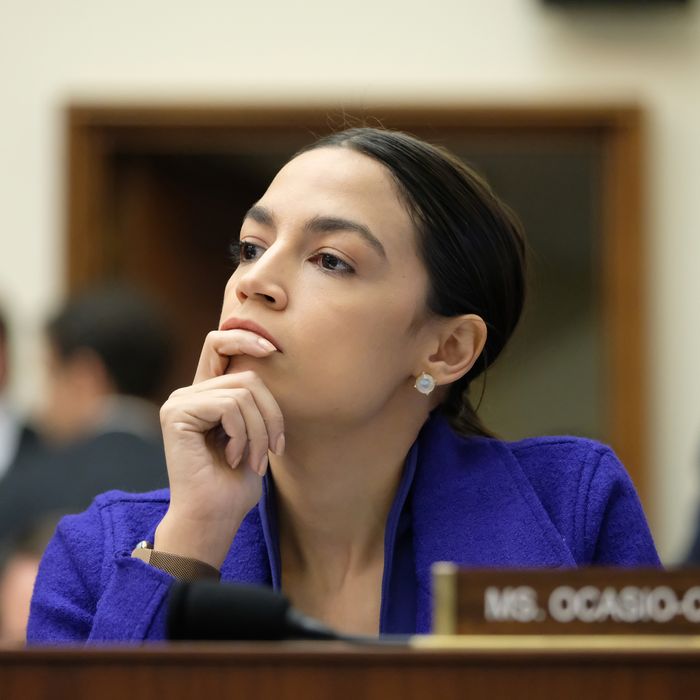 Representative Alexandria Ocasio-Cortez during a House Financial Services Committee hearing on April 10, 2019.
Photo: Alex Wroblewski/Getty Images
On Wednesday, CEOs of the nation's largest banks testified before the House Committee on Financial Services, of which freshman representative Alexandria Ocasio-Cortez is a member. When JPMorgan Chase CEO Jamie Dimon and Citigroup CEO Michael Corbat appeared before the committee, Ocasio-Cortez addressed the litany of billion-dollar fines that major banks have accrued after the 2008 financial crisis and pondered whether "fines related to misconduct [are] being incorporated into the cost of doing business." In 2013, JPMorgan Chase agreed to a $13 billion settlement with the federal government over charges that the bank exaggerated the quality of the mortgages it sold to investors prior to the crash. In 2014, Citigroup paid the federal government $7 billion in a settlement regarding accusations that the bank had buried concerns with the mortgages it was securitizing.
Ocasio-Cortez: Is a cost-benefit analysis that weighs the cost of government fines versus the potential financial upside of potentially breaking the law — does that factor into controversial decision-making around misconduct at your bank?




Corbat: Absolutely not.




Ocasio-Cortez: Okay, in my district, I represent Rikers Island. I represent kids that go to jail for jumping a turnstile because they can't afford a MetroCard. Do you think that more folks should have gone to jail for their role in a financial crisis that led to 7.8 million foreclosures?




Jamie Dimon: I don't think people should go to jail for people jumping the subway.
This post has been updated to reflect that Citigroup CEO Michael Corbat was also involved in the exchange.