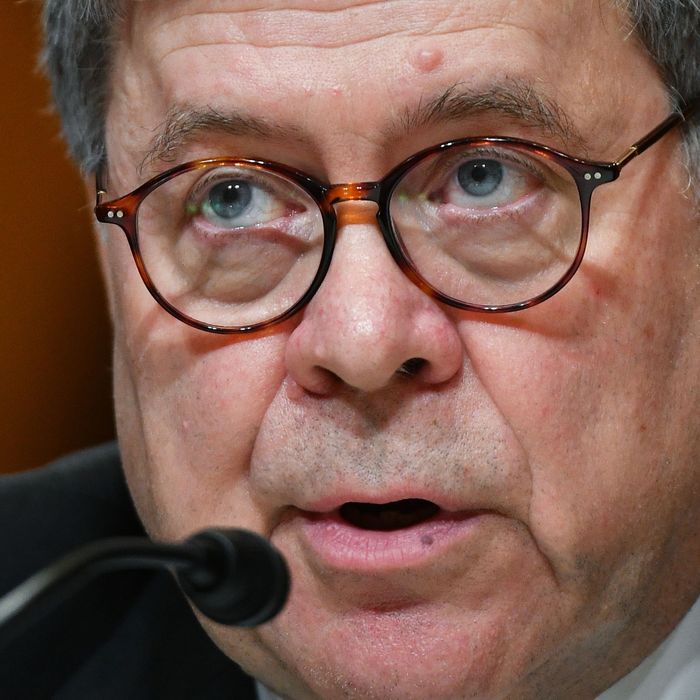 Photo: MANDEL NGAN/AFP/Getty Images
With his handling of the Mueller-report summary, Attorney General William Barr found himself in the president's favor: New York's Frank Rich wrote that Trump has finally found his fixer, his very own Roy Cohn. Now, with a new, precedent-setting decision, Barr has likely solidified his status with the president by providing an ideologically friendly policy relating to Trump's cruelest pet project — the rollback of statutes protecting migrants.
On Tuesday, Barr ruled that a large portion of asylum seekers would not be eligible for bail, meaning tens of thousands of migrants may remain detained as they wait for their asylum status to be determined. The decision negated a 2005 immigration-court ruling providing bond hearings for migrants who passed a "credible fear" interview, which could allow migrants to be released as they wait for their months-long, and occasionally years-long, processing.
Immigration courts are managed by the Justice Department, not the Judicial branch, which gives Barr the authority to hand down such determinations. The ruling will not apply to unaccompanied minors or migrant children traveling with families, as a 1997 settlement states that children cannot be detained for more than 20 days. Nor will it apply to migrants applying for asylum at official ports of entry. The policy will go into effect in 90 days.
Barr's reversal serves as another Justice Department attempt to deter migrants from seeking asylum at the border or once they inside the United States. Past efforts have included former AG Jeff Sessions's June 2018 decision limiting the number of migrants who could seek asylum based on domestic violence, and the administration's "remain in Mexico" policy, which sent non-Mexican migrants south of the border to await their asylum processing.
Immigration advocates hope that the ruling will be struck down, or limited in court, as "remain in Mexico" and Sessions's June 2018 decision were. "They want to send a message that you will get detained," Judy Rabinovitz, a deputy director of the Immigrants Rights' Project at the American Civil Liberties Union, told the New York Times. "It's really obscene. We are talking about people who are fleeing for their lives, seeking safety. And our response is just lock them up."
Barr's decision certainly lines up with the president's claims at a rally this week in Minnesota, where he called the asylum process a "big fat con job."