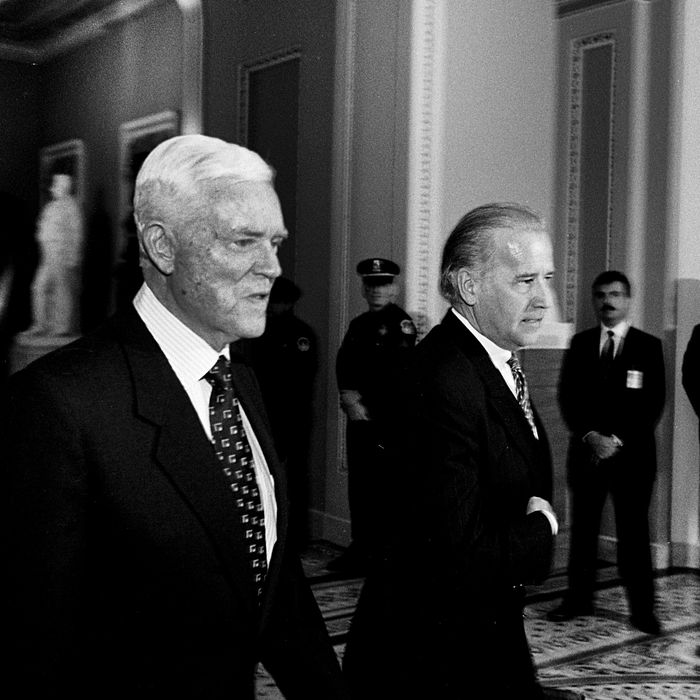 Joe Biden and the late Fritz Hollings back in the day.
Photo: David Hume Kennerly/Getty Images
I have no way of knowing if Joe Biden intended to subtly allude to his own controversial "evolution" as a policy-maker and an individual in his eulogy for his close senatorial friend Fritz Hollings in South Carolina. But Jonathan Martin's account of the event sure draws the comparison:
Speaking at the funeral of Mr. Hollings, the former South Carolina senator who died this month at 97, Mr. Biden hailed his longtime friend and former colleague, a one-time segregationist, as the embodiment of this state's growth.




"People can change," Mr. Biden said of Mr. Hollings, who was known as "Fritz," adding: "We can learn from the past and build a better future …"




Mr. Biden, who is himself facing intense questions about his 1970s opposition to school busing, handled Mr. Hollings's evolution on race delicately in his speech, referring only obliquely to the late senator's earlier support for segregation.
And the importance of Biden's conveying "growth" and "evolution" isn't limited to racial issues but extend to his understanding of whole new generations of voters:
The funeral reflected the era of the man his admirers had come to honor, with gray hair filling the pews and sepia-toned memories flowing from the pulpit of a lawmaker who was first elected to office in the aftermath of World War II and retired from the Senate 15 years ago.




Such older voters here and beyond make up the core of Mr. Biden's initial base, early polls indicate, and are the sort of reliable participants in primaries that candidates covet …




But as the former vice president extolled an earlier, less rancorous political era in his tribute to Mr. Hollings, the challenges he will face in this coming campaign were also difficult to miss.
You can start with the strength of Biden's long-standing connections in South Carolina, built in part on his relationship with Hollings. Will the younger, heavily African-American Democratic voters of this state look at Biden and see a reflection of Barack Obama, whose 2008 nomination was punctuated by a big two-to-one win in the Palmetto State? Or will they see someone even older and more compromised by history than the candidate Obama trounced, Hillary Clinton? It's a complicated question. Clinton came back to beat Bernie Sanders in South Carolina by nearly a three-to-one margin in 2016. But Biden will face not just Sanders but the very organized Elizabeth Warren, two young African-American pols (Cory Booker and Kamala Harris), plus younger alternatives to his own self as a party unifying non-socialists with some white working-class appeal (Pete Buttigieg and Amy Klobuchar, and possibly Beto O'Rourke).
As far as we know, none of these rivals will have to explain away friendships with segregationists, vocal opposition to school busing, heavy involvement in crafting harsh crime legislation, and yeoman service on behalf of the financial-services industry, among other items on Biden's long résumé. In Biden's defense, such current-day heresies were the product of an entirely different era of Democratic politics, in which the party's survival in the South, and in border states like Biden's own Delaware, often involved fighting like hell for policy basics like equal rights for African-Americans and the very existence of public education and other public services — with virtually everything else being regarded as negotiable. I grew up in the Deep South in that milieu and understand it; leaders like Bill Clinton, regarded as triangulating calculators outside the region, seemed refreshingly progressive to us. But this era is rapidly passing from the scene, even in the South, where a new breed of progressive politician, like Stacey Abrams, Andrew Gillum, and, yes, Beto O'Rourke, is beginning to replace the older set of Boll Weevil/Blue Dog Democratic pols who expected minority voters to quietly go along as they very gradually "evolved."
No, Joe Biden was never as conservative as many of his senatorial friends, but you have to wonder if his potential base of support in places like South Carolina — absent some intervention on his behalf by Obama himself — is literally dying out. Perhaps not; Democrats there may regard him simply as more electable than his rivals, much as many of them do elsewhere. But if Biden is not careful in completing his own "evolution" on matters of urgent concern to today's Democratic coalition, he could discover he is burying his own career when he says good-bye to the survivors of traditions that few today will find worthy of nostalgia — or even relevant.