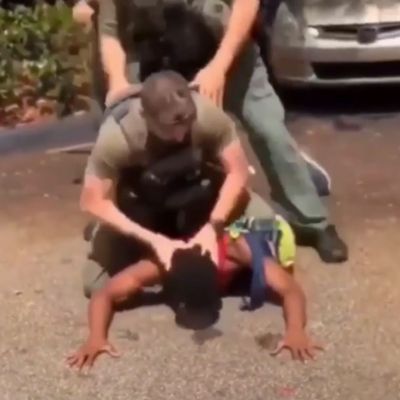 Video still from footage of a Broward County Sheriff's deputy assaulting a black teenager, April 2019.
Photo: Screenshot via Broward County Sheriff's Office
The sheriff's office in Broward County, Florida, has promised to investigate two of its deputies for assaulting a black 15 year old on Thursday. An 18-second video shows the officials — Christopher Krickovich and Sergeant Greg LaCerra — pepper-spraying the teen in the face, banging his forehead against concrete, and punching him on the side of his head. (The teen's name has not been disclosed in news reports, but he has been identified on social media as "Lucca.") Footage of the incident has circulated nationally, prompting outraged responses from celebrities and lawmakers alike. Sheriff Gregory Tony tried to assuage the concerns of local black civic leaders by vowing a "tactful" investigation. "That's the most electrifying and dangerous situation for a law enforcement administrator to handle," Tony, the county's first black sheriff, said on Saturday, according to the South Florida Sun Sentinel. "Any time a white deputy is involved in contact with using force on a black youth, this thing blows up."
That such a thing might "blow up" is appropriate. Years of activism and reporting have demonstrated the racism with which law enforcement is applied across the United States. In Broward County, its impact on black youth has been a point of special focus. A 2013 initiative led by Robert Runcie, superintendent of Broward County Public Schools, sought to eliminate disparities in the rates at which black students were suspended and arrested for in-school misconduct compared to their white peers. (During the 2011-2012 school year, black students were roughly two-thirds of those suspended, mostly for minor incidents — like using profanity or disrupting class — despite being 40 percent of the student body, according to the American Prospect.) Runcie partnered with local advocates and law enforcement to implement alternatives to suspension and prohibit arrests — 71 percent of which were for misdemeanors — in some cases where they had been allowed before. (Officers were, however, allowed to override some of these prohibitions: "I wanted to make sure deputies always had discretion," then-Sheriff Scott Israel told the Prospect.)
The effect was almost immediate. By the end of 2013, suspensions had dropped 40 percent and arrests of students had fallen 66 percent. A more humane tint began to color how local law enforcement treated black children for whom youthful mistakes often meant years of condemnation as criminals. But Thursday's incident proves that progress on one front does not constitute a sea change any more than it precludes regression. After 19-year-old Nikolas Cruz killed 17 people at Marjory Stoneman Douglas High School last February, criticism of how Broward County Sheriff's deputies handled the shooting — including their failure to immediately enter the school when gunshots were reported — prompted an emphasis on meeting perceived threats with swift violence, according to the Washington Post. Deputies have since been re-trained on how to subdue subjects in what one sheriff's union official described to the Post as a "Fight Club atmosphere." Some participants have suffered injuries in the process, ranging from fractured bones to a detached retina to brain bleeding.
So when dispatchers on Thursday received calls that a group of teenagers had gathered in a McDonald's parking lot in Tamarac — a popular hangout for local high schoolers — and that some of them were fighting, they applied the kind of immediate and decisive force that many wished they had wielded against Cruz. Among the differences was that such force is used traditionally against black youth with no such justification — as examples ranging from the 2015 police assault on a black girl in Richland County, South Carolina, to the February police beating of a black girl in Chicago illustrate. For these victims, the misapplication of brutal police training was their lot well before Parkland. That the 15 year old on Thursday committed no clear infraction, let alone a crime, highlights the absurdity of continuing to apply it after. In effect, the training changes in Broward County seek to level against men like Cruz a degree of violence that, for many unarmed black children, was already a danger. Such are the wages of a culture that looks to atrocities like Parkland to shape law enforcement policy, but seems unable or unwilling to ensure that officers do not greet innocent people with the same violence.
Accordingly, Krickovich, who wrote the police report about Thursday's incident, seemed to inflate Thursday's threat to justify his response. In his telling, he was arresting another teen for trespassing when Lucca bent down to pick up the boy's cell phone. "While I was dealing with the male on the ground, I observed his phone slide to the right of me and then behind me," Krickovich wrote, according to the Sun Sentinel. "I observed a teen [Lucca] wearing a red tank top reach down and attempt to grab the male student's phone." In the video, another deputy — identified by the Sun Sentinel as LaCerra — is seen shoving Lucca, after which Lucca appears to object verbally. In the report, Krickovich wrote that Lucca "took an aggressive stance" toward LaCerra, "bladed his body and began clenching his fists." (The video shows no such clear aggression.) LaCerra then pepper-sprayed Lucca in the face and threw him to the ground. Claiming that he feared for his safety, Krickovich "jumped on [Lucca]," grabbed the prone teen by both sides of his head, slammed his forehead against the concrete, and punched him before another deputy helped him apply handcuffs.
Whether the deputies were actually afraid is less knowable — and arguably less telling — than their confidence that claiming they were would exonerate them of wrongdoing. Racism shapes this expectation. Outlandish scenarios arise from police accounts of the dangers that young black men allegedly pose. Officer Darren Wilson equated Michael Brown to a "demon" during his testimony about the 2014 shooting in Ferguson, Missouri, that sparked protests and riots. "[He] had the most intense, aggressive face," Wilson told a grand jury. "The only way I can describe it, it looks like a demon." If one accepts that Brown was "like a demon," claims that he barreled toward a police officer through a hail of bullets become palatable. (No criminal charges were filed against Wilson.) If one concedes that Lucca was similarly endowed, assertions that the unarmed teen posed a threat to gun-toting sheriff's deputies — despite video evidence to the contrary — is plausible enough for Krickovich to gamble on investigators siding with him.
In a sense, Thursday was a predictable outcome of asking an institution whose job is violence to escalate. Lucca and Cruz — or Lucca and anyone who seeks to harm police officers, really — exist on polar ends of most realistic threat spectra, but separating them is of secondary concern to those convinced that safety means reflexively treating more people like the latter. Krickovich banked on this ambiguity. Racism likely helped rationalize his response, despite it transpiring in a community whose administrators, in the past, sought to reduce disparities. Indeed, it is hard to believe that he and LaCerra would have treated a white child the same way they did Lucca. But when an assault like Thursday's is permissible as long as officers claim they are afraid — and can convince investigators that their response was consistent with what others would have done in their place — then the bigger issue is more fundamental than whether they were white and the victim black. The problem, one of many, is the public and institutional instinct to let the worst set the standard rather than remain outliers. Humane rules of engagement evaporate where every suspect is a demon. And whatever the outcome of the department's investigation, it is worth asking if that is a reasonable price to pay for feeling safe.