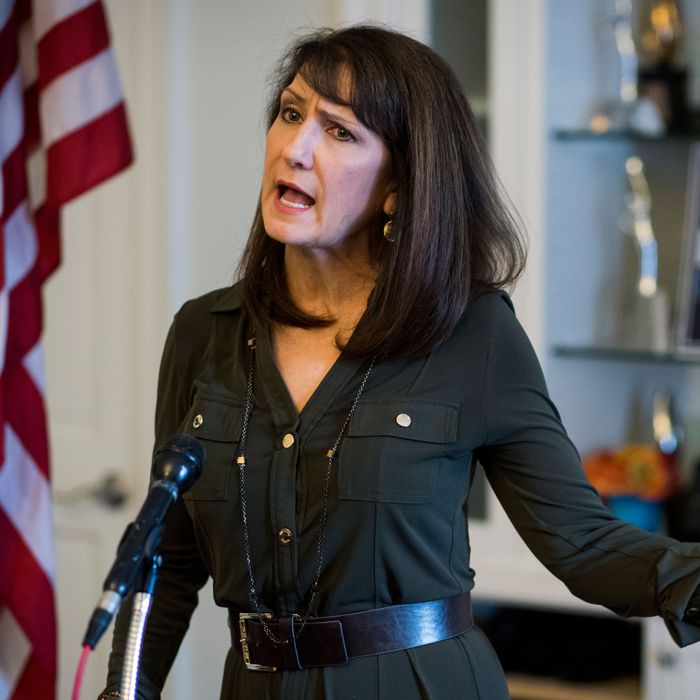 Marie Newman at an event in Washington on January 17, 2018.
Photo: Bill Clark/CQ-Roll Call,Inc.
Marie Newman only launched her campaign against Dan Lipinski, the incumbent Democrat who represents Illinois's Third Congressional District, last month. But the Democratic Congressional Campaign Committee may have already tipped the scales to favor Lipinski, who opposes legal abortion rights, and against Newman, who is pro-choice. In March, the DCCC announced that it wouldn't work with vendors who sign on to insurgent campaigns against incumbent Democrats like Lipinski. Now, four consultants have left Newman's campaign, the candidate told Politico on Friday. "We've now had two mail firms say that they couldn't work with us because of the DCCC issue, and then a [communications] group, a compliance group and several pollsters," she said.
Lipinski does not represent a solidly conservative district, and Newman nearly defeated him in a primary in 2018. The news that consultants are already leaving Newman's campaign will likely exacerbate an ongoing furor over the DCCC's policy. The Intercept reported on Thursday that Democrats on 31 college campuses have announced their own donation boycott of the DCCC. Though students aren't major donors to the party, one Harvard Democrat told the Intercept that they are still "stakeholders" in the party, and that the campaign is "more about using this language of boycott to draw attention to the issue and to use our platform as students to hopefully get them to reconsider the policy." The policy could, they fear, keep a younger, more diverse class of Democrat out of office. Politico also reports that Representative Cheri Bustos, who heads the DCCC, met with Our Revolution leaders this week; the progressive organization, which was founded by veterans of Senator Bernie Sanders's 2016 presidential campaign, delivered a petition to Bustos asking the DCCC to change its policy. Justice Democrats, who backed Representatives Alexandria Ocasio-Cortez and Ayanna Pressley against Democratic incumbents, have created an alternative list of campaign vendors who are willing to work with primary insurgents.
Newman's nascent campaign has the potential to test outsider groups like Justice Democrats, alongside more established party partners like NARAL Pro-Choice America and EMILY's List. Pro-choice organizations backed Newman against Lipinski in 2018, and could do so again in 2020. The DCCC, meanwhile, appears committed to its incumbent policy despite growing outcry. "The DCCC has worked to change how Washington works, increase transparency in politics and be perfectly clear with all its partners about the standards it expects of them," an aide told Politico.